YIKES! Wendy Williams Surprisingly Responds To Howard Stern After His Expletive-Laced 'F--k You, Your Dumb Show & Your Mystery Illness' Drag
​
Mar 14 | by _YBF
​ ​ ​ ​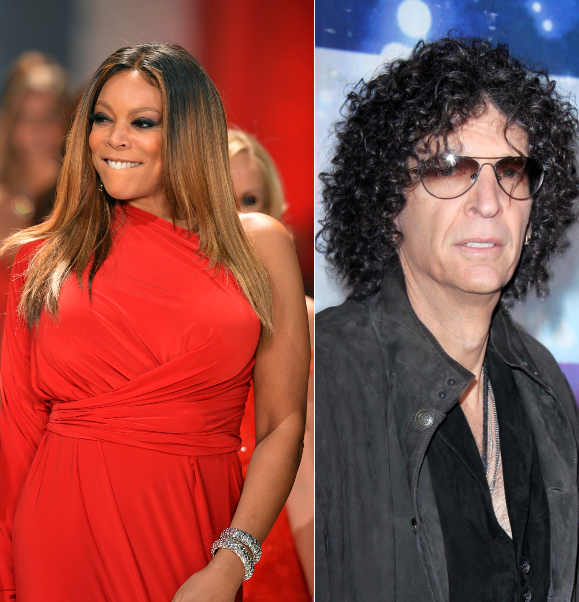 Whew, chile. Howard Stern scalped Wendy Williams after she called him "Hollywood." And, in a shocking twist, Wendy responded. Get it all inside...
There's drama between daytime talk show host Wendy Williams and radio personality Howard Stern. Yesterday, Howard Stern became a Hot Topic on Wendy's show as she discussed his forthcoming book, "Howard Stern Comes Again," 20-years after his last book. She kicked off the segment praising Stern as one of the people who helped get her where she is today (in her head). The other person she named was Oprah.
Wendy - who returned to her show just a week ago after a long (and questionable) hiatus - then went on to predict what exactly Howard wrote in the book.
"Howard is so Hollywood right now. And Howard, I love you, but since you've gone Hollywood, everything you say is so predictable. Every story is going to be about, you know, 'Oh, I love this one, and then we went on their yacht.' He's a Hollywood insider now, which sucks."

"You started like me, being of the people," she continued, "but at some point, you sat behind the microphone for too long and now you are the people."
Peep the clip below at the 20:50-minute mark:
Despite the daytime talk show host plugging his new book, he did not like what she had to say about him going Hollywood. At all. He responded on his morning SiriusXM radio with an expletive laced dragging.
"Jealous b*tch. … You are nobody to me," he said, responding to her commentary. "You'll never be me, Wendy. You'll never be me. You can pretend to be me, you can pretend to be like me, but you're not. You don't have my wit and you don't have my talent. … You couldn't have that career. You're a fly."
Then, he went for the jugular. And if you know Howard Stern, you know that's his specialty, whether it's warranted or not.
He popped off about her "mystery illness" and her husband's alleged infidelity and alleged domestic abuse. As you know, Wendy took a two-month break from her show to allegedly nurse a fractured shoulder which caused Graves disease symptoms to flare up.
"What have I done to this woman? Nothing. I've been gracious to her," Stern said. "Worry about your husband, not me. … F*ck you and your dumb show and your mystery illness. She disappears for two months, nobody knows why, and now she's questioning me? Thanks, honey. … I never fainted on my show either."

"I'm not somebody you want to f–k with, honey. I don't want to hear your bulls–t. And you're not a nice person. Nobody likes you, that's why you can't go Hollywood," he continued, claiming, "People do not like her. [The staff] was doing a dance over at 'The Wendy Williams Show' when she was out. She's a big pain in the ass. I hate to break the news to you, honey. Good thing you hurried back."
Damn! Not the husband and mystery illness shade!
He also said:
"What evidence do you have that I'm Hollywood, honey?" he said. "I grew up a scumbag and I'm still treated like a scumbag. … What, because I found success, now I'm 'Hollywood'? What, 'cause I know Jimmy Kimmel? Who am I hanging out with? She doesn't know who I'm hanging out with. She doesn't know what I do in this world. She doesn't know who I'm f*cking with."

"All she talks on that show is about Hollywood. That's as Hollywood as you get. If anyone in Hollywood called her to hang out, she'd [be there] in two seconds. All of that is a projection!"
Lordt! He's BIG mad.
You can listen to the full audio below:
Howard Stern Blasts Wendy Williams 3-13-2019https://t.co/cig79mKt2J

— Hamptons Howchie (@HamptonsHowchie) March 13, 2019
In a shocking twist, Wendy responded. And if you watch the show, she always said she doesn't respond to or do drama. We guess she had time today. Peep her tweet below:
Showed love to Howard Stern this morning about his new book. Gonna buy it. Had his wife on my show several times. Being told that he's being nasty to me on his show. It's all good, Howie. I still admire you old man! The truth is the truth.

— Wendy Williams (@WendyWilliams) March 13, 2019
Well, there you have it.
Photos: FashionStock.com / s_bukley/ Shutterstock.com
​ ​
​ ​ ​