R. Kelly Turns Himself In To Police [MUGSHOT] + Joycelyn Savage & Azriel Clary Spotted WITH Kelly [VIDEOS] + Kelly's Attorney Says 1 Charge Stems From His Previous Case
​
Feb 23 | by _YBF
​ ​ ​ ​
R. Kelly turned himself into police last night after he was indicted on 10 sex abuse charges. There's video of the girls Joycelyn Savage and Azriel Clary WITH him and his attorney confirms one of the charges stem from his 2008 child pornography case. See his mugshot, videos of him handcuffed, and more inside...
R. Kelly is behind bars.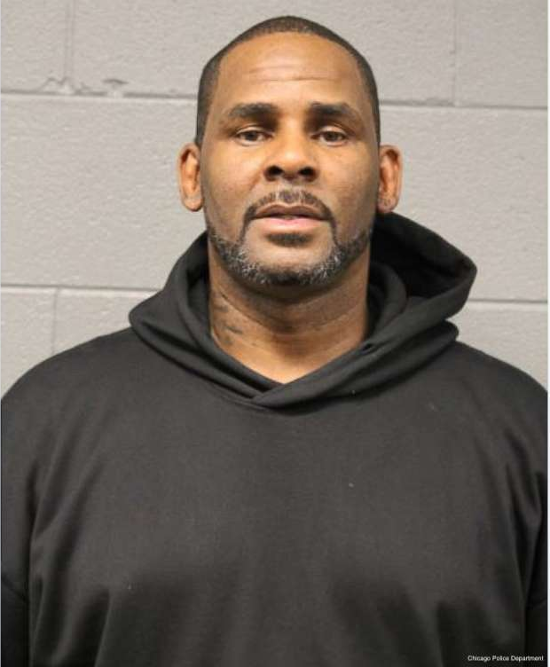 Yesterday, Cook County's State's Attorney Kim Fox announced the Grammy Award winning singer (real name Robert Sylvester Kelly) has been formally indicted by the Cook County grand jury on 10 charges of aggravated criminal sexual abuse - a Class 2 felony - involving four victims, three of them under the age of 17. He will appear in bond court this afternoon. Arraignment is set for March 8th.
If convicted, the R&B singer faces three to seven years in prison for each count.
Following the press conference, the 52-year-old singer turned himself in to Chicago police Friday night. And news cameras followed his every move as he left his studio and made his way to the police station. He arrived in a dark colored van around 8:15 pm. He did not respond to any questions that were asked as he walked inside the building.
Here's a clip of him leaving his studio:
R. Kelly left his Chicago studio and is expected to turn himself in to Chicago police Friday night ahead of a bond court hearing expected for Saturday afternoon.https://t.co/qROz7P41TF

(Video: @ScottPlacko, CBS2) pic.twitter.com/Zx5XGY1gxy

— CBS Chicago (@cbschicago) February 23, 2019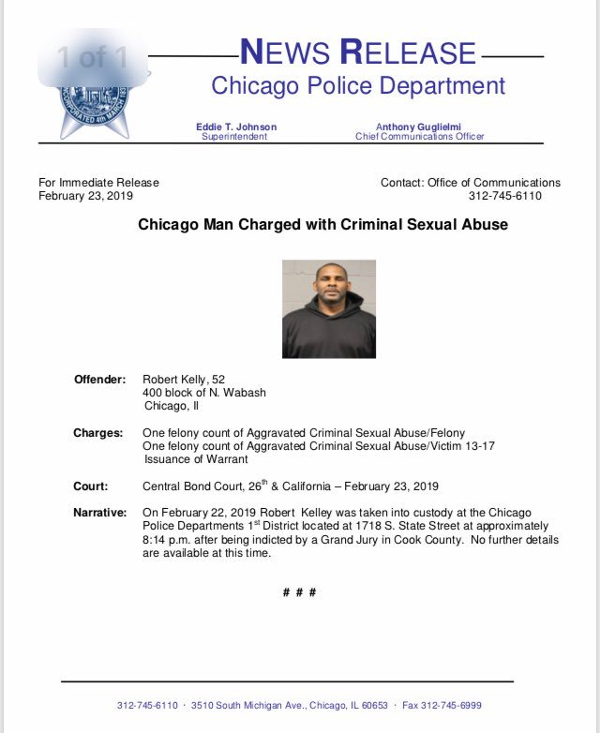 Kelly's attorney, Steve Greenberg, said Cook County State's Attorney Kim Foxx folded under public pressure and that his client is an innocent man. "I think all the women are lying," Greenberg said.
Here's a clip of Kelly walking into the police station:
R Kelly arrives at Area South Police HQ at 18th and State. #Rkelly @cbschicago @CBSNews. pic.twitter.com/f0lY6v8z6t

— Scott Placko (@ScottPlacko) February 23, 2019
And here he is being whisked away in handcuffs: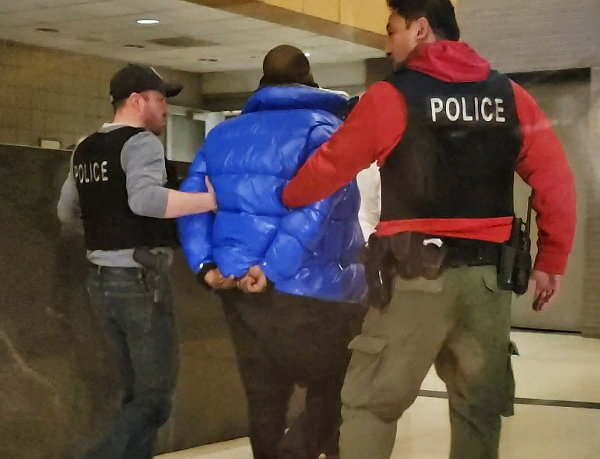 R Kelly is finally behind bars pic.twitter.com/UV4VfLlweR

— The Instigator (@Am_Blujay) February 23, 2019
Since "Surviving R. Kelly" aired, people have been wondering about the well-being of Joycelyn Savage and Azriel Clary, two young ladies still living with the singer. If you watched the docu-series, you saw Joycelyn and Azriel's parents desperately trying to get them back. They believe their daughters have been brainwashed and that's why they don't want to leave.
In the clips where Kelly is leaving his studio on his way to the police station, you can SEE both young ladies getting into a vehicle with the singer! Joycelyn's dad, Tim Savage, confirms his daughter was with him last night:
This Joycelyn still being controlled by R.Kelly I love you Joycelyn daddy (Tim Savage)gonna come get you soon #RKellyGoingToJail #R.kelly pic.twitter.com/81qVQiv9uw

— Timothy Savage (@TimothyTSavage) February 23, 2019
In this video from @WGNNews it looks like you can see #AzrielClary and #JoycelynSavage getting into the Benz van as #RKelly turns himself in. pic.twitter.com/Cw3pajkBYY

— Tia A. Ewing (@TIA_EWING) February 23, 2019
Parents of #AzrielClary and #JoycelynSavage identified their daughters by these images. They haven't seen their daughters in years. Their parents say they were brainwashed by #RKelly and coerced into his sex cult. Azriel was 16 when her parents say he started having sex with her. pic.twitter.com/Ejrhe6ycLs

— Tia A. Ewing (@TIA_EWING) February 23, 2019
Kelly has a lot of nerve. It's reported both the Savages and the Clarys are making their way to Chicago.
"Surviving R. Kelly" producer Dream Hampton said R. Kelly will have the young ladies front row at his bond hearing this afternoon.
R. Kelly & the pieces of shit who call themselves his team, made sure that Azriel Clary & Joy Savage were front & center at the courthouse. He plans to have them front row at the bond hearing. In THIS moment he wants you to know he's "pimping" 2 girls 30 years younger than him.

— dream hampton (@dreamhampton) February 23, 2019
Lawyer Michael Avenatti - who is repping 6 clients involved in the charges - held a press conference yesterday sharing details about the NEW alleged sex tape and released imagery surrounding new video evidence. On the 42-minute tape, the young lady and Kelly allegedly refer to her being 14-years-old multiple times.
He also sent out a message to Kelly's enablers (i.e. the managers, publicists, and others who allegedly allowed this to go on for 25 years) that he's coming after them as well because they are "just as guilty" as Kelly and they should be held responsible for allowing these "disgusting" acts to go on for so long.
Today, Avenatti tweeted that federal charges against R. Kelly are likely coming down the pipeline:
I expect R Kelly to also face federal charges in the coming weeks/months. These charges will be distinct from the crimes for which he was charged yesterday and will result in a separate criminal proceeding. Ultimately, R Kelly will rightly spend his remaining days in prison.

— Michael Avenatti (@MichaelAvenatti) February 23, 2019
Also...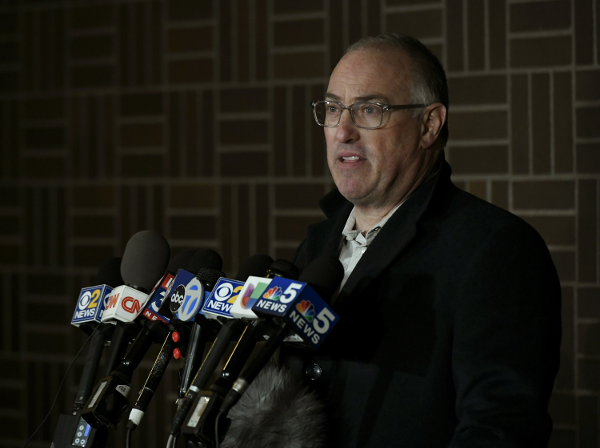 After Kelly turned himself in, his attorney, Steve Greenberg, told reporters one of the charges the R&B star faces appears to be tied to his child pornography case that went down in 2008.
"Double jeopardy should bar that case," Greenberg said. "He won that case."
R. Kelly was acquitted of child pornography charges in 2008, but lawyer Michael Avenatti believes he got away with it because the previous trial was "rigged," there was alleged obstruction of justice, and he's certain that will not be the case this time around.
Cook County's State's Attorney Kim Fox read off the initials of the victims during the press conference yesterday and one of the victims' initials match the name of the victim in the 2008 case. The timeline of that victim's abuse matches the timeline from the previous case. Also, Avenatti confirmed the young lady on the new video tape IS one of the four victims that was referred to in the indictment.
Peep his conference below:
Lawyer Michael Avenatti responded to Greenberg's claims of double jeopardy and the personal attacks he has made against him and the victims:
Also, Homeland Security Investigations is reportedly compiling evidence in an investigation of Kelly, according to an US Immigration and Customs Enforcement official. No details about the investigation were shared. A second grand jury was convened in the Southern District of New York, based on investigations by the F.B.I. and the I.R.S., according to the New Yorker.
R. Kelly will appear in bond court this afternoon. Stay tuned for the details....
Photos: AP/Chicago Police Department
​ ​
​ ​ ​