Jussie Smollett Reportedly Did NOT Pay Brothers $3,500 For 'Attack' + Some 'Empire' Cast Mates Believe Lee Daniels' Cousin May Have Triggered Alleged Hoax
​
Feb 23 | by _YBF
​ ​ ​ ​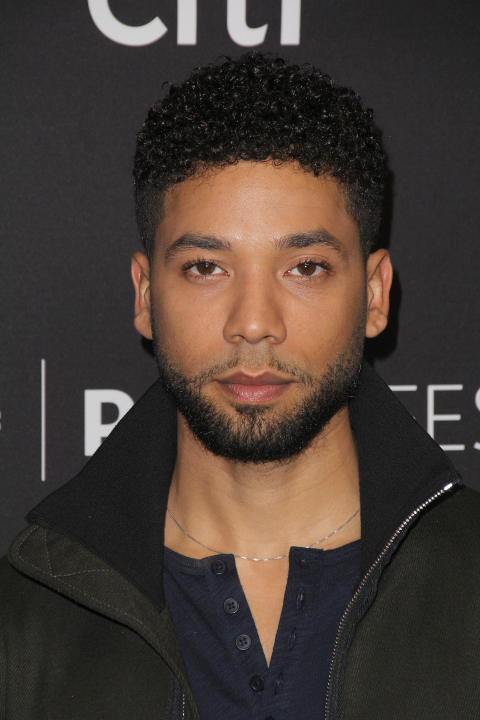 Despite what the Chicago PD announced, Jussie Smollett reportedly did NOT pay the Osundairo brothers $3,500 for the "attack." Find out what sources are saying about the payment, plus what some "Empire" cast mates believe may have inspired the alleged hoax inside...
This has been a daunting week for Jussie Smollett as he faces a felony charge of disorderly conduct for allegedly filing a false report, claiming two men attacked him during a homophobic, racist attack last month. He faces up to 3-years in jail if convicted.
Despite claims from Chicago PD saying he paid brothers, Ola and Abel Osundairo, $3,500 (via check) to fake an attack, a new report suggests the brothers were paid for something totally different that had nothing to do with the attack.
Apparently, the brothers struck some type of deal with the "Empire" star to train him for 5-weeks in preparation for an upcoming music video. Allegedly. It's reported Jussie told Ola he wanted "abs like his," so Ola and Abel agreed to train him and also give him a 5-week nutrition plan to whip him in shape in time for the video.
TMZ reports:
Our sources say Jussie told the brothers he would pay them for their services, but no specific amount was discussed.

A few days before the "attack," Jussie wrote the brothers a check for $3,500. The memo line read, "5 weeks training nutrition plan."

Our sources say Ola and Abel told the grand jury they were paid for the 5-week program and not for the "attack." One source connected with the brothers did say Ola and Abel felt the amount was "a little high" but no one ever specifically said anything about any of the money being part of a scheme.
As for the threatening letter sent to the Chicago studio where "Empire" is filmed days before the attack, the brothers allegedly told the grand jury they had nothing to do with it.
As updates and details continue to come out about the case, some "Empire" cast mates apparently believe they know why he decided to devise the "attack." They believe the story "Empire" co-creator Lee Daniels shared about his cousin getting beat up for being gay is what inspired Jussie to "take matters into his own hands."
On January 10th, Lee hopped on Instagram, sharing how his cousin was beat up for simply living in his truth. Check it:
Our sources say Lee then showed up to the set and shared more about the story. Everyone was visibly upset that Lee's family had gone through this horrific ordeal. The sources now say this might have been where Jussie got the idea to take matters into his own hands ... and become an LGBT hero.
As you know, Chicago PD said Jussie's motive for the attack stemmed from him not being paid enough for his work on the FOX series. "Empire" released a statement yesterday confirming they wrote him off the last two episodes of the season, saying they'd like to keep things less stressful amongst the cast and crew since folks are divided over the situation.
It was also revealed Jussie told told police during his arrest that he has a drug problem. Cops claim Jussie bought ecstasy and other designer drugs from Abel in the past.
Since all of this has come to light, folks have been clowning all over social media about the situation.
"The Daily Show" host Trevor Noah celebrated his 35th birthday a few days ago and his team decided to gift him with a LIFETIME version of the "Jussie Smollet Story." We can't lie, it's quite funny. Check it:
Also...
Charles Barkley has some advice for America & Jussie Smollett pic.twitter.com/3JaW9FlHM9

— CJ Fogler (@cjzero) February 22, 2019
"Inside the NBA" co-host Charles Barkley had jokes about the situation. He offered up advice where he said if you're going to commit a crime, don't write checks. And he also said if Jussie wanted to get beat up, he should have just gone to Taken actor Liam Neeson's Neighborhood.
Y'all know, Liam Neeson (who claims he's not racist) is the actor who admitted to wanting to hunt down and kill random black men after a friend told him she was raped.
Meanwhile...
Rapper Snoop Dogg has joined in on the roasting session as well:
Photo: Kathy Hutchins / Shutterstock.com
​ ​
​ ​ ​