Meghan Markle Bumps To Dinner With Serena Williams Ahead Of Luxe NYC Baby Shower + Joseline Hernandez Wears Pink Mini Dress To Daughter's School Tea Party
​
Feb 20 | by _YBF
​ ​ ​ ​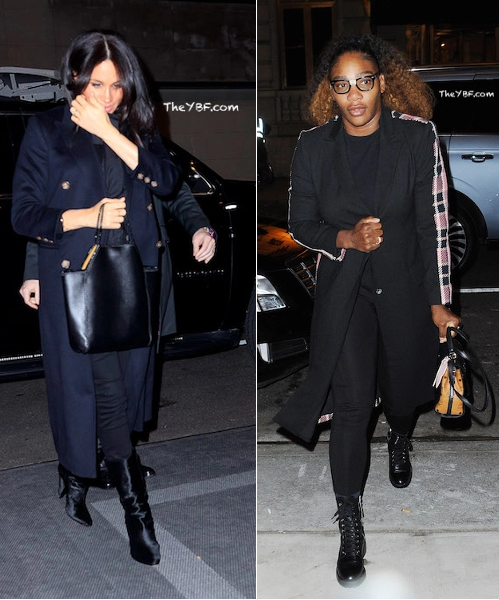 Meghan Markle and Serena Williams stepped out for dinner before her luxe baby shower in New York City (that reportedly cost $200K) today. See the royal and the tennis superstar reunite, plus flicks of Joseline Hernandez and her daughter Bonnie Bella having fun at a tea party inside....
When besties link up!
Since becoming the Duchess of Sussex, Meghan Markle hasn't had much free time to hang out with her friends here in the United States, but she's back! The former "Suits" star bumped into the U.S. from London on Friday, making an unannounced trip to the Big Apple ahead of her baby shower with a group of her closest friends.
Last night, Meghan linked up with fellow moms Serena Williams and Jessica Mulroney, and a few other friends to meet at one of the most exclusives eateries in the city. The 37-year-old and her squad dined at Ralph Lauren's swanky restaurant The Polo Bar in Manhattan for a good old girls' dinner to catch up on everything. It's reported the ladies spent three hours inside eating, laughing and talking about her baby shower that's set to go down today.
The soon-to-be first-time mom served up her usual glam in a dark Victoria Beckham coat, black boots and a Stella McCartney black-chain handbag.
The Duchess of Sussex was also spotted leaving her hotel and exiting the Met Breuer Museum yesterday.
Today...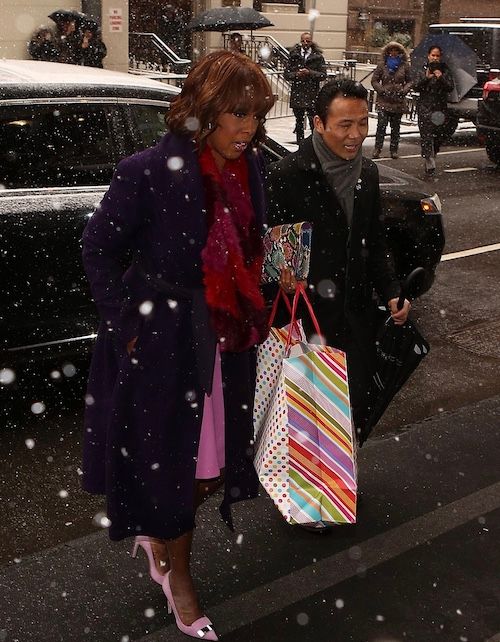 The baby shower is going down and Meghan's friends went ALL out.
According to Vanity Fair, Meghan's baby shower cost a cool $200,000. Calm down, Brits. Her friends footed the bill. Serena Williams paid for the $75,000-a-night penthouse suite at The Mark Hotel in the Upper East Side where the shower is being held. The luxury suite is spread over two full floors and it features five bedrooms, four fire places, six bathrooms, and two powder rooms, plus views over Central Park. It's the "largest hotel penthouse suite" in the U.S. Nothing but the best for the best.
Guests include, Serena, Gayle King (pictured above), Priyanka Chopra, Misha Nonoo, Jessica Mulroney, and Abigail Spencer, to name a few.
VF reports:
Those close to Meghan point out that the baby shower is yet another way of her showing that she plans to do things her own way, royal or not. "As an American, she was very excited to have a baby shower thrown for her. I think she'd have felt she was missing out if she didn't have one," says a source. "It's been such a fun time for her, she is with her oldest friends in the city she loves and really enjoying herself."

The shower will begin with a flower-arranging lesson accompanied by a dessert-tasting experience overseen by the in-house restaurant's head chef, Jean-Georges Vongerichten. Meghan's college friend Lindsay Roth will also be at the shower along with her former co-star Abigail Spencer, Priyanka Chopra, Benita Litt, and Markus Anderson.

The duchess is understood to have flown out to the U.S. on a private jet, which is estimated to have cost over $100,000. However, the plane belongs to one of Meghan's close friends in Toronto, who covered the cost as a present for Meghan.
Where can we find friends like these? They really put together something special for the mom-to-be!
We hope to see flicks from inside the shower soon. We know it's amazing.
Speaking of new moms...
Former "Love & Hip Hop: Atanta" star Joseline Hernandez is loving the mom life.
Yesterday, was all about getting dressed up for a tea party! Bonnie Bella, whom she shares with Stevie J, got dressed in her Sunday's finest for a tea party held at her pre-school. The 2-year-old looked adorable in her powder pink tulle dress, straw hat and matching straw purse.
Meanwhile, this is what mom wore to the kiddie event....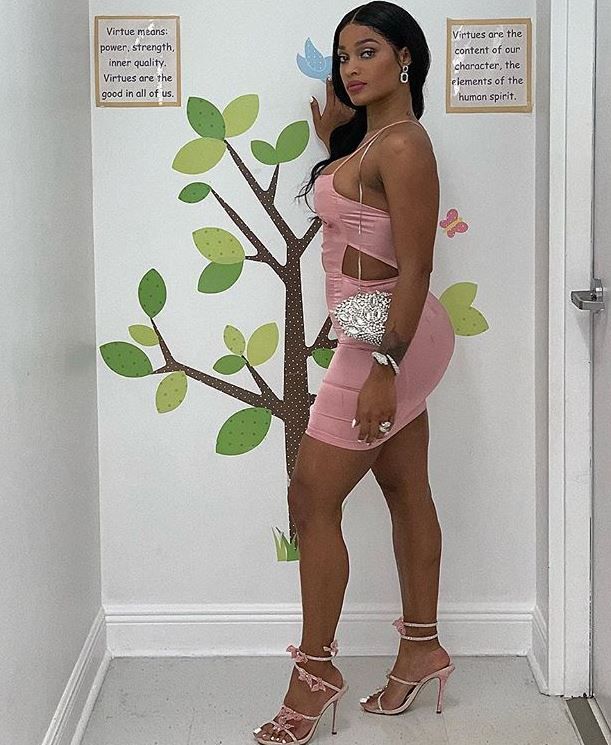 The former reality star slipped into this pink Pretty Little Thing cut-out mini dress and pink sandals for the tea party fun. We see Joseline will be Joseline no matter the setting.
"Bella and I had the best time at her Academy today! It was a #TeaParty and it was awesome!," Joseline captioned. "I'm so grateful for her professors and The Academy for helping me raise her. Ps the beautiful amazing person on the pic is Bella's favorite girl!"
Little Miss Bonnie Bella turned 2 in December. Mama Joseline hired Disney's Princess Belle to surprise the little princess and her friends at pre-school.
Photos: MEGA/Instar/Joseline's IG
​ ​
​ ​ ​