Daniel Kaluuya & Lakeith Stanfield Set To Star In Ryan Coogler's Black Panther Party Movie + 'Bobby DeBarge' Biopic Starts Filming + D.L. Hughley Wants Terry Crews On New Show
​
Feb 20 | by _YBF
​ ​ ​ ​
Daniel Kaluuya and Lakeith Stanfield are set to star in a new movie about the Black Panther Party, the Bobby DeBarge biopic has started filming, and D.L. Hughley wants Terry Crews on his new late night show. Deets inside...
Another one! And it's going to be good.
Black Panther director Ryan Coogler and MARCO's Charles D. King (Mudbound) are producing a new film that will shed light on the real life Black Panthers.
According to Deadline, Ryan and Charles are bringing us a film titled Jesus Was My Homeboy (via Warner Bros.), which will be about famed Black Panther member Fred Hampton. And two of our faves are set to star in it.
Get Out breakout star Daniel Kaluuya will play activist Fred Hampton, while "Atlanta" star Lakeith Stanfield will star as William O'Neal - the man who turned into a FBI informant and betrayed Hampton.
Writer/director Shaka King (Newlyweds) will helm the project. He'll also produce the film from a script he wrote with Will Berson ("Scrubs"). The screenplay is based on a story originated by Shaka King, Berson and the Lucas Bros. Sev Ohanian, Zinzi Coogler (Ryan's wife) and MACRO's Kim Roth and Poppy Hanks have signed on as executive producers.
Deadline reports:
Hampton was a respected and talented grass-roots civil rights activist who rose to become chairman of the Illinois chapter of the Panthers organization and deputy chairman of the national BPP. But his charisma, oratorial skills and swift ascent marked him out as a threat in the eyes of the FBI and in 1969 he and fellow Panther Mark Clark were killed during a controversial raid by a tactical unit carrying out orders from the Chicago Police Department and the FBI. O'Neill had provided the FBI with detailed plans of Hampton's apartment.

The deaths were initially ruled justifiable homicide and the police claimed the Panthers had initiated hostilities, but a number of investigations pointed to state-sponsored assassination and subsequent civil lawsuits led to settlements by law enforcement and Illinois' Cook County. Thousands attended Hampton's funeral and he was eulogized by African American leaders including Jesse Jackson and Ralph Abernathy. O'Neal remained haunted by his part in Hampton's death until his mysterious suicide in 1990.
Y'all ready for this one? We sure are.
By the way, Charles D. King's media company MARCO just inked a first-look deal with Warner Bros. Pictures Group to develop and package feature films.
On television...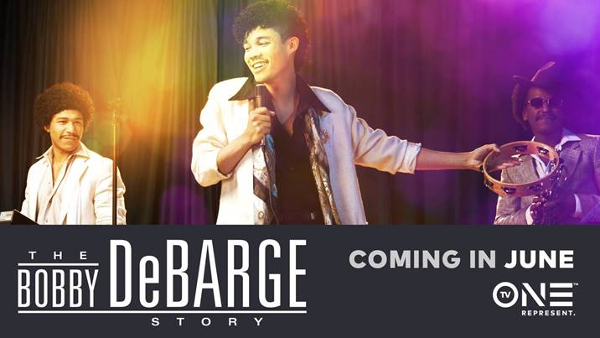 TV One is following BET's blueprint with a biopic on one of R&B's most famous families. Well, mainly one of the members in the group. That's right....THE Bobby DeBarge.
Filming for "The Bobby DeBarge Story" is underway in Atlanta and its set to be released this summer, according to TV One.
The movie will chronicle the tumultuous life of the former lead singer of the 70's R&B/Funk Band Switch, who is also the eldest sibling of the world-famous pop group DeBarge. Despite his success in music, the iconic falsetto found his life in peril as he struggled with fame and fortune while coping with the memories of his dysfunctional childhood.
The cast includes Roshon Fegan (Shake It Up, Greenleaf) in the lead role as Bobby DeBarge Bobby DeBarge, Tyra Ferrell (Boyz InThe Hood, White Men Can't Jump) as Etterlene DeBarge, and Adrian Marcel as James DeBarge.
We can dig this casting.
Outkast's Big Boi will play legendary music exec Berry Gordy and singer Lloyd will star as Switch member Gregory Williams.
"THE BOBBY DEBARGE STORY continues TV One's tradition of telling the story of UNSUNG music heroes. While our audience knows Bobby's group, Switch, and his musically-gifted family, DeBarge, they may not know Bobby DeBarge's contribution to creating the sound that changed the music landscape for decades to come. A falsetto master, Bobby DeBarge was a musical genius who battled demons of his own for many years. THE BOBBY DEBARGE STORY is the quintessential story of sex, drugs and rock and roll," stated Karen Peterkin, Director of Scripted Original Programming and Production, who serves as Executive in Charge of Production for TV One.
Here are the folks behind the biopic:
Leading the production are Executive Producers, Eric Tomosunas and Teri DeBarge. The film is written by Norman Vance, Jr., directed by radio personality Russ Parr with casting provided by Leah Daniels Butler (Leah Daniels Butler Casting) and George Pierre (Pierre Casting). For TV One, Karen Peterkin and Jason Ryan are the Executive Producers in Charge of Production.
"The Bobby DeBarge Story" will premiere in June 2019. Are y'all tuning in?
Coming to late night...
Comedian D.L. Hughley and actor Terry Crews got into a heated discussion on Twitter about toxic masculinity. And now, the comedian wants to invite the "Brooklyn Nine-Nine" actor on his brand new late night show for TV One to talk more about his #MeToo experience.
"The D.L. Hughley Show" is set to premiere in March and he wants Terry as his first celebrity guest.
On a panel at TCA, Hughley told TV critics at TCA:
"He's [Terry's] very big guy and I grew up a small guy. If you let someone do things to you, they keep doing it," he said. "I felt it was disingenuous of all those people from the #MeToo movement. Would they do that if he was beaten by police?"
He said the #MeToo movement got under his skin to see them outraged about Terry's experience, but "when I see a young…girl get slammed down by police" they didn't keep that same energy.
While on the panel, the comedian/radio host also went in on Floyd Mayweather for going shopping at Gucci in Beverly Hills amid the blackface controversy.
"Every person has the right to express themselves the best way they can," he said. "If you're a black man and you think, because you are wealthy, you are an island unto yourself, you are a fool. If you are born of color on this planet you ow a debt," Hughley said, adding, "Floyd is a guy who believes that his money and prestige will insulate him."
We think Hughley will make a good late night TV show host because he never filters his words. His comments (whether you agree with him or not) and open dialogue will make good for television.
Swipe through our gallery below that features YBF celebs taking over the 2019 Winter TCA Tour!
Photos: Kathy Hutchins / Featureflash Photo Agency/CarlaVanWagoner /Shuttershock.com
​ ​
​ ​ ​