Cardi B's Real Life 'Rags To Riches' Story In FIRST Harper's Bazaar Cover - Getting Back With Offset, Postpartum Depression & Why She's Against Therapy
​
Feb 07 | by _YBF
​ ​ ​ ​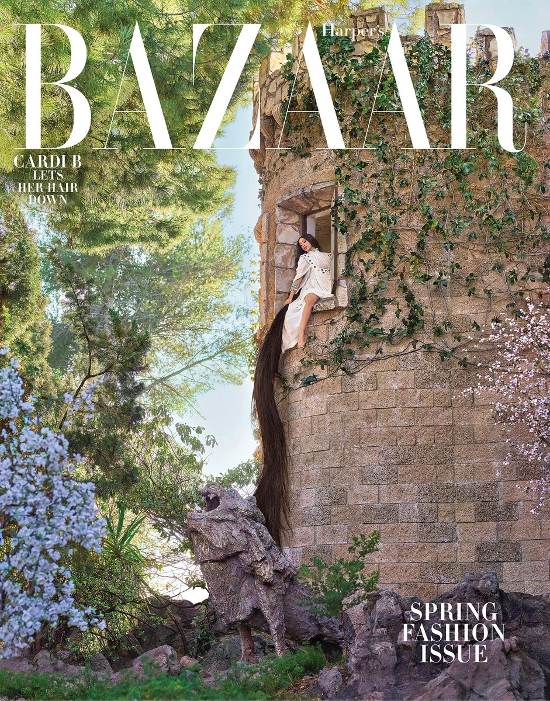 Cardi B nabs multiple covers of Harper's Bazaar magazine's March 2019 issue where she talks about fame, family, whether she's getting back with Offset, therapy and more. See her fab covers, spread and highlights from her cover story inside...
Cardi B's rise to fame has literally been a real-life Cinderella story. She went from being a stripper in the Bronx to becoming the hottest female rapper in the game.
The 26-year-old rapper graces two covers of Harper's Bazaar's March 2019/Spring 2019 issue. And the pictorials - which are all popular fairytale re-enactments like Cinderella and Rapunzel - are FIRE.
.@iamcardib is our March cover star! Read her full interview where she talks fame, family, and whether she'll ever get back together with Offset: https://t.co/iEN0l0tLBd pic.twitter.com/VofnbVP67S

— Harper's Bazaar (@harpersbazaarus) February 7, 2019
Literally.
Inside, the Grammy nominated rapper - who's up for 5 Grammy Awards this year - shares how she feels like a princess. Real Cinderella like with her rags to riches story. As you know, that infamous "fight" with Nicki Minaj went down at a Harper's Bazaar event during New York Fashion Week this past September, but there's obviously no bad blood between the rapper and the publication.
"I feel like my life is a fairy tale and I'm a princess—rags to riches, people trying to sabotage," she says. But she also complains fervently about being over the fairy-tale life and wanting peace and quiet. "Before, I cared about everything—relationship, gossip. Now I don't feel like I have the time to please people," she explains. "I don't care about anything anymore—just my career and my kid." What about money, the thing she raps about caring for quite a bit? "Well, I care about my career because of my money," Cardi says, giving me a "c'mon, stupid" face.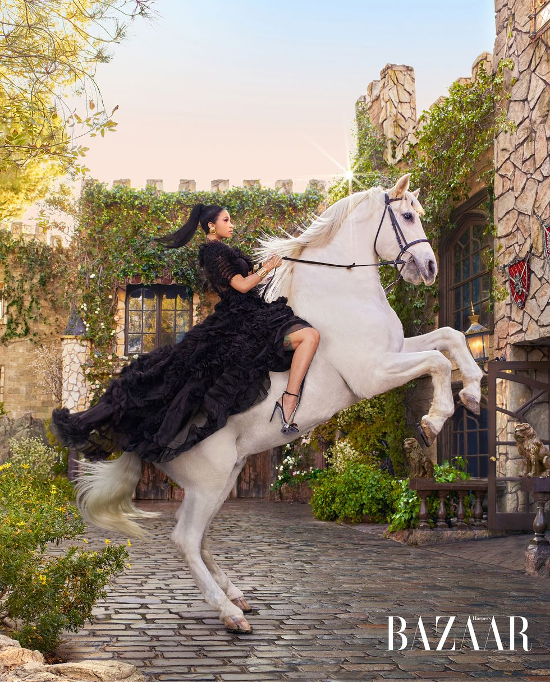 As her starpower grew, Bardi's personal life changed drastically when she married Offset and gave birth to their baby girl, Kulture Kiari Cephus. Being in the public eye, we all saw how the Migos rapper was caught up several times creeping behind Cardi's back. When she got fed up (after taking him back once), she announced to the world that they were breaking up. Shortly after, Offset went into overdrive trying to win her back. Has his efforts worked? Will she reuniting with Offset?
"I don't think so," and "Who knows? You never know, you can never tell," neither of which is exactly a definitive answer.
As of now, it's up in the air. When asked if her family and friends influenced her decision to leave Offset, she set the record straight about being the only person in control of her life. And no amount of therapy will change her mind about anything. She shares Offset suggested they go to therapy, but she's not with it.
"No, I decided on my own," she declares, looking me straight in the eye. "Nobody makes my decisions about my life but me." Before they broke up, Offset begged Cardi to see a therapist. "I didn't want to go to marriage counseling," she says, in a firm tone of voice. "He suggested it, but it's like, 'I don't want to go.' There's no counselor or nothing that could make me change my mind."
Welp. There's that.
After giving birth to baby Kulture, the "Bodak Yellow" rapper suffered postpartum depression, which she learned is REAL.
"It was too hard," she explains. In fact, she spent most of the time after the baby was born in a haze of postpartum depression. "I thought I was going to avoid it," Cardi says. "When I gave birth, the doctor told me about postpartum, and I was like, 'Well, I'm doing good right now, I don't think that's going to happen.' But out of nowhere, the world was heavy on my shoulders."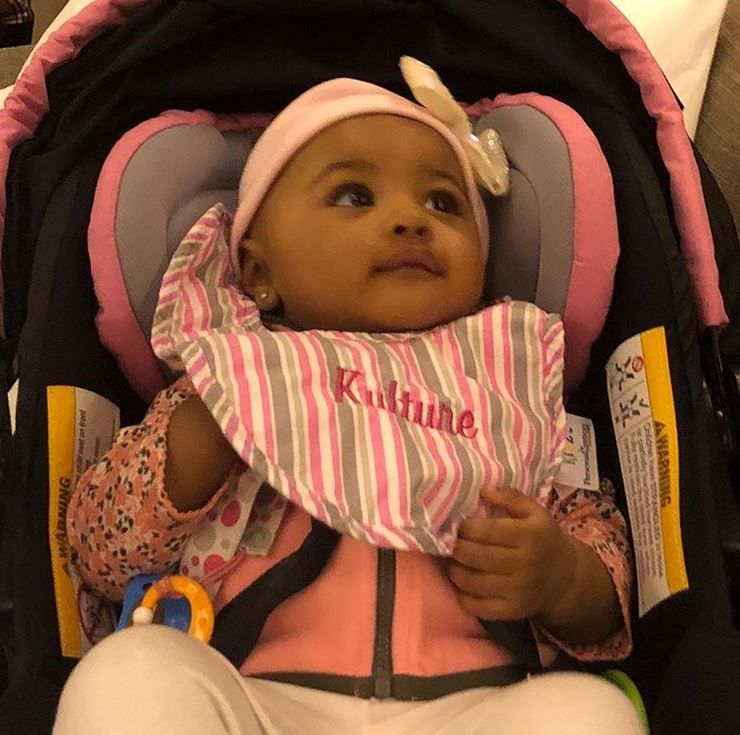 Check out more highlights from her cover story below, and how men will always be....men:
On dating as a single mother:
"I have a kid, and I'm also famous," she says quietly. "So I can't just sleep with anybody. People talk. You know, if I date somebody in the industry, that's another person in the industry. If I date somebody who is not in the industry, he might not understand my lifestyle." Since the breakup, she's been getting a ton of messages from guys but ignoring them. "It's like, 'Bro, why would you want to holler at me right away? You're weird.' If you think Imma automatically hop onto you after a marriage, that just means you think I'm a sleaze. And I'm not. I have a kid—I have to show an example."

"When it comes being around men, I don't feel like a lotta moms should be dating three, four different guys in a year. And I don't feel like your kids should see you with a whole lotta different men. Especially if you have a female daughter. Because I feel like there's a lot of psychopaths and you don't want them around your kids. Once you're a mom, you should be more mindful of how many men you bring in your life. I don't feel negative [towards men]. I just don't feel like I have the time right now."
On why she doesn't feel like a "single" mother:
"My daughter loves her dad. She really, really does. I don't feel like I'm a single mom because that's her dad. I feel like a single mom is a person that don't have the dad around. He loves my kid. I don't feel single at all. Whatever Imma want, he's gonna give me, so I don't feel like a single mom."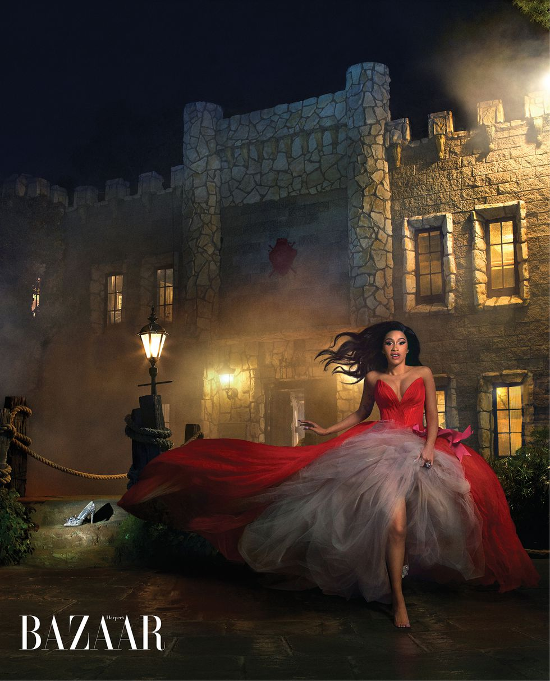 On her body changing after giving birth:
As a new mom, Cardi is still experiencing aches and pains. "For some reason, I still don't feel like my body's the same," she says. "I feel like I don't have my balance right yet. When it comes to heels, I'm not as good at walking anymore. I feel like I'm holding a weight on me. I don't know why because I'm skinnier than I've ever been. But there's an energy I haven't gotten back yet that I had before I was pregnant. It's just the weirdest thing."
On backing off from social media:
She's thinking about pulling back a little from social media. "I've noticed that every time you respond, you just make things worse, so I'm over it. I'm just over it. I really don't need it, and sometimes it just brings chaos to my brain." She adds, "I can stay off social media. I've been trying." For months after KK was born, Cardi didn't put pictures of her on social media, and certainly didn't sell any to the tabloids. She says Offset wanted to put a picture up, but she was unsure.
On posting Kulture on social media:
"As soon as she was born, one month in he was like, 'She's so beautiful. Watch how people gonna go crazy.' 'Cause a lot of people were saying mean stuff, like that we don't post her because she's ugly. He was like, 'I'm about to post my baby right now.' But then we were very concerned because we were getting a lot of threats, so he said, 'The world don't even deserve to see her.'" Eventually Cardi wanted to put a photo up because "it's really annoying and we don't have a life. We have to hide her all the time. I can't go to L.A. or Miami and walk down the beach with my baby. I want to go shopping with my baby. I want to take a stroll with my baby. Sometimes I feel bad for her because all she knows is the house." But can't you put on a baseball cap? I ask. Will people still recognize you? "Yeah," she says. "It's my nose."
Ha! We love her outlook on being extremely choosy - as all women should be whether you're a mother or not - with who she lets near her and her child. And yes, men rarely care about your personal situation, just what they want. So we're not surprised plenty of men were shooting their shot while she was going through a separation and having a baby. Steer clear of anyone who doesn't put your needs first, sis!
You can read Cardi's full cover story here and also a few additional quotes that didn't make the cover story here.
Photos: Mariano Vivanco via Harper's Bazaar
​ ​
​ ​ ​