Distraught 911 Call From Bow Wow's Girlfriend Kiyomi LEAKS! + Tekashi 6ix9ine's BM Sara Shares Horrifying Details About Alleged Beatings From Rapper
​
Feb 06 | by _YBF
​ ​ ​ ​
There are updates in the Bow Wow/Kiyomi domestic violence arrest saga, plus Tekashi 6ix9ine's daughter's mom Sara Molina is speaking out about the alleged abuse she endured from the rapper. Get it all inside...
As you all know by now, Bow Wow and his on-again, off-again girlfriend Kiyomi Leslie (real name Leslie Holden) were arrested in Atlanta over the weekend for alleged battery on each other.
Now, the 9-1-1 call Kiyomi made after the physical altercation has leaked and it's very telling. On the call, Kiyomi tells the dispatcher the "Growing Up Hip Hop: Atlanta" star "physically assaulted" her and said she was able to escape after being held "hostage" to file a report against him.
"He was hitting me. He was hitting me in places and he said no one is going to believe you," Kiyomi explained.
Kiyomi claims she called the police earlier, but when they showed up, he and two of friends allegedly kept her inside of a bedroom, refusing to let her speak to police. Wow! She fought back tears while trying to explain to the dispatcher what happened. Take a listen here.
The apartment building's manager also made a call to police after a resident hit her up about the fight. Take a listen below:
Bow Wow was booked at the Fulton County Police Station and charged for Battery Substantial Physical Harm. Kiyomi was also charged with Battery. On social media, folks have been having a field day making memes of Bow Wow's mugshot. If you haven't seen it, check it out HERE.
Whew, chile. Sometimes it's just better to move on for the better.
Looks like Bow Wow is back to business:
In other rapper news...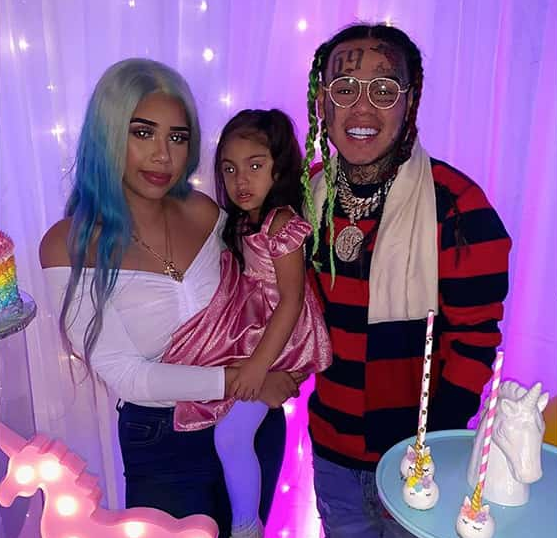 Tekashi 6ix9ine's ex-girlfriend/daughter's mother Sara Monlina is speaking out, sharing gruesome details about how she was physically and sexually assaulted by the rapper over their seven-year relationship.
In a new interview with The Daily Beast, Sara details how he punched and kicked her for two whole hours in an attempt to get to her confess to cheating on him with his manager, Kifano "Shotti" Jordan, who is also facing a life sentence in prison over RICO charges like Tekashi, while they were in Dubai. She claims he beat her so bad, she went deaf in her right ear.
He apparently hoped to elicit a confession from her by confessing himself to sleeping with more than 70 other women in the past year, resulting in multiple pregnancies. She said he told her he had acquired multiple STDs.
"I'm going to ask you again, has Shotti ever tried to come home to you?'" she recounted to The Daily Beast. "He had the craziest look in his eyes...I was scared. 'Why is he acting this way?' I had never seen him like that. He punched me so hard in my right ear I thought I was deaf."
Yikes.
It only got worse after that. She explains the NYC rapper almost choked the life out of her after refusing to let her leave. She claims he told her he had to make an example out of her for making him look "stupid." The next morning Tekashi allegedly raped her as she cried.
"He woke up, forced me to have sex with him," she said. "I cried." She went into the bathroom and stood before a mirror. "My face was so swollen," she later said. "It was so bad. I could barely open my eyes."
She said she had two black eyes, her right ear was purplish black and her body was covered with bruises. Thankfully, their 3-year-old daughter was not with them.
While the "FEFE" rapper is trying his damnedest to avoid a life sentence in prison over racketeering charges, Sara is trying to get her life together following the traumatic experiences at the hands of the man she once loved.
"I'm just trying to take it all in," she told The Daily Beast. "I'm trying to take it all in as best I can. Sometimes, it feels unreal that it feels normal to me because it's been going on for such a long time."

She concluded, "I feel like real love shouldn't be complicated."
This isn't love baby girl.
If you can stand it, read more details from the alleged assaults here.
Photos: Jamie Lamor Thompson / Shutterstock.com/Sara Molina via TDB/Instagram
​ ​
​ ​ ​