Justine Skye Makes It IG Official With GoldLink After He Addresses Domestic Violence Rumors From Her Previous Relationship + Cam Newton & Girlfriend Kia Grab Pizza In NYC
​
Jan 16 | by _YBF
​ ​ ​ ​
Justine Skye has a new bae in her life and she just made it Instagram official. Go inside to see Justine all loved up with her new rapper boo GoldLink and listen to him address rumors about Justine being phyiscally assaulted by an ex. Plus, flicks of Cam Newton and his wife Kia Proctor inside...
It's official!
Justine Skye is off the market, kicking off 2019 with new love vibes.
The gorgeous YBF chick is now dating rapper Goldlink and she just recently made their coupledom IG official. "My God the realest, that's how we meet," she captioned their video.
Check it:
Last week...
Last week, Goldlink released a new song titled, "Justine's Interlude" during a performance on the COLORS YouTube channel. On the track, the DC rapper addressed allegations of domestic violence made by his girlfriend, Justine, which are rumored to be against her ex-boyfriend, Harlem rapper Sheck Wes (pictured below).
Last year, Justine opened up about surviving a physically abusive relationship. She released a new music video in October 2018 (during Domestic Violence Awareness Month) for her track "Build" that addressed domestic violence based on real-life events. Justine has never identified Sheck Wes as her abuser, however, she did like tweets from fans suggesting Sheck Wes was her abuser.
On "Justine's Interlude," Goldlink raps about the abuse rumors, mentioning an unnamed man from Harlem - where Sheck Wes is from:
"So many stories 'bout you and so-and-so who from Harlem/It ain't too many from Harlem, so take a guess," he raps.
Then he raps about domestic violence:
"Tired of fancy dinners, I'm tired of diamond ballin'/I'm tired of hearin' 'bout if this nigga put hands on you/Tired of tryna smile through shit that's affectin' us/And I get to overthinkin' if I'm here messin' up."
Take a listen above.
Justine sat down with Power 105's "The Breakfast Club" and explained why she hasn't revealed the name of her abuser. She shared she doesn't think Hip Hop/Rap audiences would care and suggested that they would still support him, so there's no point.
Understandable, sadly.
In case you missed, check out her interview below:
We're glad she got out of that situation and has seemingly found a more positive situationship.
As for another couple...
Carolina Panthers quarterback Cam Newton has some extra time on his hands now that the regular NFL season is over. The NFL QB and his longtime girlfriend Kia Proctor were spotted toting pizza and other snacks as they made their way inside their NYC hotel.
According to photogs, the couple was returning to their hotel after Cam copped a new tattoo at Bang Bang.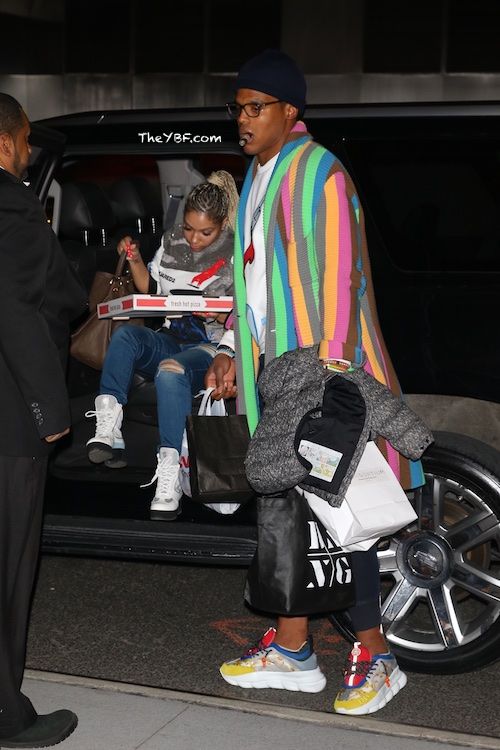 Cam...what is this bruh? What are you wearing?
Photos: Getty/Backgrid/Splash/Sheck's IG

​ ​
​ ​ ​