Dame Dash Threatens HOT 97's Funkmaster Flex After He Made Comments About Ex Rachel Roy, Flex Continues To Troll + Daughter Ava & Rachel Kick Off Book Tour
​
Jan 16 | by _YBF
​ ​ ​ ​
Dame Dash is big mad at radio personality Funkmaster Flex and he's threatening legal action. Find out why he's calling for Flex to resign, plus flicks of Dame's daughter Ava Dash on her book tour with her mom Rachel Roy inside....
Dame Dash is ready to go to war (both in court and on the streets) with HOT 97 radio DJ Funkmaster Flex. You may recall, Flex was talking greasy on Instagram after 50 Cent posted a clip of Dame and Nick Cannon discussing Jay Z allegedly dating Foxy Brown while she was a minor.
Fif called Dame a "sucker" for speaking on another man and Flex co-signed.
After that, Flex must have made some comments about Dame's ex-wife Rachel Roy on the radio because Dame is coming at his NECK. In a recent video with Kenyatta Griggs, Dame said he heard Flex was talking ish about his ex-wife. His daughter, Ava Dash, was also present in the video promoting her new book. He said Flex made him want to act a fool for upsetting his daughter. He said his daughter "didn't deserve to have to hear something about her mom."
"There's certain lines you just don't cross," Dame told Kenyatta Griggs in the interview. "You know the one thing that will get a man out of pocket is when you mess with his children. So you have to think, 'Damn, he would to hurt my child just to get me out of pocket. The colateral damage of being out of pocket can ruin everything."
"I think people should be concious when they talk about people and their parents who they're affecting and the people that don't deserve it. I think people should tread lightly and be very careful because if someone does get out of pocket, then what's going to happen? Because I'm not losing at nothing, especially when it comes to her."
He said "career coon" Flex is going too far and he needs to stop before someone gets hurt.
Matter of fact, he said he's holding HOT 97 accountable too because they brought his children into the mix.
"I need to see the CEO of HOT 97. I'm going to need Flex to step down or we have a problem and I'm talking about a legal [problem]. I'm going to let the people and the culture know who it is that's employing and empowering people that hurt innocent children. This has to stop. You're not going to monetize hurting my child. Flex, come on man. Get a life. This is too much."
Later in the interview, he addressed 50 Cent's comments as well. He said he would love to have a conversation/meeting with 50 Cent and Nick Cannon, but Flex isn't invited because he's not a boss. He addressed the comments Fif made on IG weren't aimed at him and were more so aimed at his former business partner, Jay Z.
"I don't think that [50's comment] was for me because he would talk to me different. Bosses talk to bosses as bosses," he said.
Listen to Dame's comments about Flex at the 3-minute mark and 50 Cent at the 14-minute mark below:
After the interview, Dame got on camera with his daughter Ava to blast HOT 97 and Funkmaster Flex in a few videos.
In the caption for the first clip, he wrote:
"A real man knows never to mess with a mans family to prove a point it's in poor taste and out of line and only a Desperate coward would go that far...careercoon @funkflex I'm letting you know now we have a problem but Im not dealing with a slave I'm gonna deal with your master @hot97 and Jeff smulyan your slave has gone to far on your behalf and it's gonna cost you I suggest y'all holla at me before I holla at y'all it will be cheaper ...but I suggest you bench your slave before he cost y'all more trust me #staytuned"
In another post, he continued:
"Lucky for y'all my daughter @ava_dash was raised right and could careless about what a coward thinks...because she's surrounded with love ...and is confident enough to have the right perspective... and her own voice. #careercoons ...maybe spend some time loving your family rather then hating your own culture and @hot97 y'all gonna have to pay I'm letting you know now your Slave went to far staytuned #iwantthesmoke #ceobeef cowards would not understand"
Peep the posts below:
Lordt.
Meanwhile...
Flex is STILL trolling Dame. He posted a picture of Dame's former friend/business partner and his late girlfriend Aaliyah, wishing her a Happy 40th Birthday. He also posted a clip of Dame from an old interview where he admits Hov hollered at Aaliyah first:
Whew, chile THE PETTY.
With all that going on, it's not stopping Ava from kicking off her book tour. The celebuspawn and her mother/fashion designer Rachel Roy made their way to NYC to make press rounds for their new book, "96 Words for Love." The mother-daughter duo hit up the AOL Build Series where André Leon Talley, former editor-at-large of VOGUE magazine, hosted a book signing.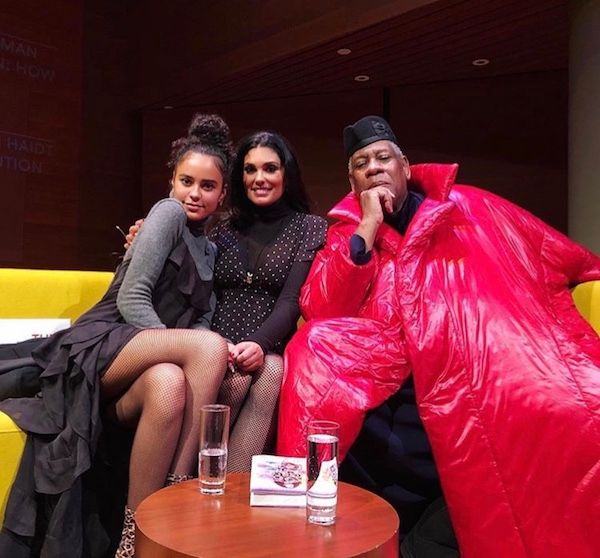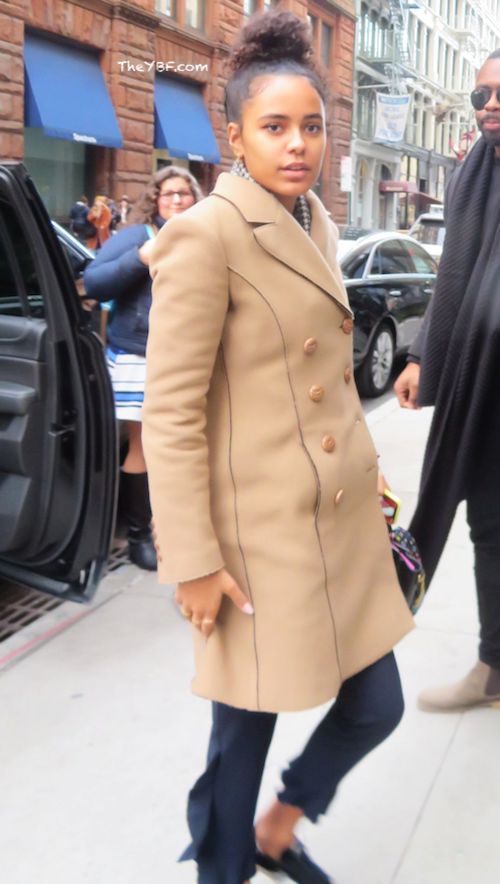 Ava's book is a young adult's novel that will bring awareness to a lot of the injustice thats being done to children around the world. Ava and her mother will be heading to San Francisco and Los Angeles next.
Photos: Backgrid/Splash
​ ​
​ ​ ​