Here's What Omarion Thinks About His Ex-Apryl Jones 'Dating' Bandmate Fizz, Says He's Muting R. Kelly After Tour + Moniece Reacts To Apryl's Diss Track
​
Jan 08 | by _YBF
​ ​ ​ ​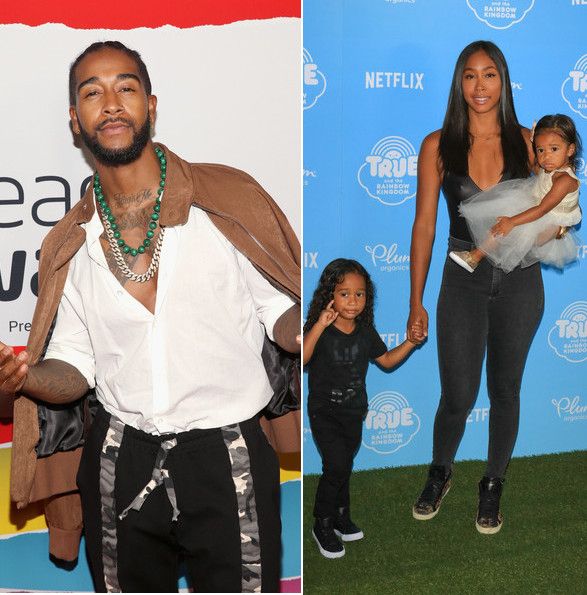 Omarion speaks out about his ex/kids' mother Apryl Jones supposedly "dating" his B2K bandmate Fizz. He also addressed R. Kelly following the LIFETIME documentary. Get it all inside...
Yes, there's drama, but the Millennium Tour is still a go...for now.
Shortly after it was announced that B2K was reuniting, all hell broke loose between Omarion and his kids' mother Apryl Jones. First, Apryl blasted O for being a "deadbeat dad," serving her custody papers on Mother's Day, and explained how his mother was a major issue in their failed relationship.
Then, she got into an argument with "Love & Hip Hop: Hollywood" star/Fizz's son's mother Moniece Slaughter on Instagram Live after Moniece spilled tea that Apryl was getting closer than close with her "baby daddy" Fizz in Chicago.
Apryl then linked up with Fizz on New Year's and they hopped on Instagram Live together to let the world know they are "just friends." Throughout the clip, Apryl is ALL over Fizz, but insisted he is just her best friend.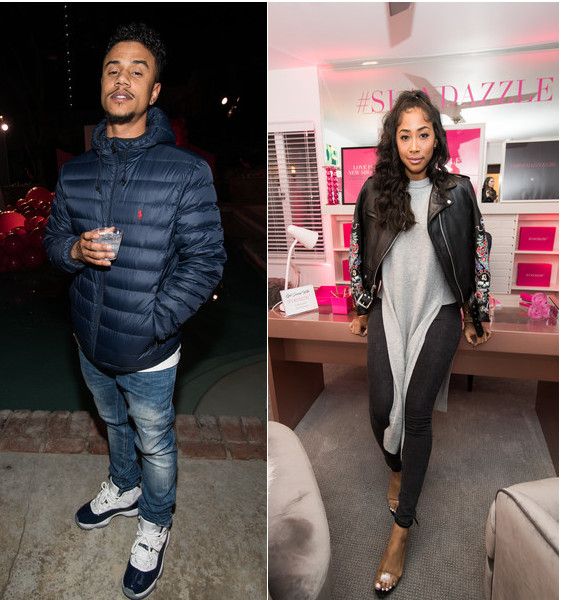 "It's funny, you know. People can speculate and do all they want to do, but at the end of the day all y'all are doing is capping," Fizz said.

"This is my best friend. Hiding what? We've been public. We've gone out. He comes to Chicago with me. This is my best friend n*gga," Apryl said. She said she and Fizz formed a great bond and he would always have her loyalty.
By the way, they're both pictured above at theShoeDazzle X BarbieStyle party in LA last year.
"Whatever y'all doing for Love & Hip Hop Hollywood storylines, you can go ahead and keep that because I won't be on there next year, I'll be on the Millennium Tour I don't need that bag, I got another bag. Some storylines won't happen because I won't be on there next season," Fizz shared.

"And no one guys, are going to ruin the tour. They've already signed contracts. So me, nor Moniece, or anyone can ruin the f*cking tour. We will be there. Moniece might not be there, but I'll be there," Apryl explained.

"By the way, I'm single, so if you sexy come to the tour, you feel me. And fellas, if you're into Apryl, let me know," Fizz concluded.
Check it:
Now, Omarion is speaking out about Apryl's alleged relationship with his B2K brother.
O sat down with Raq Rant's Raquel Harper to address the rumors that his kids' mother is "dating" Fizz.
"She can do whatever she wants to do," Omarion responded. "She's a grown woman."
When Raquel asked him about Apryl coming on tour, he didn't seem too fond of the idea.
"I don't know about all of that," he said. When asked if she'll get backstage access, he repeated himself, "I don't know about all of that." Peep the clip above.
Sounds like O doesn't care what Apryl and Fizz do as long as they don't bring their "situationship" on the tour.
Kicking her music career into gear (because this is the perfect time to do so), Apryl dropped the visuals to her new track, "Shoulda Known Betta." And its seemingly a diss track aimed at her ex and Moniece. Check it out below:
In true Moniece fashion, the reality star hopped on Twitter to throw passive aggressive shade. Peep the tweets:
Track is fire. She sounds dope. I actually like the song. I'm flattered. Thank you. spent time thinking about me enough to spend $ On studio time to spend more time writing a song about me to spend more money & time shooting & editing a video for a song about me.

— Moniece Slaughter (@KalisWorld) January 7, 2019
I'm glad I was able to help you make some money but I still don't respect you. Your name. Your get down or "yo bro."

— Moniece Slaughter (@KalisWorld) January 7, 2019
Oh, and about the tour...
Omarion shot off a series of tweets following LIFETIME's "Surviving R. Kelly" docu-series to reveal he's retiring every track R. Kelly has written for B2K after the tour.
Peep his tweets below:
As an artist & a champion of the arts, I am moved to share my position on #SurvivingRKelly which I haven't seen but felt compelled to voice my position on this very serious issue since #rkelly has written songs for #B2K.

— OMARION (@Omarion) January 7, 2019
It's important first to ACKNOWLEDGE that this has been an ugly truth in our industry for years and as opposed to dismissing it's existence | its time to discuss it. EVERYONE has to be RESPONSIBLE. Many have bared witness to the unthinkable and yet have remained silent.

— OMARION (@Omarion) January 7, 2019
Those responsible must be held accountable. #rkelly was both a victim & a predator & accordingly must be held accountable but also get professional help. His artistic genius inspired us all. His music is being muted by the darkness of his actions. The dark always comes to light.

— OMARION (@Omarion) January 7, 2019
I pray that everyone effected by this tragedy gets the help & support they need to live a better life. When you know better , you do better.

— OMARION (@Omarion) January 7, 2019
Also, B2K dropped a new promo video for The Millennium Tour:
Did you cop your tix yet?
Photos: Getty
​ ​
​ ​ ​