Kathy Griffin, Marlon Wayans & More Come To Tiffany Haddish's Defense After Her Heckler's Weird Flex While Video'ing Her Bombing On Stage
​
Jan 02 | by Natasha
​ ​ ​ ​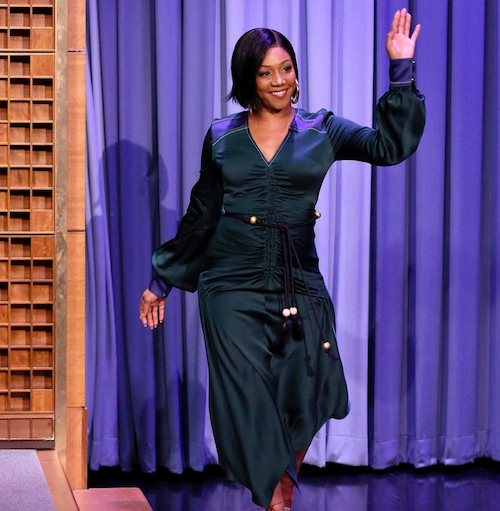 After video of Tiffany Haddish completely bombing on stage in Miami NYE night went viral, she owned up to it. But her heckler flexing way too hard while video'ing her isn't sitting right with folks. And Tiffany gets defended like a queen....
Yes this happened. I wish it was better Miami. I prayed on it and I have a strong feeling this will never happened again. Tiffany Haddish Bombs, Drinks with Fans Instead https://t.co/4QxPn0j0xc via @TheRoot

— Tiffany Haddish (@TiffanyHaddish) January 1, 2019
Yes, Tiffany seemed...not herself at her recent show in Miami. Chick may have taken the first L of 2019 when follks walked out of her show New Year's Eve in Miami.
She admitted to partying nonstop before that night, and it clearly made her either forget or just bomb her entire show. Sis re-adjusted her crown, and then owned up to completely screwing up.
But the guy who filmed the video isn't getting let off the hook. Kathy Griffin, in particular, had all the time:
Please don't do this. Where is your anger against all the guys who are trying to bring back Louis CK?@TiffanyHaddish @amyschumer aren't your punching bags https://t.co/wIs5Fi7bAB

— Kathy Griffin (@kathygriffin) January 2, 2019
Fuck You. You're always there to attack women and people of color, aren't you? When's the last time you wrote a negative story about Trump? You're a bunch of fucking hacks and @TiffanyHaddish is a [queen] https://t.co/EMzjRFx8fa

— Kathy Griffin (@kathygriffin) January 1, 2019
This is the price of fame when you're a comic. I was so lucky that there wasn't a Snapchat/IG when I was starting out on my first big tour. No REAL comic never bombs.

You are a hilarious, incredible talent @TiffanyHaddish and I can't wait to see you live! Ignore the haters! https://t.co/2nhpemOsGV

— Kathy Griffin (@kathygriffin) January 1, 2019
Come thru Kathy! If anybody would know about getting dragged all over the internet for not making the best comedic decisions, it would be her.
The guy who recorded himself heckling Tiffany Haddish said he did so b/c she said his shirt was ugly. She embarrassed him & he retaliated. Toxic masculinity is real. pic.twitter.com/X61hloNp8A

— Nog Champa (@ChristineFox) January 2, 2019
Others chimed in as well about this Andrew Chestnut guy posting this ish:
You're trash bro. Clown ass. Wait till someone films you pulling the fries out the grease too late. https://t.co/Ly3FAe9Ch2

— Matthew A. Cherry (@MatthewACherry) January 1, 2019
You know how fucking lame you gotta be to do some shit like this? https://t.co/6Lv34OkRrr

— VanLathan (@VanLathan) January 2, 2019
CLOUT chasing is a drug y'all.. this lil boy got 35 twitter followers and was SO desperate for attention that he had to DISRESPECT a black woman at work. Off night or not, you should never be this THIRSTY. Don't be this loser TRASH ass boy fellas. Ya not worth Tiff's socks boy. https://t.co/lWYHfDZGKZ

— Sarunas J Jackson (@RoneJae) January 1, 2019
I understand that some people don't find Tiffany Haddish to be funny, but I don't get celebrating someone's humiliation and pain unless they have a reputation for being a jerk, or have done something harmful.

— Jamilah Lemieux (@JamilahLemieux) January 1, 2019
Cameras blow everything out of proportion. Having a bad set is part of being a comic. You're dope :)

— Damon Wayans Yunior? (@wayansjr) January 1, 2019
Terrible flex. This is why we can't get anywhere. I would never clown my sister like this.

— SoShanel (@soshanel) January 1, 2019
I know you aren't tripping off this, because you're a pro who understands we all have off nights. I just wanna remind you that YOU ARE A QUEEN. You been the same person since day ONE and anyone who doesn't respect your grind and talent is a fool. Happy new year, friend!

— Robin Thede (@robinthede) January 1, 2019
There are way too many mediocre white men THRIVING for y'all to be coming down hard on Tiffany Haddish. It's okay if she's not your favorite comedian. It's okay if you don't like her personality. She still has every right to secure AWL the bags. Move around. pic.twitter.com/aJTGb2yBfR

— April (@ReignOfApril) January 1, 2019
And this too shall pass. We all bomb baby. ThTs a part of the journey. Embrace it. The same shit you bombed with you'll get standing ovations for later. Love you.

— marlon wayans (@MarlonWayans) January 1, 2019
And the #CancelTiffany crowd is getting silenced too:
Cancel Tiffany??? For what? Cuz she had a bad day at work?

Imagine getting cancelled every time you've had a bad day at work pic.twitter.com/ltY1lQOFmT

— Nog Champa (@ChristineFox) January 2, 2019
It's a contingent of niggas that HATE Tiffany Haddish. I don't get it. But like whatever... she stays booked and busy and hating comes along with the bag. Good luck to her I'm still rooting for her.

— M'BlockU (@rodimusprime) January 1, 2019
Tiffany Haddish may not be funny but I'm never gonna cancel her. Y'all let this nigga Kevin Hart get to where he is without being funny so y'all gonna deal with Tiff.

— CantThinkOfOne (@ILuhsHappoIDo) January 1, 2019
But others say she's fair game:
Its not that we want "Tiffany Haddish" to fail, in my opinion she is not funny. She is just loud and ghetto and the only reason he gets any scripts is because she feeds into the stereotype. It's sad and sickening. pic.twitter.com/KIR8RfH1zq

— Tiffany Marie (@TiffyMarieLoves) January 1, 2019
I'm confused by the "people want to see Tiffany Haddish fail" tweets

Isn't the point of being a professional, to be good?

If ANY other comic forgot their routine and got boo'd everyone would've talked shit too. Do y'all NOT remember showtime at the apollo? Def comedy jam? pic.twitter.com/MI9VbCLqHH

— Who's that Girl, She's THAT Girl (@glamhergirl) January 1, 2019
Katt Williams was right about Tiffany Haddish . Tiffany isn't funny at all. She says the dummies shit and thinks it's cute. Need to go find another career because this isn't it.#tiffanyhaddish

— Shamiyah (@MizzShamiyah) January 1, 2019
I love Tiffany Haddish, i find her humorous & extremely necessary, BUT she bombed, in front of a sold out crowd, she deserves all the jokes & slander, its a part of the game! She's a big girl, and she wasn't ready...

— Mouse (@Mouse_Jones) January 2, 2019
Thoughts?
Photo: NBC Photo Bank
​ ​
​ ​ ​