Cardi B. Reveals She & Offset SPLIT, A Week Before Offset's Album Drops! Rapper Who Allegedly Cheated With Offset SNAPS, Offset Says 'Y'all Won'
​
Dec 05 | by Natasha
​ ​ ​ ​
We're not shocked, but we're a bit surprised that THIS is how Cardi B. explains why it ended. The Cephuses are no longer, and the latest rapper chick that Offset has been accused of cheating with, just SNAPPED. The latest on Cardi & Offset's breakup inside....
It was all good less than a week ago. Cardi B. and Offset have been slobbing each other down, on baecay together last month, hugged up (above at the Hawks game last week), commented about sexual relations and every other over-the-top expression of love lately. But according to Cardi, they haven't been working out "for a while now." Oh?
The "Be Careful" rapper took to Instagram to say she and her baby's faavuh (not typo) are no longer together after almost 15 months of marriage. And folks are losing it.
We guess their on stage slob-down this past weekend was all for show.
Reminiscent of the f***ery that was the Future and Ciara breakup aftermath, plenty of folks are upset at Cardi for calling it quits and "breaking up their home." We find that utterly amusing since Offset has been caught cheating PUBLICLY a MINIMUM of 3 times - before, during and after Cardi had baby Kulture. Yet, she took him back each time he half-assed apologized and half-assed denied things. We hope foks are in his comments just as hard telling him HE f'd up. But we already know they're not.
Offset did respond to her post, commenting:
"Y'all won."
How? HOW? Just like a f**kboi to place blame on everybody else but themselves.
We guess Cardi finally smartened up. Becoming responsible for another girl who will be her own woman one day can have that effect.
So what suddenly brought on this courage to leave, when Cardi was vocal several times prior to this about staying with Offset despite his (alleged) cheating?
Well, Offset IS dropping a solo album next week. A PR stunt breakup is right up his alley. But we actually don't think Cardi needs something like this, and never has.
There's also the fact that alleged text messages leaked a couple days ago showing a friend of rapper Cuban Doll trying to set up a threesome with Offset, who was trying to fly them out.
Hmph. When getting FLEWED OUT goes wrong...
The friend, Summer, posted an apology letter and video saying she feels bad about hurting another woman. And she "didn't know how serious their marrage was." Oh? We guess she didn't know Cardi was married married. *girl-you-tried-it-and-not-hard-enough eyeroll*
And Cuban Doll, the rapper who suddenly got "dropped" from Cardi's Fashion Nova release party performance list last month, is popping off: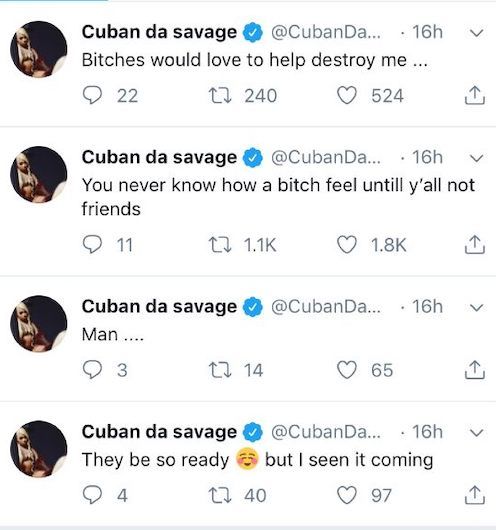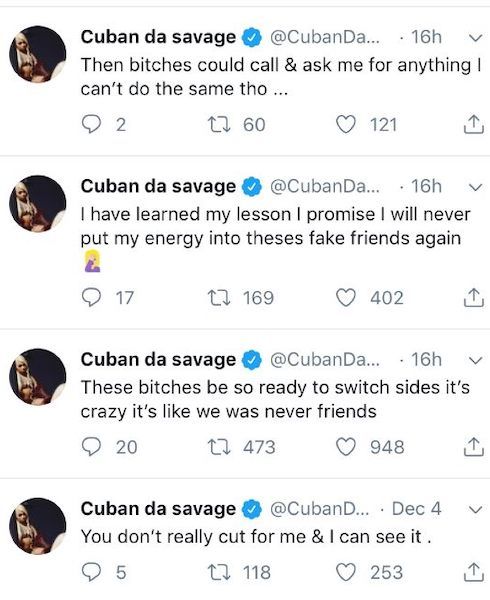 Girl, whet?
Still, the blame lies with Offset, if true. The person who took vows and voluntarily married his wife and voluntarily procreated with her. Can't tell some men nothing, though.
Do you think it's all stunt, or is Cardi finally fed TF up?
Photo: Getty
​ ​
​ ​ ​