Viola Davis Set To Fight The Power As Shirley Chisholm After Inking Amazon Studios Deal + Sandra Bland's Family Speaks Out Ahead Of Documentary Premiere
​
Nov 29 | by _YBF
​ ​ ​ ​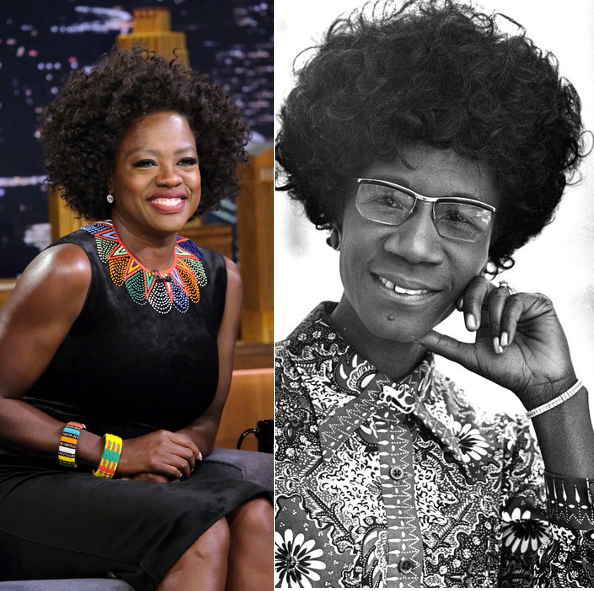 Viola Davis is gearing up to bring Shirley Chisholm and her story to life after inking a huge deal with Amazon Studios. Get those deets, plus see Sandra Bland's family open their hearts about their sister and her upcoming HBO documentary inside...
Shirley Chisholm is about to get some much deserved respect put on her name.
Days after signing a first-look deal with Amazon, Viola Davis is gearing up to lead and produce a new Amazon Studios series about U.S. representative Shirley Chisholm, the first woman and the first person of color to seek a major American political party's nomination for President.
Viola perfectly cast herself for this, we might add.
It's titled The Fighting Shirley Chisholm and it's the first project to be released from the deal.
Maggie Betts (Novitiate) will direct from a screenplay written by Adam Countee (Silicon Valley, The Mindy Project). Homegrown Pictures' Stephanie Allain (Hustle & Flow, Dear White People) and Mel Jones producing with JuVee are also behind the project.
Deadline reports:
Countee had long been interested in telling Chisholm's story and his research led him to write the feature script on spec about the trailblazing congresswoman who never backed down as her bid drew ridicule and bigoted backlash. Chisholm ran for the U.S. House of Representatives in 1968 from New York's 12th congressional district and became the first black woman elected to Congress. In January 1972 she announced her presidential bid in a Baptist church in her Brooklyn district. That election ended with George McGovern getting the Democratic nomination and losing to incumbent Republican President Richard Nixon.
As for the deal with Amazon Studios, the Oscar winner and her husband Julius Tennon's production company, JuVee Productions, joined forces after signing an exclusive first look feature production deal. The husband-wife duo is also working with Amazing on the upcoming comedy "Troupe Zero," which will be released in 2019.
In other activist news:
Three years after the death of activist Sandra Bland, a documentary about her life and what led up to her untimely death is about to debut on HBO. Sandra's sisters Shante Needham and Sharon Cooper went on "The View" to share how they're still seeking details surrounding her passing.
There are still many unaswered questions surrounding her death, including that bail money situation we're still pissed about, and they share how they're still fighting to get details about the last moments their sister experienced on this earth.
Directed by David Heilbroner and Kate Davis, the HBO doc focuses on her life and legacy to continue her message. Before her death, Sandra spoke openly about racism, race relations and police brutality via her blog. She actually narrated much of the documentary via the posts she made before her death.
Check out the clip above to see Sandra's sister speak on her legacy.
"Say Her Name: The Life and Death of Sandra Bland" premieres Dec. 3rd on HBO.
Sandra's sister also did an interview on "CBS This Morning" below:
By the way, Viola Davis executive produced and narrated "Two Sides," a docuseries that explored the Sandra Bland case.
Photos: Getty/AP
​ ​
​ ​ ​