SIGHS! Here Goes Pastor John Gray Glorifying A Woman Who Puts Up With A Grown Boy's Ish
​
Nov 15 | by _YBF
​ ​ ​ ​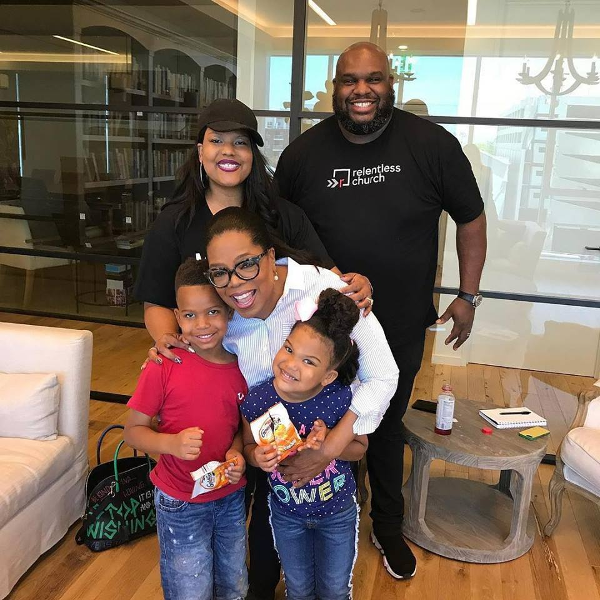 Pastor John Gray spilled his heart out about how his wife "birthed" him and how he had to grow into her. Find out everything he said and share your opinion about women raising grown boys inside...
Pastor John Gray surely knows how to keep himself in the headlines with his controversial comments. First, he had everyone up in arms for meeting with Trump. Then, he gave LeToya Luckett dating advice about how a Christian woman needed to move in the spirit of a wife instead of a girlfriend. Now, he's dropping toxic tidbits about his "biblical marriage" and folks ain't having it.
Pastor Gray went on "Sister Circle" where he opened up about how his wife, Aventer Gray, "birthed" him and kept him "covered" as he grew into a man. He talked about how she had to self-sacrafice to make him better since he wasn't ready to be the husband she needed him to be when he asked for her hand in marriage.
Oh....
Peep the clip below:
He said,
"I married a woman two sizes too big. I have to grow into Aventer. She's a coat. I still can't fit her. She's bigger than me and she's had to cover me while I grow up. I gotta grow into her. She's a covering, not a lid. Because if a man marries a lid she'll stop your dream. But if you marrying a covering, she'll push you to your destiny. Let me tell you something, my wife has endured more pain birthing me than both of our children. She has sacrificed these last eight years, uncovering the painful areas of my manhood and covering the areas that could have exposed me."
This type of relationship is problematic. Yes, it's a beautiful thing when BOTH parties in the relationship help to fine tune EACH OTHER. But mutual fine tuning and "helping" isn't birthing.
Why does a woman have to be praised for enduring so much pain from the man who claims to love her? He said his "wife has endured more pain birthing me than both of our children." Why? Why ask for her hand in marriage if you weren't ready? This narrative that black women have to "raise" a grown boy has to stop. Why couldn't he deal with his issues BEFORE getting into a relationship? He said she was his coat...well, who was her coat? Who protected her?
Being a wife that helps a fully formed individual to support and grow, yes. Raise another grown person? Nope!
He gave further context in the caption of the video clip he posted on Instagram. He wrote:
"My heart was broken when we met. She didn't know. I didn't know the extent. I just knew something was "wrong" inside. I haven't been what she needed. I couldn't love her because I couldn't love me. I heard @pastorwilliammcdowell talk about the difference between a Covering and a lid. He was speaking of pastoral leadership but the principle is the same. God took a RIB to make woman. What does a the rib cover? The heart. The vital organs. So covering goes both ways. I'm still learning. And sometimes I feel inadequate and want to give up. But I AM NOT MY FATHER. My kids will SEE ME FIGHT UNTIL I BECOME EVERYTHING GOD INTENDED ME TO BE. Greater is He that is IN ME. @grayceeme, thank you for your grace towards me. I love you. There are no words for your expression of Christ to me."
Perhaps we should encourage men not to propose until they have done the work on their own to no longer be broken?
And there's always talk about what the woman should be doing...what about the man? What's the spirit of a HUSBAND? We'd like to know.
But whatever works for you and yours.
What do you all think? Women, are you down for helping to raise your man? Sound off in the comments.
Photo: John Gray's Facebook
​ ​
​ ​ ​