Queen Latifah, Mary J. Blige & Missy Elliott Are Bringing Us A Biopic On The Clark Sisters + Bishop Paul S. Morton Calls Out 'Spiritual Son' For THOTTING!
​
Nov 14 | by _YBF
​ ​ ​ ​
The Clark Sisters are getting a biopic thanks to Queen Latifah, Mary J. Blige and Missy Elliott. Meanwhile, Bishop Paul S. Morton had to call out his "spiritual son" Bishop Victor Couzens for allegedly being a womanizer. Everything inside...
The Clark Sisters have been slaying the gospel game for YEARS. And now, fans will get a behind-the-scenes look at their lives and they climbed their way to the top in the industry.
Following their "Unsung" episode, LIFETIME will be giving fans a more in-depth look via a biopic of the legendary gospel singing group that will premiere in 2019. Karen Clark Sheard, Dorinda Clark-Cole, Jacky Clark-Chisholm, and Elbernita "Twinkie" Clark-Terrell will be sharing their struggles and victories they experienced during their journey with the world.
Hollywood executive and CEO of Relevé Entertainment, Holly Carter, confirmed the news during the Church of God In Christ 111th Convocation, according to The Root magazine. Three powerhouses will be backing the film as executive producers, including Queen Latifah, Mary J. Blige, and Missy Elliott. Woot!
Check it:
Get ready.
In other gospel news..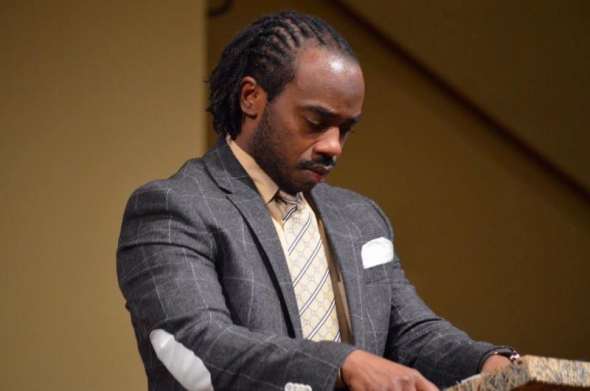 Ohio megachurch bishop Victor Couzens (above) has been called out by his "spiritual father" for basically being a THOT out in these streets.
Bishop Paul S. Morton, founding presiding bishop of The Full Gospel Baptist Church Fellowship International, publicly spoke out addressing the sex scandal drama surrounding his "spiritual son" Bishop Victor Couzens, leader of the 5,000-member Inspirational Bible Church in Cincinnati, Ohio. Apparently, Bishop Couzens has allegedly been engaging in multiple sexual relationships with different women.
Bishop Morton hopped on Facebook to announce:
"I was recently made aware of a situation involving one of my spiritual sons, Bishop Victor Couzens, being involved in multiple relationships that caused me concern. I spoke with Bishop Couzens about his actions as they were not in alignment with the level of character I expect of pastors, especially one that is my spiritual son. He has repented and tendered his resignation as the Bishop of College of Elders of Full Gospel Baptist Church Fellowship," Morton said.

"Though I understand the relationships were consensual, I want to also offer an apology to the young ladies involved as well as the body of Christ for this situation. People of God, we must maintain high standards. I'm not perfect but I'm determined to present myself to God as a living sacrifice holy and acceptable unto God which is my reasonable service."
No shade, but a few years ago Bishop Morton admitted to having a daughter out of wedlock. You can get those deets here.
The Christian Post lays out the events that led up to Bishop Morton calling Bishop Couzens out:
Morton's apology came after Andrea Garrison, a 29-year-old New York City model who said she had a long-term sexual relationship with Couzens and planned to move in with him as recently as last month, publicly demanded that Couzens apologize to her for allegedly getting engaged to another woman and lying about the nature of their affair.

"I felt stupid, I felt used, I'm hurt, [he] publicly humiliated me, tried to lie on me, tried to tell people I got no receipts. I got more receipts than you could ever imagine," Garrison explained in an interview with Larry Reid Live on Wednesday where she presented photos of them together as recently as this summer.

"Church checks, [evidence] from other women coming at me with receipts. It's a lie. It's not cool," she insisted of the evidence she has to back up her story.

Garrison stood by her story in an interview with The Christian Post on Monday morning and shared explicit evidence of the relationship she had with Couzens.

She said she was intimate with Couzens as recently as three weeks ago and was led to believe that she and the megachurch preacher began a steady relationship in April after enjoying an on-and-off sexual relationship since 2011.

She was devastated to learn recently, however, that her relationship with the pastor was not exclusive.

"I never knew that there was another girl [fiancee']. As far as I knew, whenever I would ask he would always say I was the only one. He didn't want me sleeping with anybody else. He didn't want me doing this. He didn't want me doing that. I was the only one. He would fly me out constantly between New York and Cincinnati. He would fly me out to Miami. You know we would spend more time together, he would have me come to the house for like a week. I would cook, clean, do laundry," Garrison told Reid.
Lordt.
Bishop Couzens publicly confessed to the extramartial relationships during a prayer meeting at his church asking God to forgive him and not allow him to be distracted from his job as a pastor.
Following the meeting, things went totally left on his page. A suicidal note was left on his official Facebook account. The status suggested he would commit suicide due to how he was being treated after the sex scandal leaked.
However, he claims he was hacked.
Peep the clip below:
Here's the now deleted Facebook message that was posted on his account (which has since been deleted):
Yesterday, Andrea Garrison posted this:
As of the time of this post, Bishop Couzens is still listed as the Senior Pastor:

Not sure what in the First Lady Mae, Bishop Greenleaf & Sister Rochelle hell is going on here, but bless his heart.
Photos: Getty/Facebook
​ ​
​ ​ ​