Forever FLOTUS Michelle Obama's Effortlessly Gorgeous ELLE Cover - Here's What She Told Oprah About Marriage Counseling, Trump & 1st Thing She Did Post-White House
​
Nov 12 | by _YBF
​ ​ ​ ​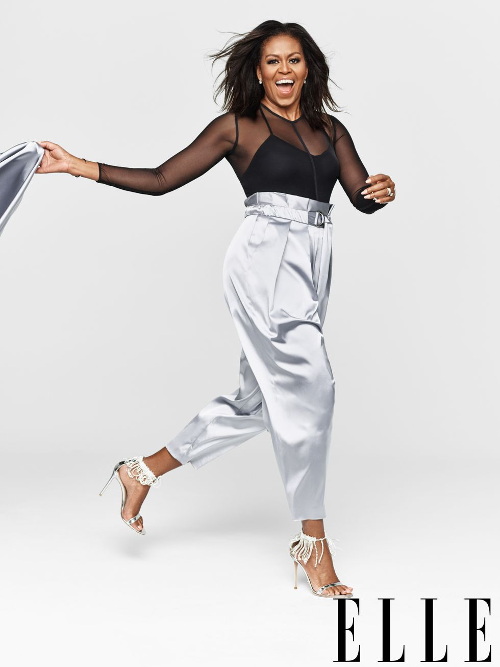 Michelle Obama will forever be our First Lady, for more reasons that one. See Mrs. O flex on the cover & pages of ELLE magazine's December 2018 issue highlights from her epic interview with Oprah....
When two powerhouses link up, epicness ensues.
#BlackGirlEverything is oozing from ELLE magazine's December 2018 issue where Oprah interviews the incomparable (like, seriously) Michelle Obama.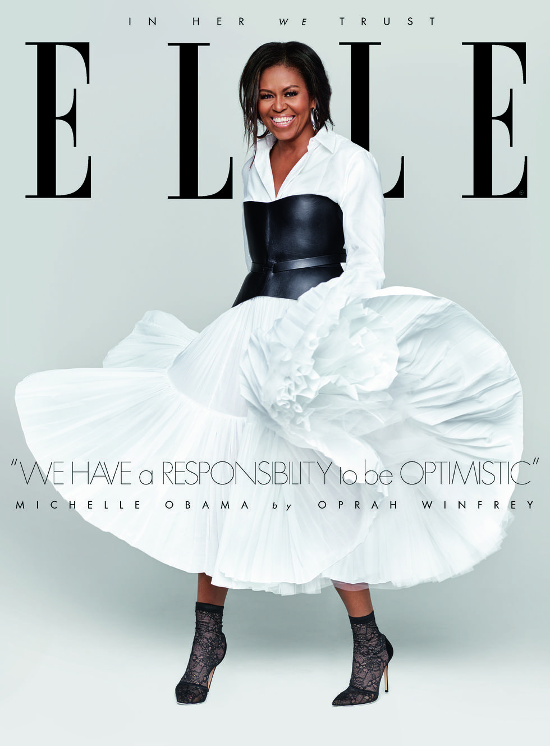 On the cover (shot by photographer Miller Mobley), the fashion icon stuns in Dior as she twirls and flashes that million dollar smile we all love.
Lady O and Mrs. O discuss Michelle's upcoming memoir Becoming, that gives readers an inside look at life behind-the-scenes during the eight-years she spent in the White House with her husband/President Barack Obama and their two daughters, Malia and Sasha Obama.
Mrs. Obama shares she decided to open up about the triublations and struggles in her life because, "I don't want young people to look at me here and now and think, 'Well, she never had it rough. She never had challenges, she never had fears.'"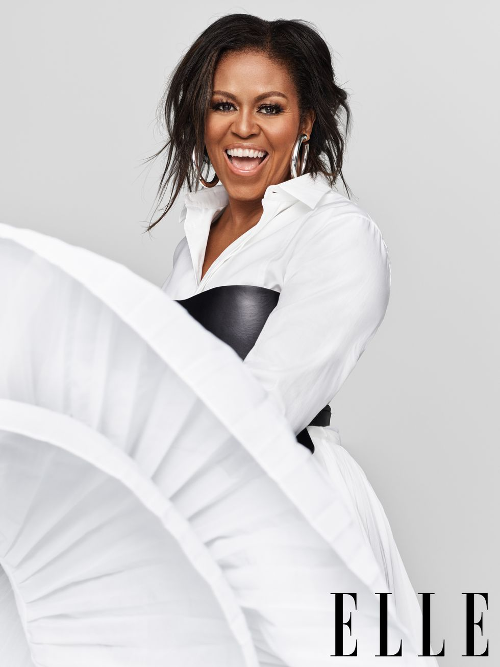 All this gorgeousness.
The Chi-town native opens up about the first thing she did after leaving the White House, revealing doing something as small as making her own breakfast was a moment she cherished.
So here I am in my new home, just me and Bo and Sunny, and I do a simple thing. I go downstairs and open the cabinet in my own kitchen—which you don't do in the White House because there's always somebody there going, 'Let me get that. What do you want? What do you need?'—and I made myself toast. Cheese toast. Then I took my toast and I walked out into my backyard. I sat on the stoop, and there were dogs barking in the distance, and I realised Bo and Sunny had really never heard neighbour dogs.

They're like, What's that? And I'm like, 'Yep, we're in the real world now, fellas.' It's that quiet moment of me settling into this new life. Having time to think about what had just happened over the last eight years. Because what I came to realise is that there was absolutely no time to reflect in the White House.
From the outside looking in, it appears Barack and Michelle Obama have the perfect marriage. However, they didn't reach that point in their relationship without putting in work. She talks about the importance of marriage counseling and how it helped them throughout the years:
Barack Obama taught me how to swerve. But his swerving sort of—you know, I'm flailing in the wind. And now I've got two kids, and I'm trying to hold everything down while he's traveling back and forth from Washington or Springfield.

He had this wonderful optimism about time. [Laughs] He thought there was way more of it than there really was. And he would fill it up constantly. He's a plate spinner—plates on sticks, and it's not exciting unless one's about to fall. So there was work we had to do as a couple. Counseling we had to do to work through this stuff.
She continues,
Well, you go because you think the counselor is going to help you make your case against the other person. 'Would you tell him about himself?!' And lo and behold, counseling wasn't that at all. It was about me exploring my sense of happiness. What clicked in me was that I need support and I need some from him. But I needed to figure out how to build my life in a way that works for me.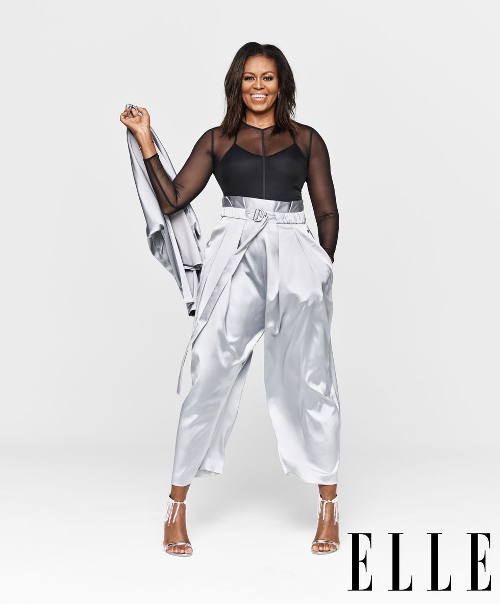 Mrs. O shares how she felt extreme pressure being the first black family in the White House:
We felt the pressure from the minute we started to run. First of all, we had to convince our base that a black man could win. It wasn't even winning over Iowa. We first had to win over black people. Because black people like my grandparents—they never believed this could happen. They wanted it for us. But their lives had told them, 'No. Never.' Hillary was the safer bet for them, because she was known. Opening hearts up to the hope that America would put down its racism for a black man—I think that hurt too much. It wasn't until Barack won Iowa that people thought, Okay. Maybe so.
Even as president, Michelle made sure Obama kept his girls first. (And why all fathers have no excuse NOT to make time):
Trying to be the calm in his swerve. You know, when the leaves are blowing and the wind is rough, being a steady trunk in his life. Family dinners. That was one of the things I brought into the White House—that strict code of, You gotta catch up with us, dude. This is when we're having dinner. Yes, you're president, but you can bring your butt from the Oval Office and sit down and talk to your children. Because children bring solace.
Let 'em know!
Before making their way into the White House, Michelle Obama says she had to take off her wife hat off and put her citizen hat on when it came to making the "family decision" about whether he would run for the presidency.
I knew Barack was a decent man. Smart as all get-out. But politics was ugly and nasty. I didn't know that my husband's temperament would mesh with that. And I didn't want to see him in that environment. But then on the flip side, you see the challenges that the world is facing.

The longer you live and read the paper, you know that the problems are big and complicated. I thought, Well, what person do I know who has the gifts that this man has? The gifts of decency, first and foremost, of empathy second, of high intellectual ability. This man reads and remembers everything, you know? Is articulate. Had worked in the community. And really passionately feels like 'This is my responsibility.' How do you say no to that? So I had to take off my wife hat and put on my citizen hat.
We guess those tales of Prez O not being afraid of letting folks have it (when needed) aren't far off. And he knows how to still keep it tactful and respectful IN PUBLIC.
Our Forever Flotus shares with Oprah why she will never forgive Donald Trump for that drama he caused by making statements that Barack Obama wasn't a U.S. citizen and validity of his birth certificate. She says his words put her family in grave danger, and she can never forgive him for that.
Because I don't think he knew what he was doing. For him it was a game. But the threats that you face as the commander in chief are real. And your children are at risk. In order for my children to have a normal life, even though they had security, they were in the world in a way that we weren't.

To think that some crazed person might be ginned up to think my husband was a threat to the country's security; and to know that my children, every day, had to go to a school, and soccer games, parties, and travel; to think that this person would not take into account that this was not a game—that's something that I want the country to understand. I want the country to take this in, in a way I didn't say out loud, but I am saying now. It was reckless, it put my family in danger, and it wasn't true. And he knew it wasn't true.
Mama Bear O shares how someone shot at the White House into an area she and her family would often spend time and how scary the experience was for her.
We had a bullet shot at the Yellow Oval Room during our tenure in the White House. A lunatic came and shot from Constitution Avenue. The bullet hit the upper-left corner of a window. I see it to this day: the window of the Truman Balcony, where my family would sit. That was really the only place we could get outdoor space. Fortunately, nobody was out there at the time. The shooter was caught. But I had to look at that bullet hole, as a reminder of what we were living with every day.
Thank God no one was able to harm them during their time in the White House. Shout out to Secret Service On.Their.Job.
You can read Michelle Obama's full interview here. She's such an inspiration to us all.
From the very first pages of "Becoming" I knew I wanted EVERYONE to read it. I've known Michelle for 14 years, but this book is so vulnerable, I felt like she was in my ear. BOOK CLUBS EVERYWHERE – you'll want to make this your next selection. https://t.co/hSf6lckWov #IAmBecoming pic.twitter.com/CkZEvIvps2

— Oprah Winfrey (@Oprah) November 12, 2018
"Becoming" arrives tomorrow (November 13th) in both print and digital formats. After its release, Oprah will air a primetime special with our Forever FLOTUS, "Oprah Winfrey Presents: Becoming Michelle Obama," on November 15th at 8pm EST on OWN
Also, Lady O announced "Becoming" as her pick for her book club because, #BlackExcellence.
Photos: Miller Mobley via ELLE
​ ​
​ ​ ​