Ice Cube & LL Cool J Are About To Change The Sports TV Game Like Never Before + New Mom Gabrielle Union & Niecy Nash Book New Gigs
​
Nov 08 | by _YBF
​ ​ ​ ​
Ice Cube and LL Cool J are looking to take over sports TV with a huge deal. Get the deets on what they're cooking up, plus deets on new mom Gabrielle Union and Niecy Nash nabbing new gigs inside...
Big bank bosses!
Ice Cube and LL Cool J are teaming up for a total sports TV domination and it's going to be epic. That is, if they can pull off the deal.
TMZ Sports is reporting the two entertainment heavyweights will be bidding to cop 22 regional sports channels, including NYC's YES network, after Disney being forced to sell. Disney tried to be slick and received the 22 stations as part of it's $71 billion acquisition of 21st Century FOX. However, Disney is already the majority owner of ESPN, so the Justice Department feels they would have too much power in the sports TV landscape with those 22 regional stations.
You know what that means? They're up for grabs. Cube and LL are looking to get their hands on it.
TMZ Sports breaks down which channels they're looking to cop:
The 22 stations involved in the deal include everything from Fox Sports San Diego to Fox Sports Arizona, Fox Sports Detroit, Fox Sports Southwest and more.

But, the crown jewel is the YES Network -- based in New York -- they have the rights to broadcast Yankees games. Disney thinks YES alone is worth between $5 and $6 billion, according to the Wall Street Journal.

The deal for all 22 stations is expected to be anywhere from $15 to $25 billion.

Some of the potential bidders that have emerged are real heavy hitters -- from private equity titans like Apollo Global Management and Blackstone Group to the Sinclair Broadcast Group.
Ice (Big3 creator) and LL have to beat out other bigwigs who are looking to make this come up. It's reported they're joining forces with billionaire Alex and Ani jewelry founder Carolyn Rafaelian. It's also said other sports and cultural icons are interested in participating in the bid.
This would be HUGE for Ice as he could air his Big3 League games on these stations.
Initial bids are due today (Nov. 8th). Let the games begin. Literally.
In movie news..
Brand new mom Gabrielle Union STAYS booked. And she has yet another project coming down the pipeline along with her new bundle of joy.
She'll be pulling double duty in an adaptation of author/beauty expert Tia Williams' 2016 novel, The Perfect Find. Gabby's production company, I'll Have Another, has gained exclusive rights to the best-selling book and intends to make it a romantic comedy, according to Variety. She'll be starring and producing the film.
"Two years ago, I published a novel called 'The Perfect Find,' Tia Williams writes on Instagram. "A year ago, @gabunion read it, loved it, told me so, and I figuratively fainted. And today...this. I'm currently too overwhelmed to process (I'm just sitting here, shaking and shimmying like an overcaffeinated chihuahua). LIFE, MAN. Even when the stakes seem crazy and the obstacles insurmountable, do that nutty thing you love. Make yourself do it. You never know where it'll go"
This will be the actress' third time executive producing a film that she is also performing in. Because as a black actress in Hollywood, you often have to create your own ish.
As for the film's screenplay, it is being written by Leigh Davenport, a former producer and consultant at BET.
A movie written by a black woman, starring a black woman, and being produced by a black woman. We're here for it!
Speaking of melanin movies...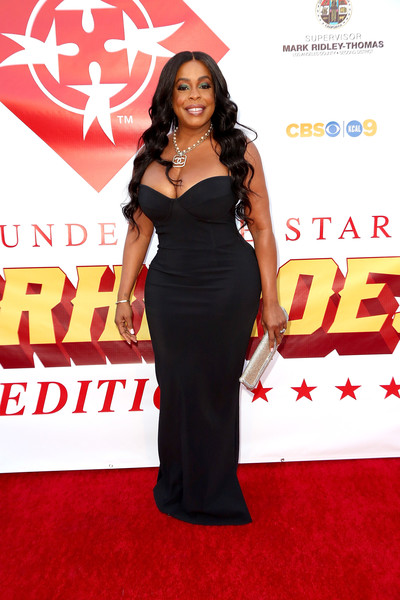 "Claws" actress Niecy Nash is coming to Netflix! The Daytime EMMY winner will be starring in a new Netflix movie alongside EMMY winner Courtney B. Vance and Mamoudou Athie ("The Get Down").
Uncorked is a father-son story loosely based on the family history of "Insecure" EP and showrunner Prentice Penny, who wrote and is directing the pic for Netflix, according to Deadline.
The site reports:
Uncorked follows a young man, fueled by his love of wine, who strives to become a master sommelier while dealing with his father's expectations that he'll take over the family barbecue business.

A Boy. A Girl. A Dream. producer Datari Turner is producing this project with Forge Media's Chris Pollack, Mandalay Pictures' Jason Michael Berman, Argent Pictures' Jill Ahrens, Ryan Ahrens, and Ben Renzo, as well as Penny. Patrick Raymond and Veronica Nickel will serve as exec producers while, Argent partners Drew Brees, Tony Parker, Michael Finley, and Derrick Brooks are co-exec producers.
Filming is slated to begin November 10 with production set to take place in Memphis, Tennessee and Paris, France. Co-producers are Jamie Moore and Will Raynor.
Photos: Getty
​ ​
​ ​ ​