Kanye West Cancels All Social Media Again, Taylor Swift Throws A Political Plot Twist, And Kourtney Kardashian DRAGS Yeezy Designs (And Kim Wearing Them)
​
Oct 08 | by _YBF
​ ​ ​ ​
There's a lot going on in Kanye West's world. And apparently, we all chose the wrong side of the Taylor vs. Kanye drama. Get the latest inside...
Welp.
Kanye West is fed up with social media once again, so he has deleted all of his accounts.
He'll likely come up with some extreme reason why he called it quits, but folks are saying he deleted his social media accounts following the backlash he has received since his pro-Trump rant on "Saturday Night Live."
Ye had everyone sharing their 2 cents after he went on a rant claiming everyone at "SNL" tried to convince him to take his Make America Great Again hat off. He also hopped on Twitter and made a comment about abolishing the 13th amendment and y'all know folks took him straight to school when he tweeted that nonsense.
This isn't the first time Ye has quit social media, so we wouldn't be surprised if he pops back up right around the time he's supposed to release his new album Yahndi, which has been pushed back to November. He's reportedly in Africa working on it now.
"I need to go to what is known as Africa — I need to find out what it's really called...and just grab the soil and be and cook food," he said.
Hmph.
In other news...
Taylor Swift hopped on Instagram to share her political thoughts and now it has folks praising her while slamming Kanye West.
In short, people are saying the pop star cares more about minorities than 'Ye. In her post, she slammed her state's Republican Senate candidate, Marsha Blackburn, for her lack of supporting women, people of color/minorities and the LGBT community. Instead, she's backing Democratic candidates. Oh?!
It didn't take long for people to start a discussion on how her political support is totally different from her nemesis, Kanye West, who has been pro-Trump since sharing his political views to the masses.
Read her message above, then peep some of the tweets below:
It's 2018 and Taylor Swift is railing against systemic racism while Kanye West is running around calling slavery a choice. It's oddly poetic?

— Andrew Kirell (@AndrewKirell) October 8, 2018
Taylor Swift cares more about black people than Kanye West and now I need to lay down because I got a headache just from tweeting that.

— Ragnarok Lobster (@eclecticbrotha) October 8, 2018
Taylor Swift seems to care more about black people than Kanye West...

Bruh, even I couldn't write this plot twist this good. pic.twitter.com/JOgjUrfGMD

— Tiffany D. Jackson (@WriteinBK) October 8, 2018
Imma let you finish, but Taylor Swift now has better political opinions than Kanye West.

— Thor Benson (@thor_benson) October 8, 2018
Just FYI, her Senate candidate she's backing - who is also Tennessee's former Governor - says he also would have voted Yes on Kavanaugh. So, there's that.
On reality television last night...
Last night's episode of "Keeping Up With The Kardashians" showed another sisterly fight between Kim and Kourtney Kardashian.
They have been at each other's necks this season and last night's episode was no different. Kourt let Kim HAVE IT and went straight savage mode on her.
No, we don't care. But we do apprecate Kourt's savageness about Kanye.
The sisters traveled to Japan where Kim was shooting a campaign for husband Kanye West's clothing line, season 7 of Yeezy. When she got there, Kim was NOT pleased with the way her sisters Kourtney and Khloe were dressing. She said their outragous and "crazy" outfits (the audacity chile...) were messing up her looks.
"My sisters look so crazy, like it's actually embarrassing," Kim said. "Kourtney with Japanese-inspired outfits and Khloé's wearing silver sequins, turquoise eyeshadow, huge chandelier earrings. They're just like completely clashing and making my outfit look really bad and they're ruining everything. I couldn't even eat dinner because I was so disgusted."
Well damn.
Kim then confronted her sisters, saying they were dressed like "clowns" and that they needed a "fashion overhaul" to stay "young and relevant." She then slammed Kourtney's fashion sense, saying she always looks like a "grandma" when she gets dressed up. Well, Kourt went in on that a**. She said:
"Your f*cking outfits suck. You're wearing a puffy vest, you have pink hair and turquoise shoes. I didn't come here to wear leggings that are see-through and show my ass. Do you know how easy it is to be a b*tch? It takes a lot more courage to show your feelings and not sit here and be a b*tch."
Kourt also pointed out how rude Kim has been to her and the glam squads.
Bloop! Peep the clips above and below for the SHADE:
Sunday morning...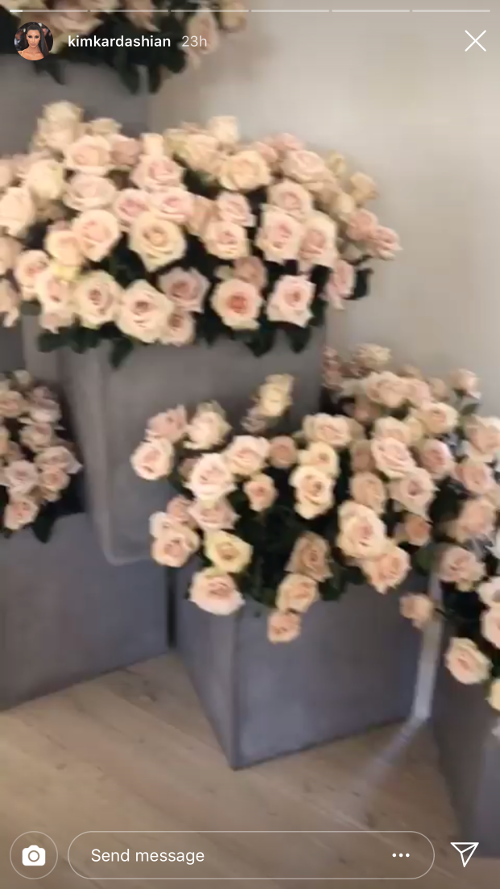 Kim K woke up to arrangement of pink roses from her hubby, who we guess wants to make sure stays in her good graces. He'll need a PR machine since he dropped his own.
"Woke up to all these beautiful flowers on a Sunday," Kim said in an Instagram story. The gesture comes days after Ye convinced her to stop promoting other brands in competition with his. She turned down a lucrative offer from another fashion brand to give all her praise to Yeezy, because, she says, he made her Co-Owner of Yeezy. Hmph.
Photos: YouTube Screenshot
​ ​
​ ​ ​