Desiigner Is CUTTING UP Overseas! Sucker Punches Fan At Concert, Gets Kicked Off Plane & Banned From Scandinavian Airlines
​
Oct 03 | by _YBF
​ ​ ​ ​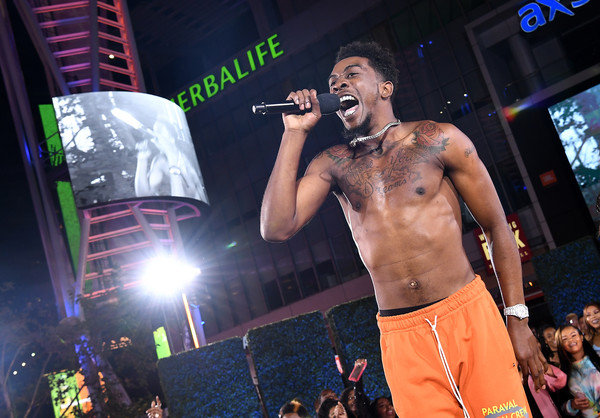 Desiigner is on one! The rapper is getting into all types of trouble overseas. More inside...
Don't you dare call Desiigner a "knock-off Future" unless you want smoke!
Desiigner is currently touring overseas and he's getting into all types of ish.
Last night, he hit the stage in Denmark when a heckler kept yelling at him during his set. The "fan" eventually got the NYC rapper's attention. Desiigner stopped his show to talk to him and that's when the heckler called him a "knock-off Future." *cackles quietly*
Next thing you know, Desiigner sucker punched dude in the face. Oop!
Check
Lordt.
The "Panda" rapper was clearly still fuming, because he had smoke for some flight attendants too after the show.
Desiigner claims he got kicked off a plane and banned from Scandinavian Airlines for allegedly threatening the crew onboard. The "Timmy Turner" rapper was flying to his next European stop when he got into with a flight attendant. He claims she put his hands on him, however, the airline is singing a different tune.
Desiigner hopped on Instagram Live to explain his side of the story, saying a "b*tch" put her hands on him. He said they banned him for a whole year and now he wants all of his fans to boycott the airline. "They kicked me off my flight because this b*tch put her hands on me," the rapper said. "They always try to make the black man play the white card and it's like I'm tired of trying to be victim of that sh*t."
Peep a clip of his post above.
The airline issued a statement to The Blast that reads:
"We can't give details regarding our passengers and their identity. However, we can confirm that we had an incident last night where passengers behaved threatening towards our crew during a flight. Safety is our first priority and threatening behavior towards our passengers and crew is not acceptable."
Lordt. Well, at least fans were able to see him perform before he was banned.
He's still in good spirits though:
He posted a video while hanging out on a balcony in Sweden this morning with his same energy.
Photo: Getty
​ ​
​ ​ ​