Wheeeew Chile, The Rap Foolywangery! Cardi B. Fights With Nicki Minaj At Fashion Week Party, Cardi Ends Up With A KNOT On Her Head!
​
Sep 08 | by Natasha
​ ​ ​ ​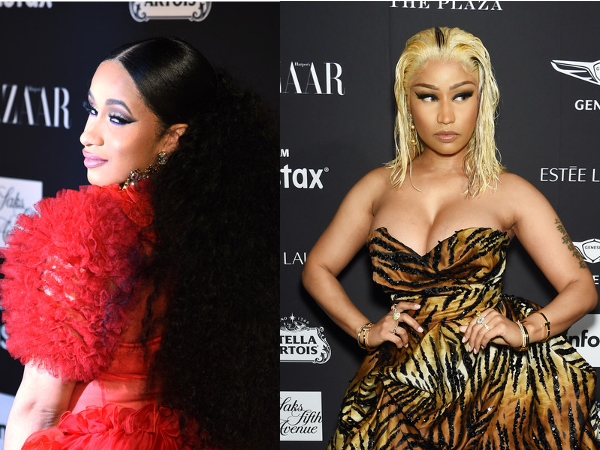 Cardi B. tapped back into her "Love & Hip Hop" roots tonight at a New York Fashion Week party. Video and photo receipts of Cardi going apeshit on Nicki Minaj inside....
Ish has been coming to a straight up boil for months. Nicki's been throwing mad subliminals that her fans swear has nothing to do with Cardi B. But we all know better, and we definitely all know how petty Nicki can be when she feels threatened. And Cardi's been riding high on the charts and taking it all in stride...until now.
"Queen" Nicki Minaj rolled up to the Harper's Bazaar ICONS party hosted by Carine Roitfield tonight at the Plaza Hotel in Manhattan. According to reports (and some sneaky a** video), Cardi "aggressively approached the table" where Nicki and her entourage were sitting pretty.
Suddenly, Cardi reportedly said toward the table "Let me tell you something" and lunged, and security gathered her RIGHT quick. Somebody's elbow made contact with Cardi's face, and it didn't look pretty afterwards!
Then, Cardi is seen taking off her red, high heeled shoe and hurling it toward Nicki.
Oop!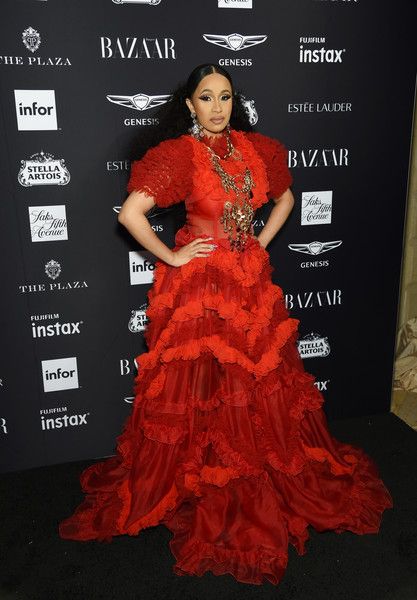 A source dished to Us Weekly:
A second eyewitness who saw the fight go down told Us that Cardi B "looked really roughed up … like she had just fainted."

Prior to the event, the eyewitness says, "Cardi was really playful on carpet and did not appear in a bad mood."
Cardi's people allegedly say that Nicki and her securty team were plotting all along to attack Cardi HARD if she had approached the "Queen" rapper at some point:
People connected to Cardi tell us, when Cardi approached the table she was not looking for a fight ... they say she wanted "to address the lies Nicki was spreading." They believe security had a plan if Cardi came anywhere near, and one of them elbowed her in her face (check out the lump). They say at that point it was on.
That's that "LAHH" mentality. Basically saying 'I just wanted to ask her about the sh** she been doin! I wasn't even trying to touch her!' Ha!
There's plenty of video footage showing what went down. We also hear "former LAHH" star Rah Ali may or may not be involved as well as she's been rolling hard in Nicki's camp lately.
Omggggg nicki and Cardi almost fought #nickiminaj #cardib #cardi #monse #nyfw2018 #nyfw #omg pic.twitter.com/2gtOL5zoeI

— kylie (@Hemsworth_kylie) September 8, 2018
Allegedly Cardi B & Nicki Fight at the Harpers Bazaar ICONS Party Tonight pic.twitter.com/yE4MPnAjZM

— PowerStarLive (@PowerStarLive) September 8, 2018
Whew! More Footage Surfaces of Cardi B vs. Nicki Minaj Fight at the Harpers Bazaar ICONS Event pic.twitter.com/UW66SQhg0e

— PowerStarLive (@PowerStarLive) September 8, 2018
After the altercation, here's how Cardi was ESCORTED OUT the party:
A huge knot appeared on her head, likely where Nicki's security strong elbowed her once she got buck with them.
As for Nicki, here's how she left:
Nicki Minaj leaving after getting in a fight with Cardi B pic.twitter.com/a9truUUBja

— La Diabla (@realstephy) September 8, 2018
Unbothered AF. Chick got the exact reaction she's been wanting and she looks proud as pie.
Like Cardi said, this is all entertainment. But what she must realize is, you have to act as such as well. If it's all entertainment, keep it cute, keep it moving, and most def keep it on wax.
Cardi - who snapped it up with Kelly Rowland and La La Anthony earlier in the night - took to Instagram to go AWF afterwards, saying she had already "talked to" Nicki several times. And clearly, she's had enough. Enough of Nicki allegedly threatening people to not work with Cardi (we've heard this from multiple other artists as well), enough of Nicki allegedly talking about baby Kulture, and more.
And there's this...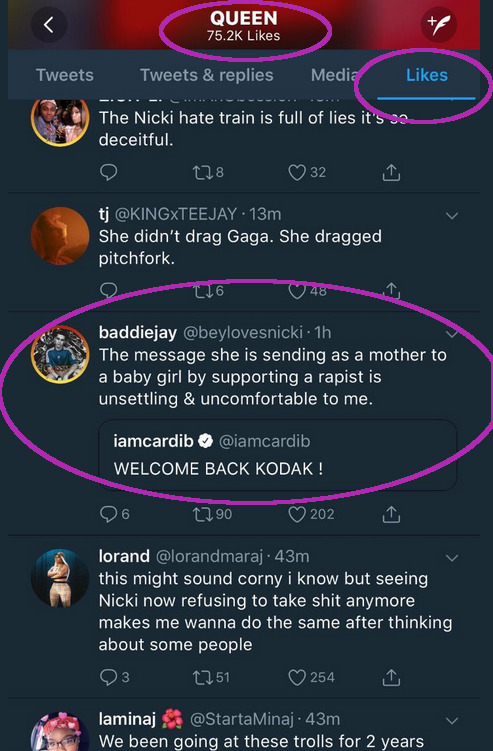 Apparently, Nicki liked a comment from a fan on Twitter that was questioning why Cardi would welcome home an alleged rapist (referring to Cardi's tweet welcoming rapper Kodak Black home).
You can see what tweets users like under the "Likes" tab. This explains why Cardi said "like another post about my daughter" during the scuffle. Oddly enough, Nicki liked that tweet, but her brother Jelani Maraj (whom she supports) was found guilty of child rape. She also collaborated with Tekashi 6ix9ine ("FEFE") after he pleaded guilty to use of a child in a sexual performance.
We're sure all of Cardi's new and VERY obvious shade toward Cardi copying her super long wigs and multi-color wiggery didn't help. That on top of the MET Ball "discussion" they had, the "Motorsport" drama, and the two simply being in a transparent competition and never admitting it.
Our wigs are SPLIT. This is entirely tew much.
Photos: Getty
​ ​
​ ​ ​