Here's Why Folks Are Up In Arms Over Michelle Obama Hugging Kanye West In Childish Gambino's Animated Video + FLOTUS Vacationed In Spain Before Sharing Candy With Bush
​
Sep 04 | by _YBF
​ ​ ​ ​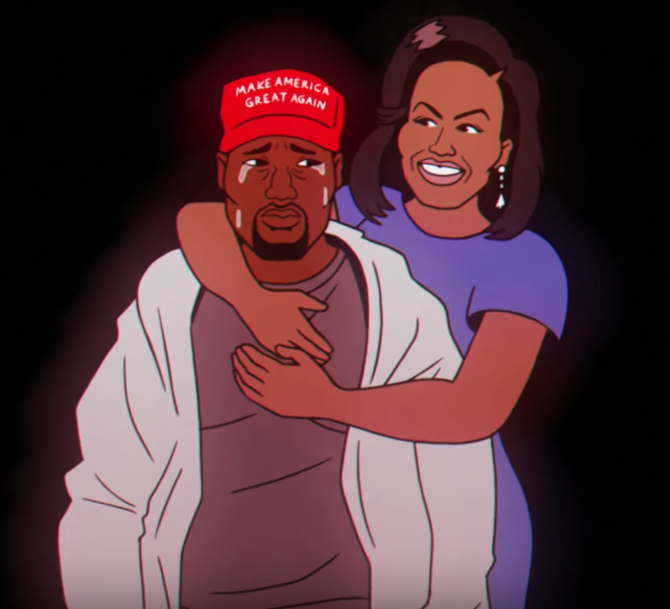 Childish Gambino put Michelle Obama and Kanye West in his new animated video and now people serving up their opinions about it. Go inside to see the clip to give your own interpretation, plus see what FLOTUS was up to before she shared a moment with former president George W. Bush inside...
When Donald Glover isn't creating magic in film, he's creating conversation pieces via music.
Using his rap name, Childish Gambino dropped a new visual titled "Feels Like Summer" over the weekend that has everyone talking. It's an animated clip of Childish Gambino strolling down the street, listening to headphones. Animated versions of several artists appear in the background engaging in summer activities.
Rapper Birdman is on the grill, Nicki Minaj and Travis Scott are playing with toy blocks (instead of feuding like in real life right now), Chance the Rapper is playing with who looks like Jaden Smith, (although some are arguing that it's Eminem), 21 Savage is smoking in his car, Drake is chasing Future on a bicycle, Migos are playing basketball, Will Smith is washing his car, Janelle Monae & Tessa Thompson are skateboarding...just to name a few. It's loaded with your faves and it gives off a cool summer vibe in the hood.
The screen then goes black and shows Kid Cudi, who looks down in the dumps. He disappears and then a crying Kanye West pops up. The Chi-town rapper is wearing a red "Make America Great Again" hat, like the one he wore and posted on Twitter as he praised Trump. Waterfalls of tears are streaming down his face.
Out of nowhere, former First Lady Michelle Obama appears and gives 'Ye a hug. Yeezy's tears dry up and then the clip changes into a visual of Beyonce wearing a "R.I.P. Fredo Santana" t-shirt.
Check it below at the 2-minute mark, but you will want to watch the entire thing. It's powerful:
Once the visuals hit the Internet, people have been sounding off about the Kanye West/Michelle Obama moment. Some people want to know why is it that a black woman has to "save" or "heal" Kanye West? Here are some of the tweets:
@donaldglover Just so you know, it is not the job of Black women to heal or fix Black men. Black women do not exist to be other people's mules. #childishgambino #FeelsLikeSummer

— Sojourner I am the Dragon breathing Fire Okoye (@LegalSojourner) September 2, 2018
childish gambino depicting michelle obama as like a savior for kanye is such bs lmao i'm tired of black women needing to "save" black men so they can come to their senses about who they are and the realities of the world we live in

— ugh (@wasteofdevotion) September 2, 2018
So out of all of the messages/ways to interpret Gambino's #FeelsLikeSummer video, y'all got that he was saying Kanye needs to be saved by a Black woman?

Aren't y'all tired of telling us/forcing the idea that we need to save you niggas?? Cause Im DEFLEE tired of hearing it.

— Jada (@FrostyJada) September 3, 2018
So in childish gambino's new video, #FeelsLikeSummer there's a scene where Kanye is getting comforted by Michelle Obama

The scene implies that a black woman needs to help Kanye

Which is rather stupid, if you ask me. pic.twitter.com/5aUN3HR1k7

— Tenta Corrosive/22 days till B day (@Tentacorrosive) September 3, 2018
It is not a black woman's job to save black men, or the world. Black women get tired too. Sometimes we want to be held and saved in the same way. 3/4 #ChildishBambino #FeelsLikeSummer

— Kesia Hobbs (@KFHobbs) September 3, 2018
However, some people have different interpretations of the moment's significance:
The Michelle Obama/Kanye West hug from the #FeelsLikeSummer video is nearly identical to her hug with George W Bush. @donaldglover is saying that Kanye, who once said "George Bush doesn't care about black people", has become the same person he once despised. pic.twitter.com/Ipp49GbmYf

— Noah Weisberg (@Noah_Weisberg) September 3, 2018
Another representation of Black Women standing with Black Men through their toughest times... & still be able to build them up #FeelsLikeSummer #HiddenJewels #ChildishGambino #MustSeeVid pic.twitter.com/zIwfDqqiqR

— Khadijah Segura (@KhadijahSegura7) September 2, 2018
I don't understand why women are gettin so upset how can you be mad at a cartoon saying that black women can help black men. Nobody said it's your duty nobody said it's your job or it's not like you held under oath or in contempt. #FeelsLikeSummer pic.twitter.com/23zuVSM5ws

— HUMBLEST DJ(@DJ_COLEBLOODED) September 3, 2018
Everyone upset over #FeelsLikeSummer because they feel like it promotes the idea that it is the job of black women to "save" black men need to chill.

I interpreted it as both black men AND black women working TOGETHER to fix our problems

— Sean-Michael Green (@oflogicandlove) September 2, 2018
I see Michelle Obama in the #FeelsLikeSummer video more as a representation of Chicago. How Kanye needs that embrace of his roots/where he comes from. Not as any Black woman saving Black man. Why choose MO? because she is Chicago.

— DocGreenwood (@DrSyD) September 2, 2018
Also, this user served up a quick recap of some of the possible meanings Donald Glover put throughout the video:
I'm here for #ChildishGambino visual for #FeelsLikeSummer, it was basically everyone in the music industry and his take on how this year went so far. No shade, just the truth on how music was this summer. #DonaldGlover #FeelsLikeSummer #ChildishGambino #brilliant pic.twitter.com/5mZs9Wghc7

— (@faithsquestions) September 2, 2018
Hmm...she's on to something.
Before all of the "save Kanye West" drama...
WATCH: Bipartisanship: Laura Bush, via President Bush, hands a piece of candy to Michelle Obama during the memorial service for John McCain. pic.twitter.com/PhKPYCOiUz

— MSNBC (@MSNBC) September 1, 2018
Michelle Obama shared a special moment with former president George W. Bush during Sen. John McCain's memorial service Saturday. Democrats and Republicans came together to celebrate decades of public service by McCain, who died August 25th at the age of 81, at the Washington National Cathedral. Former president Barack Obama and former president Bush were tapped to speak.
While Sen. Joe Lieberman of Connecticut was speaking, cameras caught Bush hand forever FLOTUS a cough drop. It was initially thought he handed her a piece of candy. She thanked him afterwards. That quick moment went viral. It's nice to see how close they still are despite their political differences. (Let's not forget their previous shenanigans sitting next to each other at events). Peep the clip above.
And before she made it to the funeral...
Forver FLOTUS enjoyed a relaxing vacation in Mallorca, one of Spain's Balearic Islands in the Mediterranean.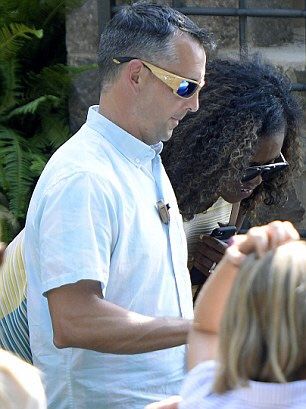 She was spotted being escorted out of a restaurant while trying to keep a low profile. We'd spot those cute curls anywhere though.
Photos: YouTube/Backgrid/Splash
​ ​
​ ​ ​