WHEW CHILE: Yeezy Model & Reality Star Shannade Clermont Arrested On Federal Charges After Allegedly Prostituting & Stealing A Dead Man's Debit Card
​
Jul 12 | by Natasha
​ ​ ​ ​
When doing it for the 'Gram leads you straight to prostitution & federal charges for wire fraud and identity theft because you allegedly stole & ran up your prostitution client's debit card to the tune of $20K....SHEESH! The wild deets on a popular Yeezy & IG model's arrest inside...
Nope, this isn't your straight-to-tv BET Blackbuster film with a wild ass, unbelievable storyline. This ish actually just happened with a popular IG model, who was constantly laced in Gucci, who swore she had more coins than all you "peasants".
Shannade Clermont, one half of the Clermont Twins known for flipping their money into all the plastic surgery, world travels and any designer they can get their hands on, was arrested last night. And the story is a DOOZY.
The US Attorney's Office of the Southern District of New York put out a statement yesterday alerting the masses that the former "Bad Girls Club" star and Yeezy Season 6 model had been arrested on three federal charges involving her stealing a victim's debut card who had overdosed after their "date". She charged him $400 for her "services", according to the text messages where they discussed her prostitute prices, and it seems to have been the Trojan horse for her to get to his bank account.
U.S. Attorney Berman: As alleged, Shannade Clermont, a former cast member of the 'Bad Girls Club,' lived up to her reality series reputation. She allegedly stole debit card information from a man found dead – the victim of a drug overdose – in his Manhattan apartment
1/2

— US Attorney SDNY (@SDNYnews) July 11, 2018
2/2
and used his identity to make tens of thousands of dollars in fraudulent purchases. Thanks to the skilled investigative work of @NYPDnews, Clermont's new reality is federal prosecution for her alleged nefarious conduct

— US Attorney SDNY (@SDNYnews) July 11, 2018
The details, though, are wild. Here's what we learned from the 12 page complaint filed by the United States: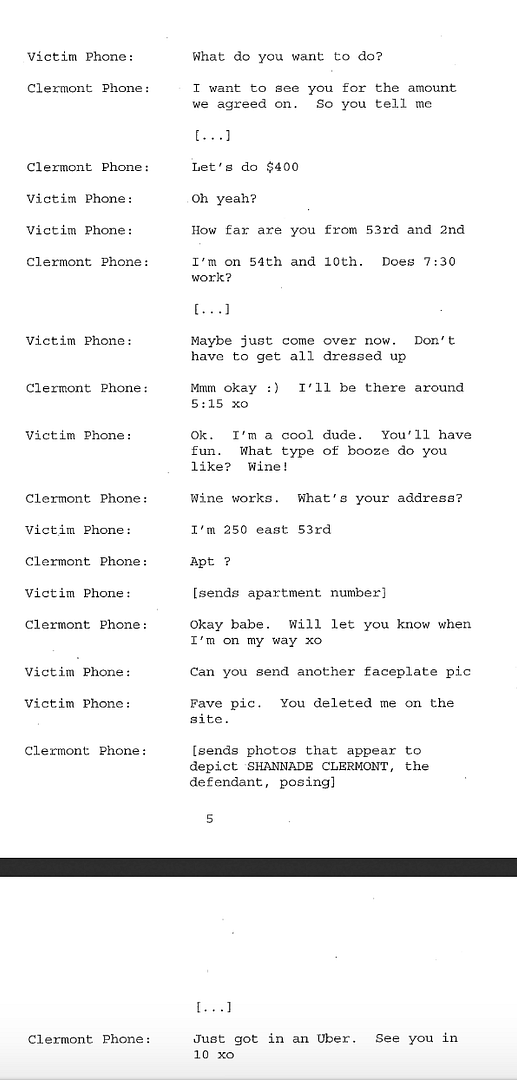 24-year-old Shannade (who also goes by Aubree as an alias) scheduled a date for February 1, 2017 with a man over text, and told him she charges $400 (and we found out later her usual price is "$500 for 1-2 hours"). Now if she's going to do this type of foolery and talk the mess she talks, then her price should have been way more up than this. Just saying.
She (and probably her twin sister Shannon) lives at Mercedes House apartment building in midtown Mahattan. She told the John (unnamed victim) her address and that she would be there at 7. He said Nah, come now. The last text receipt published says she was hopping in the Uber.
The day after the dates of these texts, that man was fond dead of a drug overdose - cocaine and Fentanyl - at his apartment in a building near hers. Drugs were found stashed around the apartment as well as a broken, used condom in the bed.
Authorities had been tracking his credit cards and bank accounts for several weeks, when they started to see activity on two of his stolen debit cards two months later at retail stores, airlines and a property management company. Authorities linked those cards to Shannade Clermont, who allegedly stole the cards from him after sex. It's unclear if she knew he was dead when she left. She's not charged in connection to his death in any way, at this time.
Over at least a 5 month period - January 2017-May 2017 - Shannade schemed her way to $20,000 of a dead man's money, $17K of which was spent on luxury retail. She did spend $1600 on rent, which she paid for via a Western Union account using the card.
She allegedly created approximately 4 different aliases via email (one being her college email address), and used those emails to create fake accounts in the victim's name after his death, at designer stores. She allegedly ordered designer clothes, buy plane tickets, and pay bills. She also had accounts set up on a Sugar Daddy website and a sex-for-sale site for women.
Since she allegedly used the same device to access all four emails, all in an hour's time, police were able to trace all accounts back to her 1 IP address.
Get the full complaint HERE.
Cops put in for a warrant for her arrest, and she was jailed yesterday. One of the plane tickets purchased was for a Toronto, Canada trip, which crosses international borders. This is now a federal case. Shannade bailed out on $1000 bond around midnight.
The Twins' IG account has comments turned off all pics, but Shannon & Shannade have been Tweeting up until yesterday:
I only have time for money not mistakes

— Shannade Clermont (@ShannadeJenee) July 10, 2018
The devil tryna play me and I'm praying I don't lose..

— Shannon Clermont (@ShannonJessie) July 10, 2018
They took the love out of me !

— Shannon Clermont (@ShannonJessie) July 10, 2018
#YEEZYSEASON6 pic.twitter.com/gqPPABeKyh

— Shannon Clermont (@ShannonJessie) January 31, 2018
Just months after posing it up with her twin sister Shannon as a Kim Kardashian clone in Kanye West's campaign, and the girls' constant claims they are so much better than all the broke chicks they fought with on "BGC", here we are.
We don't know if Kim and her new "prison reform team" is going to rush to save her, but we shall see.
We've hinted before about not believing the b.s. these InstaThots love to push. No, they're not balling out of control like they claim and no, they don't wake up like their latest thirst trap pic. And yes, the source of their money for all these 6-star vacays to beaches and Dubai and rock all this Fendi & Gucci IS suspect. If they can't explain what their job is, like majority of these chicks, put your money on prostitution and scamming. To subsidize their modeling careers, we're sure.
Don't let the thirst for these Likes & Follows get your freedom snatched. It aint even worth it girl.
Photos: Instagram/Twitter/Oxygen
​ ​
​ ​ ​