Rhymefest Drags Kanye For Not Helping With Donda's House, Claims 'Ye Told Him 'F***k The Youth Of Chicago' (Kim Responds!)
​
May 26 | by Natasha
​ ​ ​ ​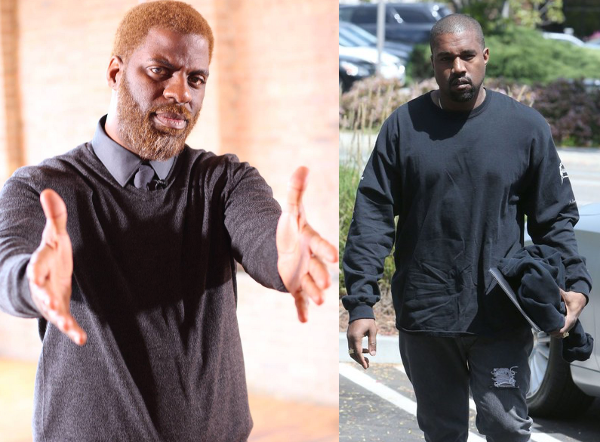 Sometimes it takes for your long time friends to call you out for you to see you f'ed up. That's exactly what Rhymefest is doing with Kanye West, who he says has abandoned his promise to Donda's House and Chicago's youth. He's now even asking Drake for help!
UPDATE 2: Rhymefest, who is widely credited with giving Kanye the best beats and lyrics of his career, responded to Kim Kardashian. He checked Kim about her privilege. And the fact she's never even visited Donda's House and never been involved. He also corrected her about the trip to Wyoming. He also says Kanye sought him out to come there, not the other way around.
Hey @KimKardashian good to hear from you. Here's my response pic.twitter.com/dWvwZfr1b5

— Rhymefest (@RHYMEFEST) May 27, 2018
UPDATE: Kanye's wife Kim Kardashian chimed in and went all the way in on Rhymefest in response. And revoked his plane ticket to Wyoming.
--------
After Drake's invoice-heard-around-the-world yesterday, rapper Rhymefest chimed in asking him to help pay for Donda's House since Kanye has reportedly ditched his responsibilities.
Kanye put out a statement years ago saying he would be co-founding Donda's House - his childhood Chicago home he's turning into a place for young people to come learn and create in art, music and more. Rhymefest ended up buying the home himself, and after Kanye helped raise $130K, he stopped doing what was needed for the project. And he hasn't been putting in the funds he allegedly promised as well.
So Kanye told his longtime homie "F**k the youth of Chicago"?! Oh.
Rhyme took to Twitter to post a statement about how difficult it's been to keep their supporters happy since Kanye went off the rails with all his pro-Trump talk.
The last month has been incredible difficult for us, so we are releasing this statement: https://t.co/q2oDWABtiC.

— Donda's House, Inc. (@DondasHouse) May 25, 2018
Part of the statement said that they're unable to secure help from Kanye, and people have been boycotting their nonprofit instead of just Kanye himself:
Over the last few months due to Kanye's statements and tweets, we have fielded requests for interviews and statements. We have been tagged in comments on social media about Kanye West, and we have been questioned by our foundational supporters and corporate supporters about Kanye's public involvement in our organization. While we cannot and do not speak for Kanye West and his views, we can and will speak up for the youth that we serve. We ask that those who feel hurt, angered by or frustrated with Kanye West not penalize or throw away their support, respect and advocacy for us. We ask that as you boycott and protest Kanye West, that you not forget that we are a non-profit organization that like other non-profits needs donations, corporate support and volunteers. We do not want your rejection of Kanye West, to be a rejection of Dr. Donda West and the thousands of lives she impacted including her own son.

As we prepare to launch our summer programming, we have been bombarded with inquiries about Kanye West. As we seek support to convert Kanye's childhood home into a recording studio, museum and learning space – we have been unable to secure the financial support of Kanye despite multiple attempts, and despite those early conversations about his plan of support and advocacy for the youth in our programs. Nobody wins when the Chi-Town family feuds.
Sad to hear. We guess Kanye's Donda's House and Donda Social projects he's talked about are just that, talk.
Photos: Getty

​ ​
​ ​ ​