'Claws' Season 2 Gets Premiere Date! Niecy Nash, Kae & Cast Hit Up Turner Upfronts + Tiffany Haddish Works ALL Angles + Jamie Foxx Fails At Fox Upfronts
​
May 17 | by _YBF
​ ​ ​ ​
It's that time of year again! The TV Upfronts are in full swing and we've rounded up everything you need to know from the Turner and Fox Upfronts. Flicks inside...
Claws up!
"Claws" is gearing up to return and now we know when'll get to see another "nail biting" season.
Nail techs Niecy Nash, Karrueche, Carrie Preston, Judy Reyes and Jenn Lyon are bringing all the drama this season, all while rocking some bomb nails. At the center of this diverse group is salon owner Desna (Niecy Nash), who works alongside her salon staff to launder money from Suncoast Rejuvenation, a barely legal pain clinic operated by the Dixie Mafia.
While it has always been Desna's mission to break free of the redneck Uncle Daddy and become her own boss, last season saw Desna trade one crime boss for another as the Russian mob took control of both the pain clinic and the salon. With new management comes new problems for the women to navigate.
Peep the trailer below:
Will Desna be able to cut ties with the Dixie Mafia? We're about to be GLUED to this ish. It premieres June 10th at 9/8c on TNT.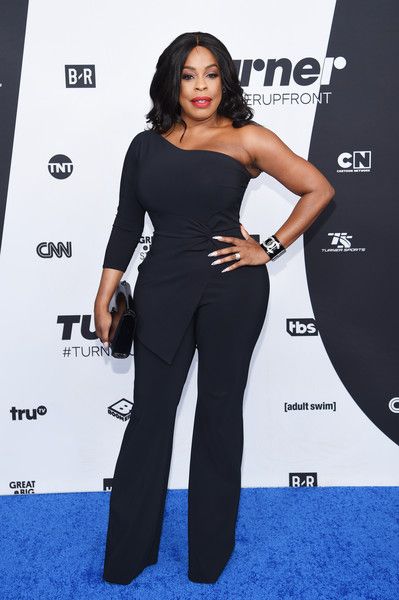 To say Niecy Nash looked amazing is an understatement. That black Prada one-shouldered jumpsuit hugged her curves to perfection and chick was SLAYING!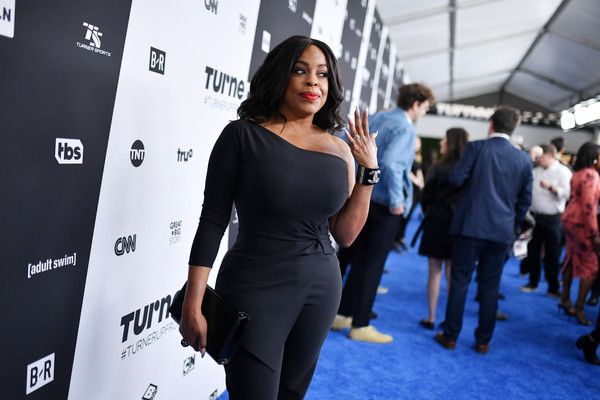 Budding actress Karrueche was also on the scene. She celebrated her birthday (which is actually today) with her beau Victor Cruz yesterday and the birthday festivities were super cute. Check it:
Happy Birthday Kae!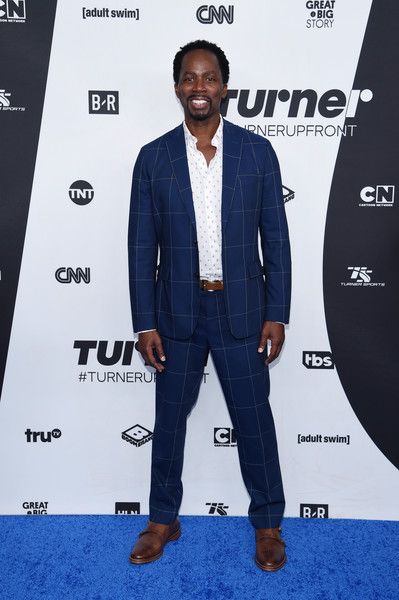 "Claws" star Harold Perrineau posted up on the blue carpet before heading inside.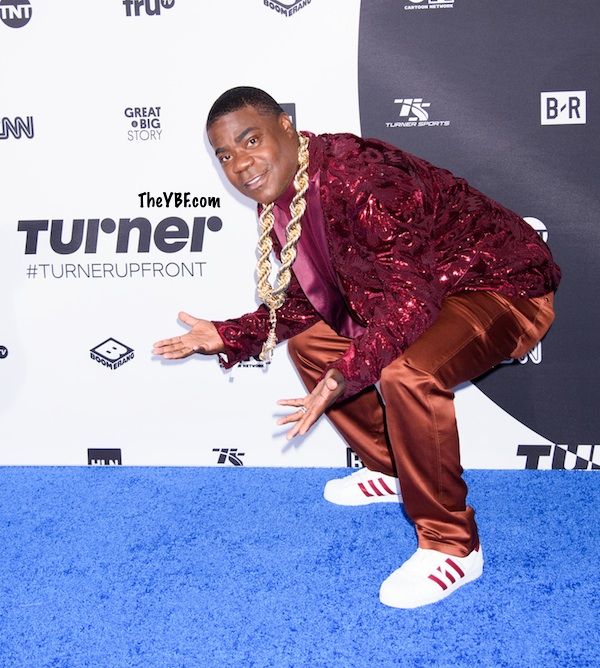 O.G. status! Tracy Morgan, serving straight 90s vibes, was all smiles with his wife Meagan Wollover on the carpet before hitting a panel to chat about his new show, "The Last O.G."
If you haven't checked it out yet, you're missing out. It's funny hell. Not only that, it's real too.
Peep a clip from this week's episode below: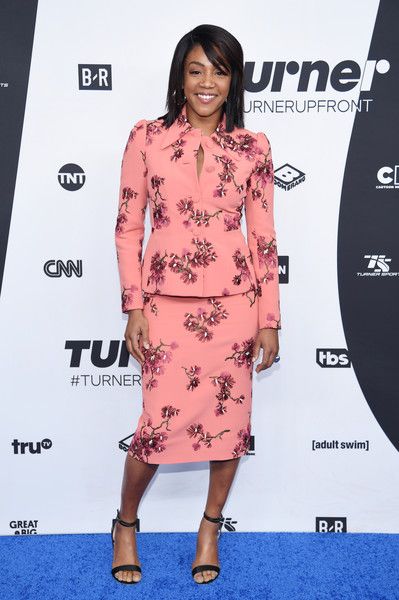 Tracy's co-star/on-screen wife Tiffany Haddish was also in the mix and chick was serving all type os poses and angles:
Gotta love her.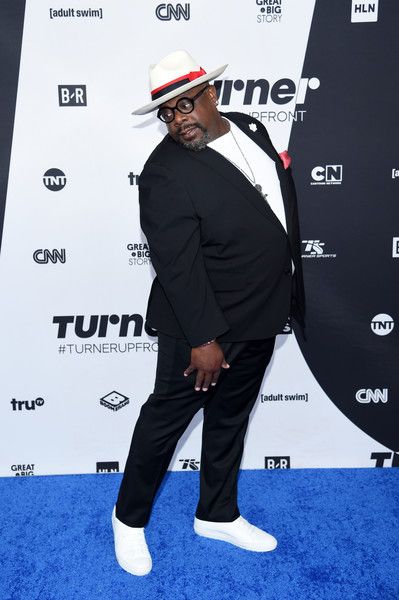 We see "The Last O.G." star Cedric The Entertainer took a few blue carpet notes from his co-star Tiffany. Ha!
You can catch new episodes of "The Last O.G." on Tuesdays at 10:30pm EST on TNT.
"Inside The NBA" co-host Shaq returned to be interviewed by CNN's Anderson Cooper for the third straight year. And of course he was the life of the party: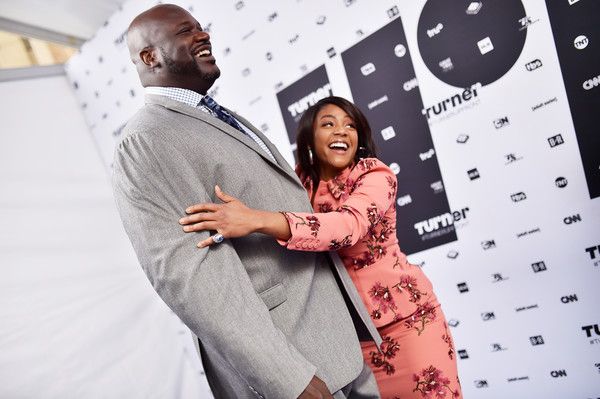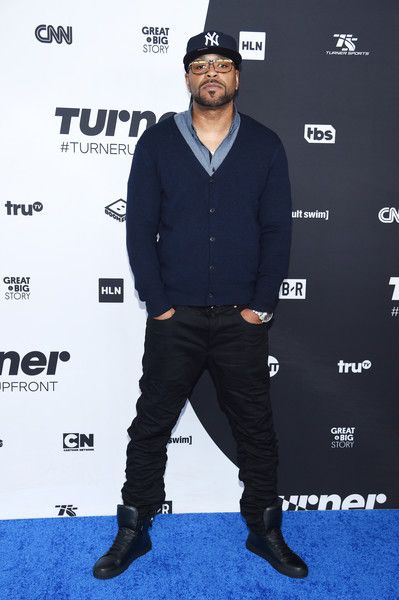 Rapper Method Man stepped out to rep his show "Drop the Mic," which is currently in the middle of its 2nd season.
Peep a few flicks from inside, that include a performance by Snoop Dogg, below: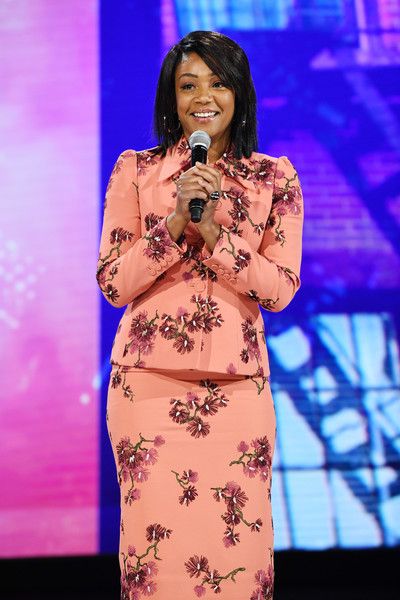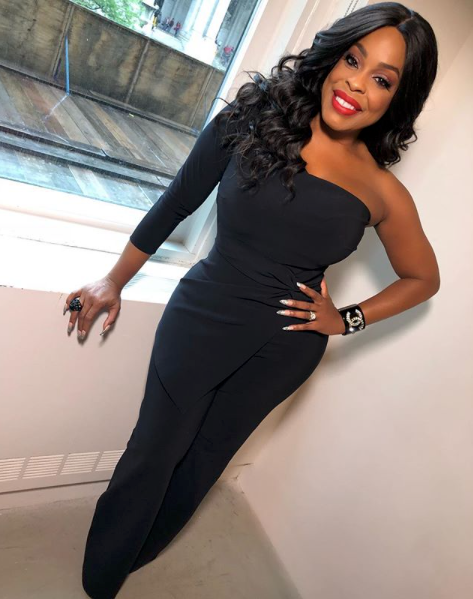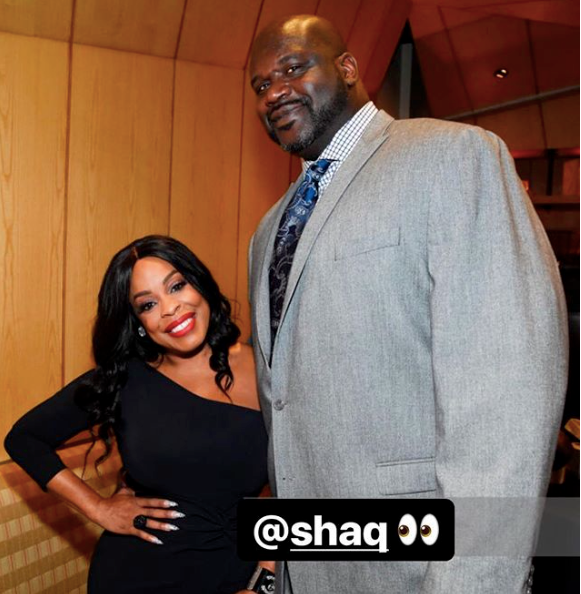 "Trying to slide up for a pedicure Nah bruh! @shaq," Niecy captioned. We can't blame her. Shaq's feet are many things and he's not afraid to show them off.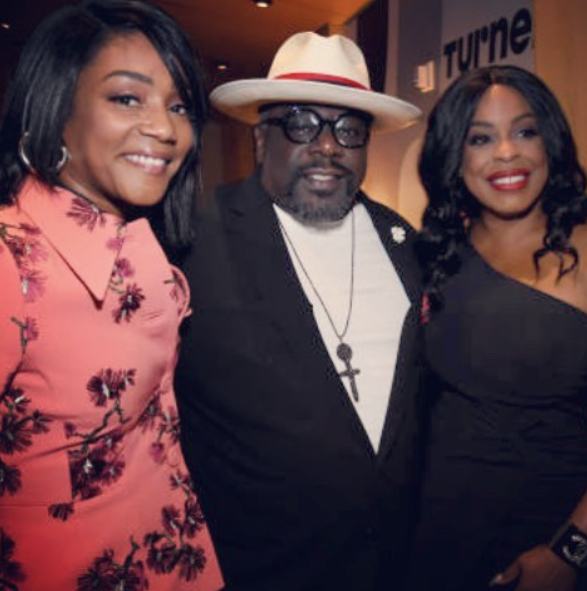 Fab times!
At the FOX Upfronts...
Jamie Foxx and his daughter Corinne Foxx have been heavy on the promo trail for their show "Beat Shazam," which will return on May 29th at 8/7c on FOX. The actor/comedian/singer --and now -- TV host tried his hardest to liven up the Beacon Theatre, but to no avail.
Here's what went down when he hit the stage:
Fox advertising chief Joe Marchese gets things underway, fashionably Fox-late. Unveiling JAZ pods as in Just the A and Z position in ad breaks.

Jamie Foxx walks out and insists advertisers "Give it up for Joe!!" Joe just wants to get off stage gracefully. "You all crazy right now. Settle down!" Foxx tells advertisers as they sit unmoved in their seats. "I think I read the crowd wrong. I don't think they know the song. Give them something appropriate" he tells his DJ.

Rolling Stones produces similar crowd reax. "No for The Stones?! " Fox's Beat Shazam star marvels. "You don't like The Stones!?" He tries "Play That Funky Music White Boy" and prances around stage.

Crickets.

"Boy you all are tight! Play something else – we're gonna get them!"

Bon Jovi's "Hold On" does not do it either.

"Give it up for almost having a good time!" Foxx raves. "Play some Garth Brooks!"
LOL! He tried.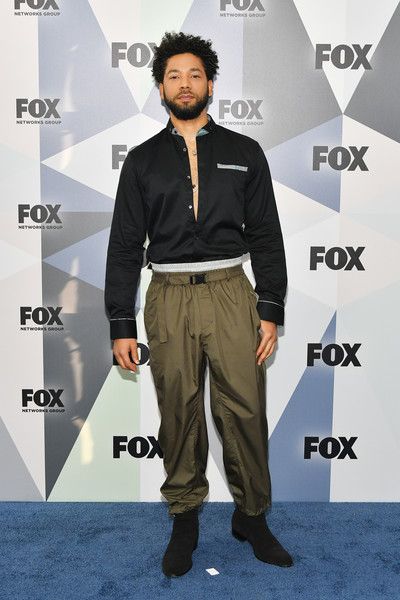 The "Empire" crew, including Terrence Howard, Jussie Smollett, Bryshere Gray and Taraji P. Henson, came out to represent. In case you missed, see all of the shots of Taraji flossing her engagement rock HERE.
"The Four: Battle for Stardom," hosted by Fergie, will return for season two on Thursday, June 7th at 8pm EST on FOX. Diddy and DJ Khaled were on the scene to chat about the upcoming season, sans former judge Charlie Walk.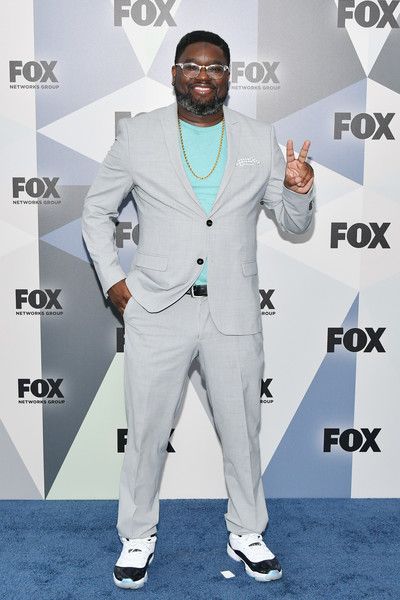 Get Out star Lil Rel Howery is gearing up to debut his brand new series, "Rel," a series he created based on his own life.
REL is a multi-camera comedy starring Howery as a loving husband and father living on the West Side of Chicago, who finds out his wife is having an affair. And not just any affair. An affair with Rel's own barber. Quite easily the worst person for your wife to sleep with, because as hard it is to find a good spouse, it's even harder to find a reliable barber. Plus, with the barbershop being one of the epicenters of neighborhood gossip, Rel finds his embarrassing business is known by everyone, including the Pastor (also played by Howery), before Rel can even process the emotions himself. Offering Rel support – that is, when they themselves aren't butting heads – are Rel's tough-talking, no-B.S. best friend, BRITTANY (Jess "Hilarious" Moore, "Wild 'N Out"), and his recently out-of-jail younger brother, NAT (Jordan L. Jones, "NCIS: Los Angeles," "Wisdom of the Crowd"), as well as Rel's prideful DAD (Sinbad, "A Different World," "The Sinbad Show," "Jingle All The Way"), who perhaps has taken the barber news even harder than Rel. After his beloved kids move to Cleveland with their mom, Rel must begin the difficult task of rebuilding his life as a long-distance dad. He also jumps back into the dating pool – and often finds himself the victim of his own well-intentioned hubris. But, ever the optimist, he continues his search for love, respect…and a new barber.
Peep ther trailer below:
"Rel" is set to drop next season on FOX.
Ryan Destiny kept it flirty and fun on the blue carpet while reppin' for "STAR." Season 2 is currently airing, which you can check out new episodes on Wednesday at 9/8c on FOX.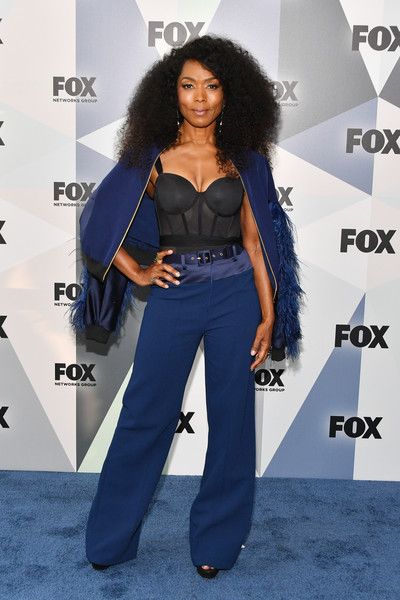 Angela Bassett was stunning as usual before chopping it up about the upcoming 2nd season of her hit new show "9-1-1."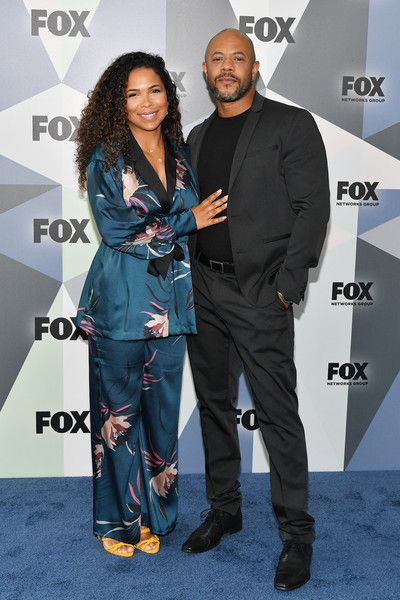 Angela's "9-1-1" co-star Rockmond Dunbar was also in attendance with his wife Maya Gilbert (Eddie Murphy's ex).
Photos: Getty
​ ​
​ ​ ​