Christina Milian & Her Cut-Out Bathing Suit Bring The Heat To Miami + Bi-racial Singer Halsey Is Pissing Folks Off Over Bashing Hotels' 'White People' Shampoo
​
Apr 30 | by _YBF
​ ​ ​ ​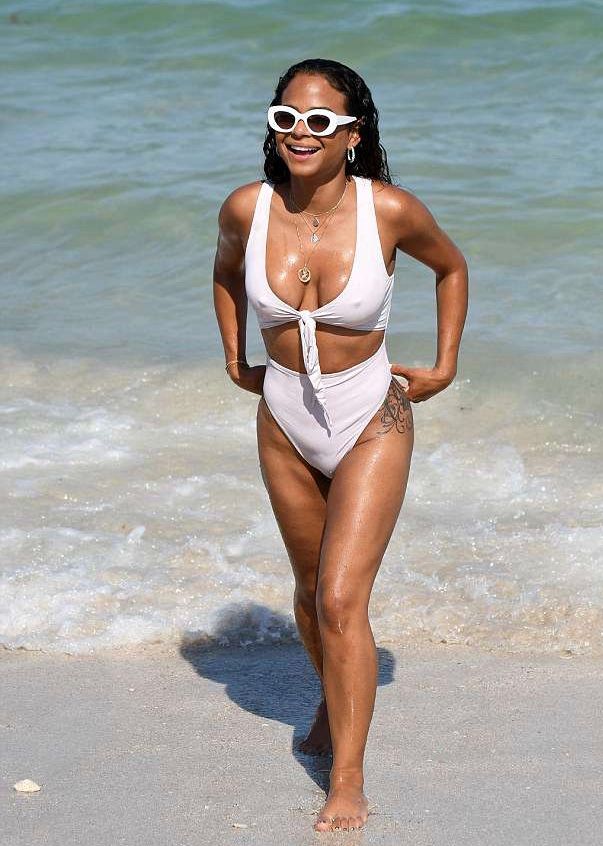 Christina Milian is heating up the beach in Miami in a white cut-out bathing suit. See her beach babe shots, plus find out why folks are popping off at bi-racial singer Halsey over "white people" hotel shampoo inside…
Christina Milian loves slipping into a bathing suit and hitting the beach, especially in Miami.
Matter of fact, she's crushing on Miami so hard, she's thinking about moving to South Beach, or at least get a spot down there so when she jets to the city she'll have somewhere to stay.
"Plotting on ways to make South Beach my second home!," she captioned on Instagram while hanging out on the beach in a white cut-out Myra Swim swimsuit.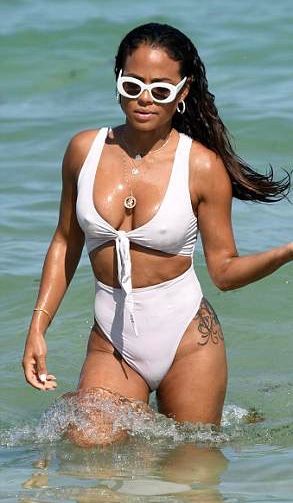 If she scoops up a spot, she can lay out on the beach any time she chooses.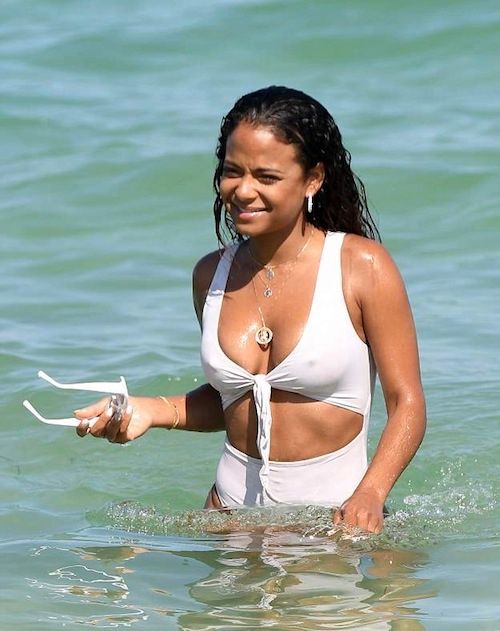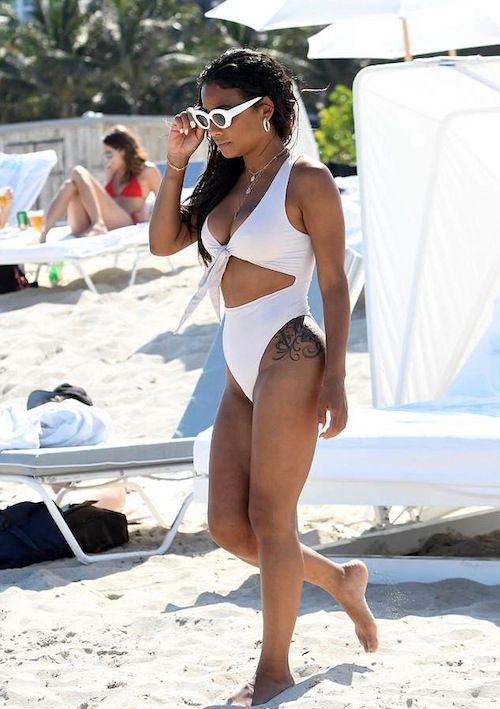 She normally hits up the beach in Miami with her bestie Karrueche, but Kae in New Orleans filming for a new season of "Claws." And when she's not filming, she's been busy getting to know her new beau, Victor Cruz.
C-Milli doesn't mind. She brought a few other friends with her during her beach day: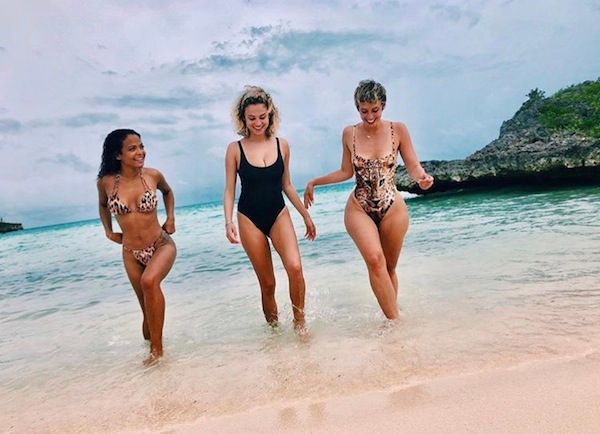 We noticed her boyfriend Matt Pokora didn't tag along, but maybe the French singer had a gig or something.
Swipe through more flicks from C-Milli's day on the beach (with a little booty action) below:
In social media news...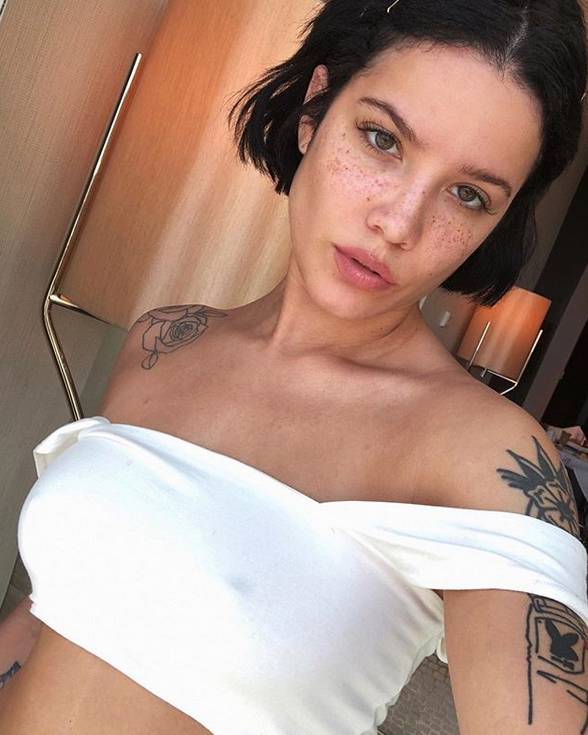 Bi-racial singer Halsey is causing controversy online after calling out hotels for only having "perfumed watered down white people shampoo."
The 23-year-old singer — who's dad is African-American and mom is is Italian, Hungarian and Irish — hopped on Twitter to air out her frustrations with hotels who's toiletries only accommodate white people and alienates people of color.
I've been traveling for years now and it's been so frustrating that the hotel toiletry industry entirely alienates people of color. I can't use this perfumed watered down white people shampoo. Neither can 50% of ur customers. Annoying.

— h (@halsey) April 27, 2018
I'm fortunate enough to be financially in a position to do so, but POC traveling frequently for work/medical reasons might not be. Just making a point is all! https://t.co/6u7PWqc1yY

— h (@halsey) April 27, 2018
White folks started coming for her on Twitter, so she's been popping back:
Who knew me acknowledging that white hair care products are the national standard (while POC are confined to a tiny aisle) would piss so many people off not sorry.

— h (@halsey) April 27, 2018
The point is that mass production of those products as the standard is part of a greater problem of disenfranchisement. If white ppl can enjoy the luxury/convenience, there should be an option for everyone to. Its an "insignificant" example of a bigger problem. That's all! https://t.co/gWxHoboXCm

— h (@halsey) April 27, 2018
— h (@halsey) April 27, 2018
I've been to hotels with fucking Hermès toiletries. The point is, people think "oh they just use normal cheap shampoo" but that's because u associate "normal" with "white." That's not everyone's standard. End of story. I'm good on the shampoo debate now lol. https://t.co/aZjz8opLTN

— h (@halsey) April 28, 2018
ur "normal" does not = everyone else's. When u make white products the standard, it makes white the "normal". I was only trying to provoke some thought about the way these things impact our perception. That's all. & yea, I agree, hotel shampoo just sucks in general!

— h (@halsey) April 28, 2018
I'm bothered by the idea white people are cool to participate in a luxury / convenience but POC cannot. It's not about the shampoo. It's a vehicle. Ur an idiot. https://t.co/5RdqZEjqFy

— h (@halsey) April 28, 2018
It's not just hotels. I stayed in a psychiatric hospital as a teenager and they didn't have hair products for any patients who were POC. It's hard enough being in there as it is, but then ur gonna too feel ugly and dry n frizzy too? Nah. Anyways. Y'all still missing the point lol

— h (@halsey) April 28, 2018
It's about being made to feel unincluded. Which is, obviously, a far greater problem than shampoo. I never wanna talk about soap ever again lol.

— h (@halsey) April 28, 2018
Thanks sis, and thanks for speaking up for those who who can't use that hotel shampoo (even though you tecnically could.) Hopefully she speaks up about the super important issues in the black community as well as the microaggressions. Just sayin'....
Photos: Splash/Halsey's IG
​ ​
​ ​ ​