Folks Have Mixed Feelings About Cardi B.'s New Single, But Her (Apparent) Baby Bump Was Poppin' On A Video Set
​
Mar 30 | by Natasha
​ ​ ​ ​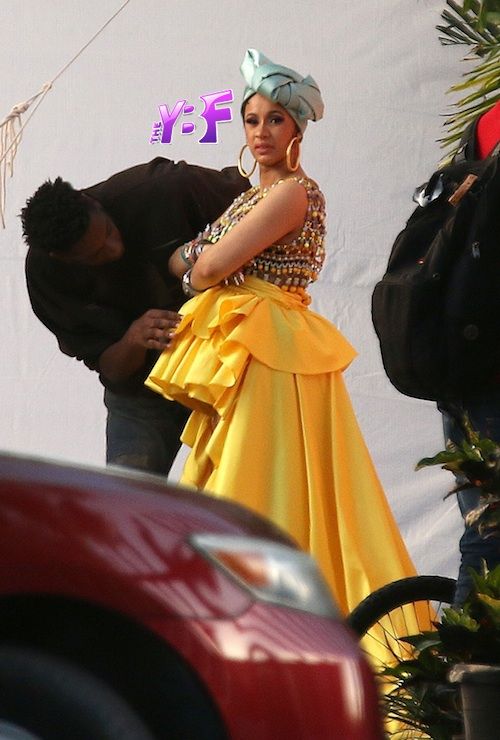 Cardi B. dropped a single from her upcoming album Invasion of Privacy last night, but not everyone is feeling it. Her alleged baby bump is making a hard core appearance though. Get it all inside...
The reviews are in, and Cardi's new single "Be Careful" is a mixed bag of them.
Some folks didn't love her bars, some didn't like the fact she attempted to sing her own hook. Others think it's the next best thing since Nicki Minaj's "Super Bass" (and that tells you a lot right there too).
Cardi dropped some verses that seemingly threw warning shots to her fiance Offset about his cheating. She definitely got in her bag.
For this to be Cardi's first studio single before she releases her debut album on April 6th, a mixed bag of opinions is probably not what Cardi or her label wants. But that's what they're getting:
I personally like Cardi B's #BeCareful but they definitely should have had someone else sing that hook.....I would have called SZA immediately!!!

— Charlamagne Tha God (@cthagod) March 30, 2018
I'm sorry but be careful by Cardi B Is not good. The message of the song is great, the delivery and lyrics is just terrible, specially for someone who was on fire. I think it was better as an album cut than a single. That's my opinion

— Alina (@alinathequeenx) March 30, 2018
This Cardi B song is not single material. It's some shit you put on the album and we run into it.

— Cutty (@passport_cutty) March 30, 2018
when Cardi B said, "you even got me tripping, you got me looking in the mirror different, thinking i'm flawed because you inconsistent"....i felt that lmao.

— Miyah (@flawlessmiy) March 30, 2018
Cardi B gave yalls PURE LYRICS over a nice ass beat. THE SHIT IS TRUTH. ITS NOT SUPPOSE TO BE A SINGLE! It's one of those "let me speak my truth" type singles....DUMBASS!

— DeionObrian (@Deionobrian) March 30, 2018
Just boarded a plane from D.C to Indianapolis. I am the only Black Person on this plane. If I don't tweet in 2 hours...I want to say Ghana Jollof is better than the corruption one. Also Cardi B's new song is trash.

— coco
This new Cardi B single is an A&R failure. How did they let her release this without getting an actual singer on the hook? It's hard to appreciate what she's saying when it sounds so... bad.

— DJBooth (@DJBooth) March 30, 2018
This new #CardiB isn't as terrible as y'all are trying to make it.

— Love & Shade (@wydceleb) March 30, 2018
Oh I'm sorry. I actually like "Be Careful" by Cardi B. Not following this hate wave pic.twitter.com/vEAFsnoeSZ

— Liz (@MothaCiBey) March 30, 2018
Cardi B's new single 'Be Careful' is dope. Sounds like a song every non singing girl in the hood would write for their lil boyfriends when they're in their feelings. It's nostalgic. People so trained with metaphors & flows that they don't appreciate a little story & a cute beat.

— DADDY P. (@itsPierreKing) March 30, 2018
Cardi B dragging Offset on Be Careful and I am all here for it because it's what he deserves. pic.twitter.com/gxQ5S8FBsR

— ičy (@cardikordei) March 30, 2018
Be Careful is a hit. Cardi B is amazing.

— Russ (@russdiemon) March 30, 2018
I really wanna like Be Careful x Cardi B but idk... I D K pic.twitter.com/JZaEUXT6Tb

— Bonita Applebum (@RaeLNicole) March 30, 2018
On that note Queen Nicki will continue to reign. Sorry #CardiB

— Elaine S. Combs (@elainescombs) March 30, 2018
I'm laughing at the people on my timeline that think be careful by cardi b is good. That shit is pure trash but you guys will act like it's not because it's her lol if Nicki were to ever to release something like that. She would get dragged by you guys that listen to cardi b

— Jhobani Garcia (@honeyyruth) March 30, 2018
When cardi b said "poured out my whole heart to a piece of shit" I think me and all my friends felt that on a spiritual level.

— nic (@nicolehagstoz) March 30, 2018
Either way, Cardi's still winning. "Be Careful" immediately shot to #1 on the iTunes chart.
The rapper chick was spotted on the set of a new video in Miami yesterday (above). And her stylist was spotted putting in overtime trying to cover that (alleged) baby bump. Hmph.
VH1 also just announced the former "Love & Hip Hop" star's "Cartier Bardi" video will premiere on Monday during "LAHH: Atlanta".
#SecureTheCharts
PHOTO: BACKGRID
​ ​
​ ​ ​