Travis & Kylie Reportedly Having A Girl + Caitlyn Jenner Seemingly CONFIRMS Pregnancy, Kris Jenner Plays Coy
​
Sep 26 | by _YBF
​ ​ ​ ​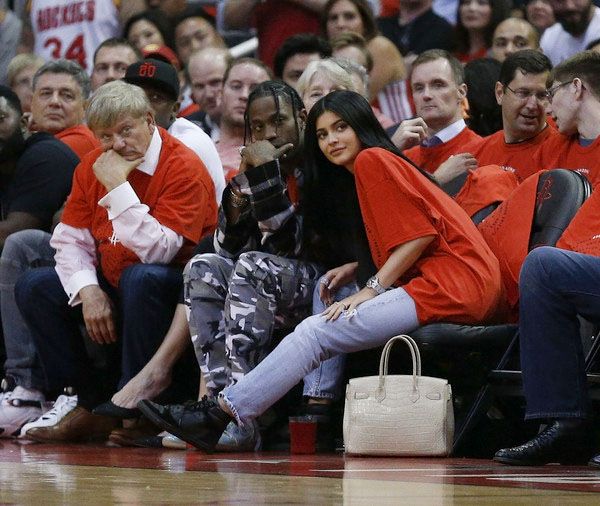 So the media circus that is Travis Scott and Kylie Jenner being (allegedly?) pregnant continues. Now, it's being reported they're 5-months pregnant and are expecting a girl. Meanwhile, dad Caitlyn Jenner and mom Kris Jenner respond. Deets inside…
So maybe there is some truth to the rumor that Travis Scott impregnated his girlfriend Kylie Jenner, despite Kylie doing the most on socials to keep people guessing.
Kylie's dad Caitlyn Jenner has confirmed the news, but before we get to that, let's talk about what the rumor mill is spilling about the baby's gender.
Family sources tell TMZ that Travis and Kylie are in fact having a girl and that the "Keeping Up With The Kardashians" star is about 5-months along.
It's said the G.O.O.D. Music rapper has been telling his friends about the pregnancy for the last two months, so it sounds like he's pretty excited about it. We've checked Kylie's socials and she has been M.I.A. on SnapChat for the last day or so, which is totally not like her. Meanwhile, she's been posting up throwback flicks on her Instagram account. And the day after the pregnancy report came out, she posted up a pic showing her stomach.
Travis and Kylie must have forgot to tell dad Caitlyn Jenner not to open his trap because he confirmed that the 20-year-old is pregnant.
The Sun asked a representative of Caitlyn's about how she found out that Kylie was pregnant and here's what they said: "All I can tell you is that it was some time ago." Oh?
Unless The Sun completely made up this interview, or the rep is lying, it sounds like a confirmation to us.
Meanwhile, Ryan Seacrest, who produces "KUWTK," texted mom Kris Jenner to get the tea. She didn't confirm if Kylie is pregnant, but she didn't deny it either. All she said was: "Kylie's not confirming anything."
And get this…
Travis and Kylie are expected to welcome their alleged baby girl around the same time Kanye West and Kim Kardashian West are expected to welcome baby #3 (via surrogate). Remember the surrogate was reportedly 3-months pregnant back in July? They're reportedly having a girl as well.
Interesting.
Meanwhile, Kylie's sister Kim Kardashian sort of responds to the pregnancy reports:
This sounds like a very awkward conversation... https://t.co/Xp12VBo0kw

— Harper's Bazaar (@harpersbazaarus) September 26, 2017
Sips coke https://t.co/2lwYSC02vB

— Kim Kardashian West (@KimKardashian) September 26, 2017
And speaking of fake stories... The media is super shady for posting fake quotes from Caitlyn when she hasn't spoke to anyone

— Kim Kardashian West (@KimKardashian) September 26, 2017
Hmmm...
Oh, and then there's this:
there's a pregnant kylie jenner costume out there and literally this is america pic.twitter.com/5O9qeJ9x1y

— Izabella Zaydenberg (@belkabelka) September 25, 2017
Y'all gotta chill.
Photo: Getty
​ ​
​ ​ ​