Here's Why The New Miss USA 2017 Kára McCullough Is Being Called The New Stacey Dash
​
May 15 | by Natasha
​ ​ ​ ​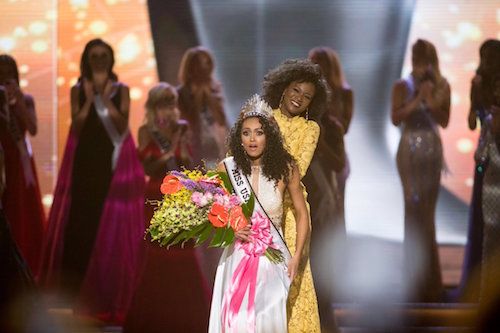 She may be a scientist by trade, but her take on social issues like feminism and healthcare have people calling her clueless. Get into the drama surrounding new Miss USA 2017 Kára McCullough...
Oh Kára!
She's smart as hell (she's a chemist for U.S. Nuclear Regulatory Commission for f's sake), but these answers about feminism and whether healthcare is a right or a privilege seemed to be anything but. At least, that's what plenty of folks are saying this morning.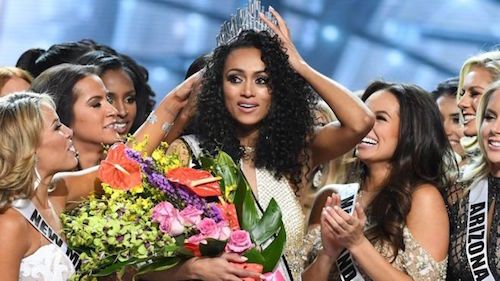 While folks were ecstatic to see a YBF chick win the crown for the second year in a row (she makes history as the first back-to-back win from D.C. too!), Miss DC USA Kára McCullough's opinions made folks snatch back their praise EXTRA quickly.
The role of Miss USA is to represent our country at the Miss Universe pageant, and to travel the country spreading charity and positive messages to communities of people -- from children to sports to beyond. So, the message and opinions a woman in this position carries does matter in some sense.
Needless to say, when Kára – who was a member of National Society of Black Engieneers (NSBE) in college at South Carolina State University – gave Q&A answers that are typically favored by conservatives, right wing republicans and men, it took plenty by surprise.
During the Q&A segment, Kára was asked whether healthcare was a right or a privilege. Here's her answer:
"I'm definitely going to say it's a privilege." Listen to your new #MissUSA talk about healthcare in the USA. pic.twitter.com/CzPBeaTYHO

— Miss USA (@MissUSA) May 15, 2017
When she was asked if she considers herself a feminist, she basically shot feminism down as a negative concept and said she's an "equalist" instead. (Equal rights is literally the definition of feminism, but OK girl.)
Twitter lit her up, as you would expect:
Damn it, so the new Miss USA is basically a newer version of Stacy Dash. That's unfortunate.

— Joe Snow (@propjoe757) May 15, 2017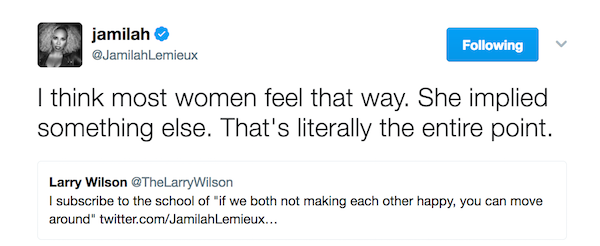 #MissUSA Miss DC just lost me with that answer....Affordable healthcare is a privilege? Girl bye. pic.twitter.com/Q5mU7PIlx1

— Kat (@dazella_may) May 15, 2017
working on my new Miss USA platform that is pro-childhood obesity and anti-education, so I'm pretty much a shoo-in to win

— Robin Thede (@robinthede) May 15, 2017
Do not take your political advice from this #MissUSA. Healthcare is a right, not a privilege. https://t.co/O7nnQw8IqV

— deray mckesson (@deray) May 15, 2017
Welp. Cancel Miss USA. My fault for forgetting all skin folk ain't kin folk. https://t.co/brdpXD2NWK

— April (@ReignOfApril) May 15, 2017
When you want to be happy that another black woman is Miss USA but she up there sounding like Ben Carson. I can't. https://t.co/EtES7YLsO0

— Asia Monae (@iLiveInAsia) May 15, 2017
A brown girl won #MissUSA but she thinks affordable healthcare is a privilege and feminism is man-hate so she's cancelled. #ByeGirl

— Out Rae Geous (@_TheOpinion) May 15, 2017
anyone else picking up on the irony that is the #MissUSA feminism question followed by Pit Bull's lyrics and backup dancers

— Rachel (@rachiepachiable) May 15, 2017
Wait.. asking about feminism then featuring an artist that is oversexualizing women.. okay #MissUSA

— Lauren (@FitForMe2) May 15, 2017
But, of course, she also had her supporters:

The fact that Miss USA Pageant was started by Donald Trump may or may not have an effect on the types of answers the contestants give, especially considering the pageant has been accused of glorifying women as objects. For example, the pageant decided to keep the bikini swimsuit competition when some others have gotten rid of it.
By the way, all 5 black contestants made it to the Top 10 and 3 YBF chicks made the Final 5.
So many beautiful black girls in the top 10. 5 girls in total! Yasssss!!!! #MissUSA pic.twitter.com/Q60KGISuah

— Makho Ndlovu (@makhondlovu) May 15, 2017
Congrats to them as well!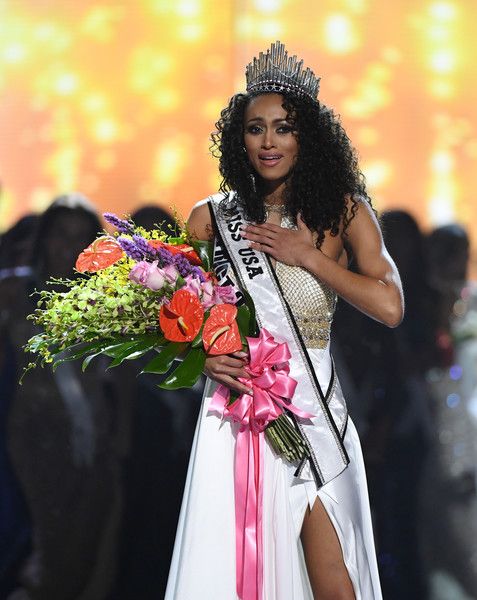 If you're still here for the new Miss USA, get to know her below:
10 things you didn't know about your #MissUSA 2017, Kára McCullough! pic.twitter.com/4sqGUi7w0K

— Miss USA (@MissUSA) May 15, 2017
Relive the moment when dreams became reality. #MissUSA pic.twitter.com/O0vU1FRYAB

— Miss USA (@MissUSA) May 15, 2017
BONUS: The gorgeous and gracious Deshauna Barber took her last walk last night as Miss USA 2016, all while rocking her bomb natural hair:
Deshauna honors her mothers as she takes her final walk as #MissUSA. pic.twitter.com/KBqnUk2qIy

— Miss USA (@MissUSA) May 15, 2017
Slay!
Photos: Getty/Twitter
​ ​
​ ​ ​