Charles Oakley Gives His Side Of The Crazy Fight That Got Him Arrested At The Knicks Game
​
Feb 09 | by Natasha
​ ​ ​ ​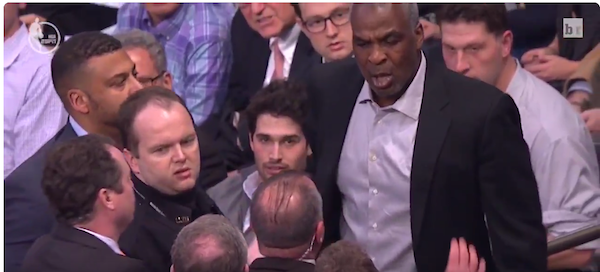 This foolishness that went down at the Knicks game Wednesday night though....
Former baller Charles Oakley just proved he's forever a Knick after his huge altercation that got him arrested. Find out why folks are Team Oakley after he had an actual fight on the sidelines with multiple security and the Knicks team owner inside...
Wow. Former Knicks "bad boy" Charles Oakley is NOT here for Knicks owner James Dolan.
Remember the days when Charles "The Enforcer", Patrick Ewing and co. ran New York (and arguably the NBA)?
The Knicks have been going through plenty of turmoil all season when it comes to ownership decisions, Phil Jackson's decisions, Carmelo Anthony drama and more. Now, they can add sideline brawls to the list.
When the Knicks took on the Clippers at Madison Square Garden Wednesday night, Charles was seated behind Dolan. Reportedly, Charles has been QUITE vocal all season (and possibly previous seasons) about his issues with how Dolan is running the struggling Knicks organization. According to sources, Oakley was "yelling" at him from his seat durung the game. Then ish went all the way left.
A few people -- including security -- caught some hands, and Charles caught an arrest:
Soooooo Charles Oakley just got into a fight at the Knicks game. pic.twitter.com/klZBD89VI7

— Ian Schafer (@ischafer) February 9, 2017
Charles Oakley reportedly to be charged with 3 counts of assault after incident tonight https://t.co/X4KeHGitaH

h/t Ian Schafer (@ischafer) pic.twitter.com/WFeQMWIxhK

— Bleacher Report (@BleacherReport) February 9, 2017
SBNY Exclusive: Charles Oakley on the ground surrounded by police and Garden security pic.twitter.com/cemhHF4Lu0

— SportsBlogNewYork (@SportBlogNYC) February 9, 2017
SBNY Exclusive Part II: Charles Oakley getting pulled out of the Garden pic.twitter.com/WtsVVVitH3

— SportsBlogNewYork (@SportBlogNYC) February 9, 2017
Fan Ian Schafer, who filmed one of the videos, said:
"[Charles] took off his watch and asked somebody to hold his watch. It didn't look like he started anything, to be honest. It looked like he was provoked in some way, because it didn't look like there was any buildup to anything happening."
Charles was dragged out the Garden, on the floor and everyting chile, and was taken down to the police station and reportedly charged with three counts of assault and criminal trespassing.
Now that he's out, he's giving his side:
"I was there for four minutes," Oakley told the New York Daily News, moments after being released from Midtown South Precinct shortly past midnight ET. "I didn't say anything to him. I swear on my mother. They came over and wanted to know why I was sitting there. I bought the ticket. I said why do you guys keep staring at me. Then they asked me to leave. And I said I'm not leaving." "I want to sit down to talk to him. I want me and him in a room. And lock the door," Oakley said. "Lock that door. … I mean, he can have the police outside the door."
#FREEOAK is still trending on Twitter.
The Knicks organization has issued a statement about the bruhaha saying:
"Charles Oakley came to the game tonight and behaved in a highly inappropriate and completely abusive manner. He has been ejected and is currently being arrested by the New York City Police Department. He was a great Knick and we hope he gets some help soon."
They're now catching backlash for their shade-filled comments.
When Charles Oakley played with a broken cheek bone how come the Knicks didn't stop him and say "you need to get help."

— Frank Isola (@FisolaNYDN) February 9, 2017
Charles Oakley showing more heart then any Knick since....Charles Oakley#BringBackOakley pic.twitter.com/CwqGFdDMPY

— MichaelRapaport (@MichaelRapaport) February 9, 2017
Clippers star Blake Griffin commented about the incident saying: "I stopped, and then there was an inbounds play on the side. I turned around just in time as he was handing it to him, and then there was a foul. I walked back to catch the third, fourth and fifth rounds."
Carmelo basically said his name is Bennet and he aint in it. He says he was on the opposite side of the court and didn't really see ish.
Clippers coach Doc Rivers, who was a teammate of Oakley's in New York, said the whole situation was sad:
"That was sad. That was tough for me to watch. Honest to God, you could see it. I actually took three steps and I swear I was going to run down there and I thought, 'What the hell am I going to do?' But I didn't like that. That's my guy. That was tough to watch from where I was standing. "He's the best teammate in the world. He really is. Honestly, the players could see me. That was a tough thing to watch. I've been in the league a long time I've never seen anything like that. I don't know. I'm going to find out what's going on. That was tough, that was tough to watch."
Even LeBron James weighed in:
How much of a dysfunctional mess is your organization when a pissed off former legend is compelled to throw hands at the game? Damn.
​ ​
​ ​ ​