Inmate Says Trey Songz Sang Christmas Carols In Jail, Fans Snapped Flicks With Him After Release
​
Dec 29 | by Natasha
​ ​ ​ ​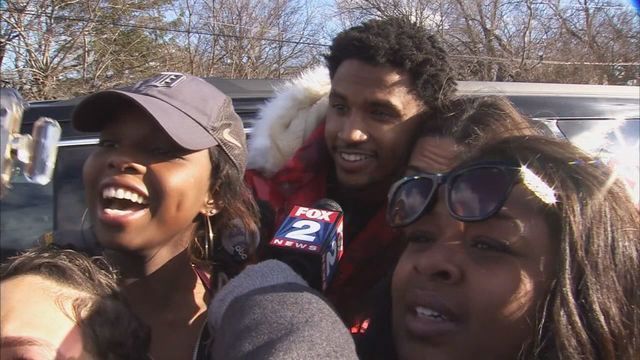 Now that Trey Songz has gotten released from lock up, we're hearing about what he did inside for the inamtes. Deets below, plus fans breaking their necks to get a pic with Trigga.
After about 12 hours in lock up, Trey Songz was released from custody at the Detroit Detention Center today. He pleaded Not Guilty to one count of Assaulting a Police Officer Causing Injury and one count of Aggravated Assault after he spazzed out on stage and allegedly hit a cop when his mic was turned off during his show in the D last night.
At 2:30p today, Trigga was released on $25K bond. Fans were waiting outside the jail to get a piece of him as he walked out. Peep the video above to see fans losing their ish.
Ad then there's this. Fox 2 reports he was serenading the inmates while locked up:
Jamal Smith was released from the DDC around the same time as Songz, and describes him to us as "a cool dude." Smith says Songz signed autographs in the jail cell and sang Christmas carols.
Chile...
​ ​
​ ​ ​