REALLY BRUH?! Rich Homie Quan Forgot (Or Didn't Know) The Words To A Classic Biggie Verse...At HIP HOP HONORS!
​
Jul 12 | by Natasha
​ ​ ​ ​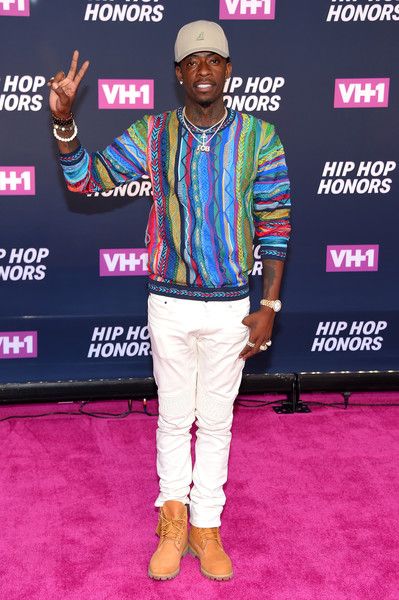 *Rolls Eyes* He had ONE job. Rich Homie Quan hit the stage with Lil Kim last night during her VH1 "Hip Hop Honors" performance. And it was absolute foolywang material. Get it all inside....
For some reason, Lil Kim wanted ATL rapper Rich Homie Quan in her Hip Hop Honors set last night. When she said his name welcoming him on stage we already had the side eye. Mainly because this was a night of the hip hop we grew up on, people with undeniable talent, people whose lyrics we could decipher and actually understand, and ish like that. Instead, it was infiltrated by the mumbling, syrup sipping set.
When dude busted out Biggie's verse "Get Money," and proceeded to attempt to play off the fact he didn't know the words...WE CAN'T.
For these new age rappers to have as many resources as they do to know and learn the ish they need to...
Maybe he was just told a few hours before the performance he would be in it? Maybe he got a case of the nerves being around legends all night? Who knows. But last time we checked, real rappers know real ish. And not one legit rapper or legit hip hop fan alive simply doesn't know B.I.G.'s verses, let alone the classic ones.
If you didn't know....study it. Just like Teyana Taylor, Dej Loaf, Lil Mama did for their Lil Kim tribute. No passes.
Moral of the story: Stay in school kids.
Peep the video below. RHQ comes out (in a Coogi sweater, he knew that much) around the 1:35 mark:
Was everyone else busy? Even Jamal "Gravy" Woolard from the Notorious movie? Damn.
The internets read RHQ for absolute (hilarious) filth:
Diddy and The Lox gotta ask Rich Homie Quan to remove his Coogi sweater expeditiously backstage.....

— Charlamagne Tha God (@cthagod) July 12, 2016
#HipHopHonors Somebody teach Rich Homie Quan the lyrics plz! Biggie just turned over in his grave!

— Mr C'mon Son!!!! (@MrEdLover) July 12, 2016
When Puffy pull up on Rich Homie Quan back stage pic.twitter.com/fxB7Zw1XHC

— ChampagnePrince (@ReemRozay) July 12, 2016
Somebody said rich homie Quan was backstage after the performance like https://t.co/L2by4gY2Vp

— #AlvaBraziel (@RiceWorldPeace) July 12, 2016
If Im VH-1 I bet Rich Homie Quan ain't got transpo to the telly...

— El Viejo Ebro (@oldmanebro) July 12, 2016
Rich Homie Quan doesn't know an iconic Biggie verse? #HipHopHonors pic.twitter.com/tQ2oa1mESR

— Evette Dionne (@freeblackgirl) July 12, 2016
All of Brooklyn when @RichHomieQuan forgot Biggies lyrics #HipHopHonors pic.twitter.com/ZBmIRNzg31

— Beanz of SFPL (@PhotosByBeanz) July 12, 2016
Photo: Getty
​ ​
​ ​ ​