"Empire" Cast Wraps Up Season 2 Filming! + Trai Byers Is NOT Leaving "Empire" + A Billion Dollar LAWSUIT!
​
Mar 04 | by _YBF
​ ​ ​ ​
The "Empire" cast just wrapped up filming the second half of the second season of their hit FOX series. Get your laugh on inside at the funny behind-the-scenes clips and pics they shared while celebrating....
As we patiently await the return of "Empire," the cast just wrapped up the finale episode! But first, a lawsuit. These days, it's basically how a show or a person knows they're poppin'.
Today, news broke that a man named Timothy Levi filed a $1.5 billion copyright infringement lawsuit in a Virginia federal court. Sheesh! He alleges the plot of "Empire" too closely resembles his 2007 book, Unity Incorporated: The Mastermind.
Just how similar are the two works?
Accroding to The Wrap:
Among the similarities between the two works, according to Levi, are the lead characters. Lucious Lyon, played by Terrence Howard, is a prominent record company owner with a troubled childhood and drug-dealing past, just like the protagonist of Levi's novel, Anthony Lewis.

Both stories also allegedly contain a storyline about three African-American men who became friends in their teens, and one is murdered by the lead character, forcing the other to testify against him in court.
Hmmm. Sounds like basic character and story descriptions that are in PLENTY of books and screenplays. Levi is demanding an injunction and his billion and a half in damages. Good luck with that.
The "Empire" squad shared pics and videos from their last day in Chicago this week, and we couldn't stop laughing at all the tomfoolery that went on.
Your fave chocolatey treat, Taraji P. Henson, shared this fun selfie on the set with co-star Terrence Howard "creepin" in the background. She said, "#setlife trying to find my light @theterrencehoward creepin @shinechicago on nails @ashuntasheriff beat the face chile and @pniddy put it aaaallll together! #Cookie #lucious @judithleiberny THAT BAG"
And that's not all Cookie was up to on the set. Remember those battling videos Jussie Smollett & Taraji have been sharing that catch the cast sleeping between scenes? Well, Taraji's at war again with her camera phone. She already got back at Jussie during an appearance on "The Tonight Show with Jimmy Fallon."
Now, she's getting revenge on her other on-screen sons, Bryshere "Yazz" Gray and Trai Byers.
Check it:
HA!
Speaking of Trai...
There were unconfirmed (and non-credible) rumors circulating that Trai Byers wanted to quit "Empire." An anonymous source told PageSix, "He [Trai] feels that he studied at Yale and he's a 'true thespian'...The character is beneath him. He has an idea of himself as being this big Shakespearean actor."
LIES!
Trai took to his Facebook page to slam the rumors saying:
And there you have it.
Back on the set....
Jussie shared a clip of the cast and crew celebrating wrapping season 2. He said, "That's a finale wrap on season 2 of @empirefox directed by Bella @sanaahamri. Love our crew and cast so damn much. See you back in chi town June to start season 3. And catch all this crazy family when the second part of season2 premieres with 8 all new episodes, Wednesday March 30. Love. #Empire" Peep the clip above.
Meanwhile, Yazz was uber excited to be done:
Co-stars Gabourey Sidibe and Ta'Rhonda Jones rolled up on set in a hilarious way:
Ha!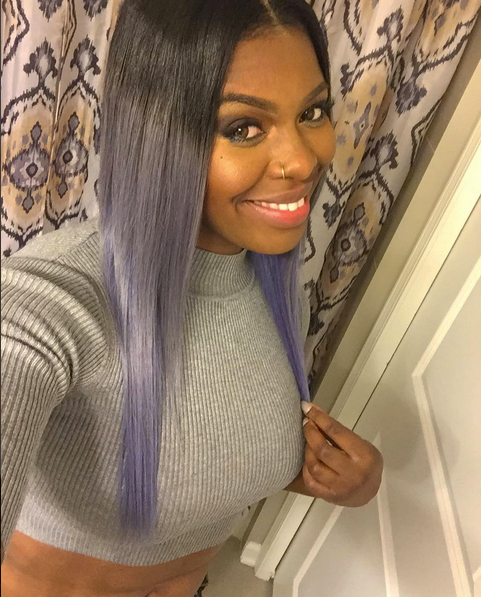 Now that she has a break from filming, Ta'Rhonda has transformed her hair into purple tresses. She calls her new look Morgan, her alter ego. Fun times.
"Empire" returns March 30th on FOX!
EXTRAS:
1. 'Creed' Filmmakers Sued for Copyright Infringement STORY
Photos: Taraji's IG/Ta'Rhonda's IG/@charliemackfirstout/Johnny Nunez/Angela Yee's IG
​ ​
​ ​ ​