THANKSGIVING FAIL: White FOX News Host Asks Black Co-Host "Do YOU Make Kool-Aid?"
​
Nov 26 | by _YBF
​ ​ ​ ​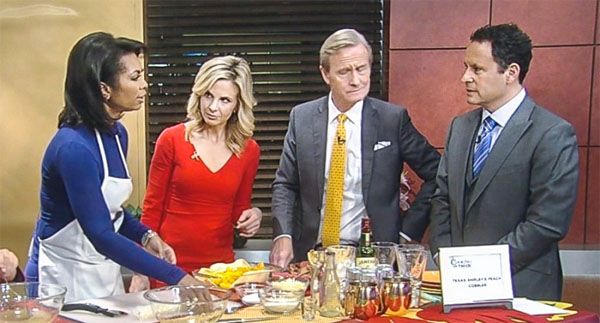 Things got super weird during a Thanksgiving segment on FOX News when white co-host Brian Kilmeade asks black co-host Harris Faulkner if she makes Kool-Aid. Say what? Sound off inside….
It's one thing to have your own stereotypes about certain races and cultures, but it's another when you project those stereotypes against a person on national television.
Yesterday, FOX News host Harris Faulker, who co-hosts on "Outnumbered," joined co-hosts on "Fox & Friends" for a Thanksgiving cooking segment along with her daughter Bella. Harris and her daughter came on the show to prepare a fresh batch of peach cobbler and to share a few tips with the audience.
Yeah, you already know where this is going.
As Harris and Bella began cooking, the co-hosts were chit-chatting with each other when Brian Kilmeade decides to ask Harris, "Do you make Kool-Aid?"
Clearly taken aback a little, Harris responds, "Uhh…do I do what?"
Ha!
Then he has the nerve to ask her again saying, "Make Kool-Aid?"
Harris then hesitates a bit and answers, "Uhh…no. I-I don't make Kool-Aid."
Um, SIR?! Really?
Check it below:
Did you notice the look on co-host Steve Doocy's face? The way he turned and stared at Brian after he asked that idiotic (and racist) question.
Anywho, in case you haven't heard, Elizabeth Hasselbeck said last week she's stepping away from the show. Maybe even SHE is getting tired of their B.S.
Thoughts?
​ ​
​ ​ ​