WTF: Oprah Winfrey Got AMBUSHED By A Man Claiming To Be Her 'Secret' Son....And She Threw Him SHADE!
​
Oct 29 | by _YBF
​ ​ ​ ​
Shortly after her appearance on "The Late Show," Oprah Winfrey was ambushed by a man who claims she wanted to adopt him back in the day. Let's just say, those days are gone and she didn't look happy to see him. Watch it go down inside...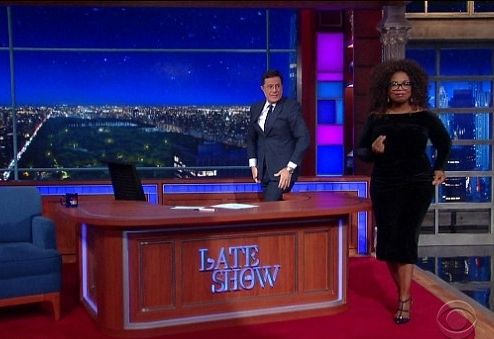 A few days ago, we showed you a few clips and photos from Oprah Winfrey's October 15th appearance on The Late Show where she promoted her OWN docu-series "Belief." Now we're learning that after her appearance, she was accosted by a man who considers himself her "son" because she allegedly tried to adopt him when he was a little boy. Here's the backstory:
As she left Manhattan's Ed Sullivan Theater, Oprah was approached by a man from her past....Calvin Mitchell. Oprah met Calvin as an extra on the 1992 set of ABC's movie-of-the-week, There Are No Children Here, when he was 12 years old. They formed a close bond (that lasted for 5 years) and Calvin claims Oprah even asked his mom if she could adopt him. In fact, Oprah was so impressed by the young man, that she sent him to an expensive private school in Mississippi; unfortunately, the school situation led to the demise of their relationship when he dropped out.
'I was young. I made a dumb decision, and Oprah wouldn't forgive me. I feel like what she did was wrong, She told me, "Calvin, just try to work it out. You can do it. Just hang in there." She was trying to inspire me to do what was right. But even after the long pep talk she gave me, I still left.' He added: 'I just wanted to come home, and Oprah didn't understand that.'
Because Calvin hadn't spoken to Oprah in 20 years, he thought the best way to get her attention was through The National Enquirer. BIG MISTAKE! He talked to the rag about his "past" with Oprah in a new article (on stands now) and the magazine played a large role in setting up the ambush. MESSY BOOTS.
Sources at the ambush (watch the video above for shots of Calvin ambushing Oprah) say he pleaded with Oprah. 'I'm sorry, I'm sorry, but it was the only way to get in touch with you.' When he asked Oprah if they could talk, she told him 'Honey I'm on my way to the United Nations right now so I can't talk to you.'
She then reportedly dismissed him with a classy read that would make Iyanla Vanzant proud.....'Calvin, you just take care of yourself.'
Bloop.
Life hasn't been easy for Calvin since he dropped out of school 20 years ago. He says he's suffered from depression and battled suicidal thoughts. Unfortunately, he won't be getting any support from Oprah...unless he buys her "Oprah" show DVD set.
Photos via Getty
​ ​
​ ​ ​