Baltimore State's Attorney Marilyn Mosby Lands "VOGUE" Profile + TIDAL Loses Second CEO In Under Six Months
​
Jun 23 | by _YBF
​ ​ ​ ​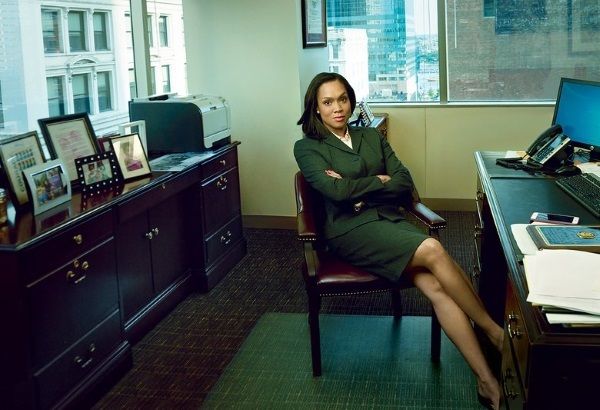 Baltimore State's Attorney Marilyn Mosby is featured in the new issue of VOGUE where she talks about her journey to justice. Read the highlights inside and get the deets on the latest firing at TIDAL.
"The unrest had nothing to do with my decision to charge. I just followed where the facts led." - Marilyn Mosby
Baltimore chief prosecutor Marilyn J. Mosby, an alum of Tuskegee University and Boston College School Of Law, stepped into the national spotlight during one of the most radicalized incidents in American history. You'll recall, a few months ago Marilyn brought charges against six police officers in the death of black teen Freddie Gray while in police custody.
Since the indictment, Marilyn has come under tight scrutiny for several reasons. Some asked if her department's investigation was too swift? Other's questioned if she could be "objective" since her her mom, uncle and grandfather were all cops. Plus, her husband (and college sweetheart) Nick Mosby is a Baltimore city councilman (and they have two young daughters, Nylyn, six, and Aniyah, four). How would this factor in?
Each of these issues are addressed in a new profile on Vogue.com and inside the July 2015 issue. Accompanied by a gorgeous photo, which was shot by famed-photographer Annie Leibovitz, the world is introduced to Marilyn and her very complicated job - helping contain unrest in Baltimore, MD. Read the full article here.
Here are the highlights:
On making her speech about indicting the six officers: Even days later, it is clear that she hadn't expected such an intensity of response. "I don't think I felt the weight of the case stepping up to that podium. I was thinking, I'm doing the right thing. That's what I'm here for."

On her hubby Nick picking out her clothes: "I don't have the patience for it, but Nick loves going to stores. He'll probably be mad that I told you that."

On meeting Nick at Tuskegee: "We would stay up all night talking on the phone about everything—issues, education, music. We talked about our families and what we wanted to do with our lives." What really attracted me to him was that he wanted to return to Baltimore and give back. He could easily have gotten a job anywhere and made a lot of money, but he wanted to be a public servant. I thought, There is substance to him. I really like this guy."

On balancing being a mom: "People say, 'Is it hard being a prosecutor?' And I say no. This is easy. If I get home late, I have my four-year-old pointing to her watch."

Being raised in a family of cops: "It gives me perspective. I know the majority of police officers are outstanding, dedicated, loyal public servants, just like my family."

On Baltimore unrest: "There have been decades of failed policies: zero tolerance and harassment and people being locked up for small crimes," she says, "policies that drive a divide between communities and law enforcement. So many people feel like they are voiceless, that they've been dehumanized. What we saw in the riots is a result of that."

On her investigation: "The unrest had nothing to do with my decision to charge. I just followed where the facts led. This is not something that was fast, or in a hurry. From the time that this incident occurred, we were out there conducting our own investigation and working with the police department. There is nothing that we've done differently in this case."

On the six officers: "I'm not conflicted about charging these police officers. I believe in applying justice fairly and equally, and that is what our system is built upon. That is why I do what I do."

Monique Marshall Veale, an administrator who became a mentor to Marilyn. "She soared through the curriculum. I can still hear her voice in the halls in eighth grade. She challenged anything that didn't feel right or sound right."
Not bad for the youngest State's Attorney in Baltimore's history.
In music news...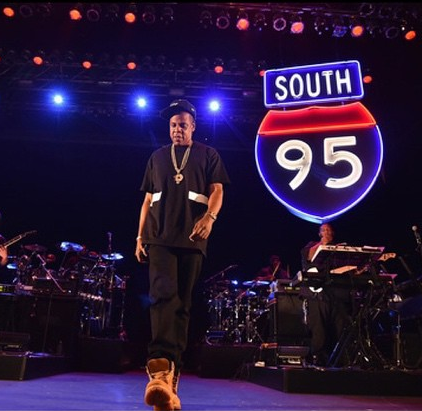 Once again, Jay Z's TIDAL is without permanent leadership. Earlier today, the company ousted interim CEO Peter Tonstad after less than three months on the job. A Tidal official said, "We are thankful to Peter for stepping in as interim CEO and wish him the best for the future."
It's been a virtual revolving door of execs since Jay Z acquired the company a few months ago. Peter, a Norwegian national, became Tidal's interim CEO in April, on the heels of the initial CEO Andy Chen, who left the company earlier in April.
What happens next? Tidal, will reportedly be run by executives in New York and Oslo until a new chief is in place, an official for the company said.
Is this all a sign of tumultous happenings behind closed doors? Or is this just par for the course of an essentially new company finding its footing?
Photos via Jay Z Instagram/VOGUE.com
​ ​
​ ​ ​