ARRESTED (AGAIN)! NeNe Leakes' Son Bryson Bryant Arrested In Connection To Check Forgery Bust!
​
Jun 23 | by Natasha
​ ​ ​ ​
NeNe Leakes' son is in trouble with the law again. And it involves a check forgery bust. Get the deets on why Bryson Bryant was just locked up inside...
While the 'very rich' "Real Housewives of Atlanta" star NeNe Leakes is busy decorating her brand new $2 million mansion, her oldest son Bryson is caught up in a check forgery bust.
Here's the foolishness of it all: Bryson wasn't arrested for cutting forged checks. He was caught in possession of a forged check made by a man named Inginac Walter Theodore. Theodore was caught printing fake Taco Bell payroll checks off his laptop inside of a Douglas, GA McDonald's last week when cops busted up the little operation.
Simultaneously, cops found Bryant waiting outside in his vehicle in possession of one of the fake checks. Since Bryson hadn't yet cashed it, he couldn't be charged with forgery. But since he LIED about his identity before cops found his real ID with Theodore, Bryson was arrested on a misdemeanor charge.
The Atlanta Journal Constitution reports:
Bryant, 25 of Duluth, was not charged with check forgery. He had a fake check written to him, but he hadn't cashed it yet so he couldn't be charged for that, according to Coffee County investigator Robert Sprinkle. Bryant was arrested only because he provided the cops with a false name, a misdemeanor.
On Tuesday, June 16, investigators made two arrests involving fraudulent payroll checked passed throughout the state, with more than $35,000 tracked. The Douglas Police Department saw an individual at a local McDonald's with a laptop and printer making fraudulent Taco Bell payroll checks. That man, Inginac Walter Theodore of Athens was arrested on five felony counts for printing fraudulent checks.
The police said Bryant was in the vehicle and lied about who he was. Bryant's ID was found with Theodore.
Foolywang material.
As for Bryson's real job...he works at a local Five Guys fast food join. He's also married to Ashley Hill and they have a little girl (that we've seen NeNe play 'Glam-Ma' to) and a new baby boy (above).
Bryson tweeted the below today, which very well could be in reference to his recent arrest:
When u have no one to turn to for help wat do u do?

— IG Brice_Bryant (@BriceBryant) June 23, 2015
When u have no one to turn to for help wat do u do?
This isn't Bryson's first run in with the law either. In 2010, he was arrested for weed possession. In 2011, he was arrested for stealing MACH razors from a local Wal-Mart. And in 2013, he was arrested for DUI after a car accident, then for reckless driving later in the year.
The rap sheet didn't stop there as Bryson also reportedly tested positive for cocaine and failed to report several times to his probation officer following the 2013 incident, and it landed him in jail for 4 months.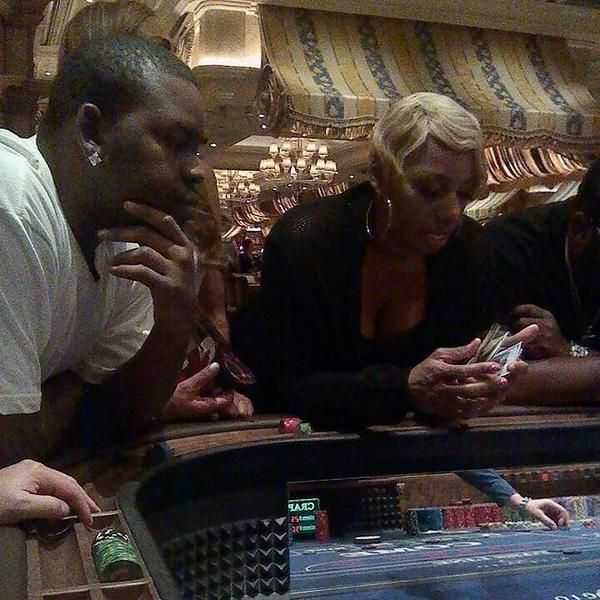 NeNe, what's really going on here? Something tells us it's far more than you like to portray. There's 6 bedrooms in the new McMansion of yours so maybe one room can be used as an intervention space for your son? While the public will likely never know everything that goes on behind closed doors, it's difficult to fathom why it's so difficult for the son of a successful and VERY public woman to not stoop to the lowest forms of thievery.
By the way, "RHOA" is now in pre-production....
Photos: AJC/Twitter
​ ​
​ ​ ​