NO Solo Albums On The Way For "EMPIRE" Stars Jussie Smollett & Bryshere Gray...Yet!
​
Mar 18 | by _YBF
​ ​ ​ ​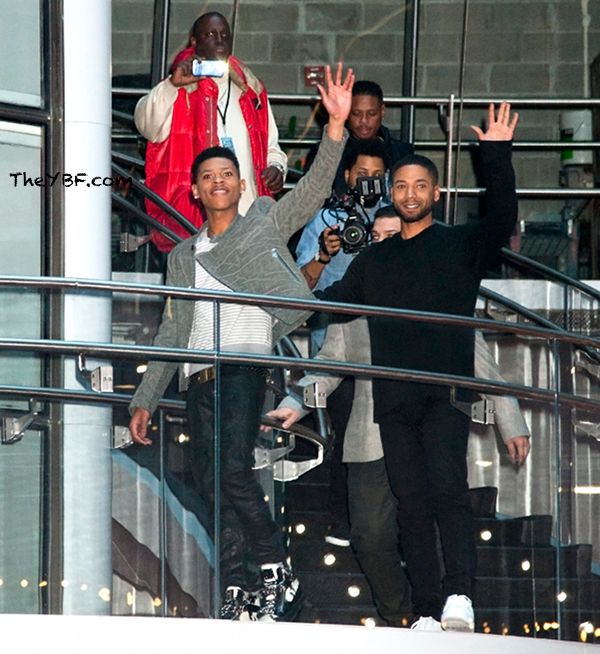 As much as we love the musical offerings throughout the hit Hip Hop drama series "Empire," it doesn't look like we'll be getting solo albums from the Lyon brothers…at least not yet. Find out what Jussie Smollet and Bryshere Gray said about working on their solo albums, when they'll be released and a few tidbits about the finale episode inside….
We're hours away from the two-hour season finale of the highly successful FOX series "Empire." And we are anxiously waiting to see what bombs are dropped during the season 1 finale. You KNOW some ish is going to down!
A huge part of the hip hopera and what helps make the show such a success is the musical offerings in each episode, produced by superproducer Timbaland. And that includes "Drip, drop, drip dripptey, drop." Ha!
If you haven't heard, Jussie Smollett is a budding R&B singer (inking a deal with Columbia Records recently) and Byshere "Yazz the Greatest" Gray is an up-and-coming rapper. So now the question is…will the guys be releasing any solo albums soon? The short answer: No! But, don't fret. Solo albums are on their agenda, possibly for next year. Right now, though, they're totally focused on the show.
"As far as the albums, we're in the thick of promoting the Empire soundtrack," Jussie Smollett tells TheYBF.com during a call this week.
"But, the albums will have to be sometime next year because we do this promotional tour and then we go straight into filming season 2 come early summer. I'll be writing and recording in between, but there's not necessarily a lot of time. We'll be in the thick of recording music for season 2. As far as a joint tour [for the both of them], that'll probably have to be next year. They'll be little spot dates here and there."
Bryshere then chimed in on the call saying a solo album is not even on his radar right now. "Our schedules are crazy," the 21-year-old tells TheYBF.com. "To be honest, I'm not really focused on dropping an album. I'm not focused on that right now."

In the meantime, you can cop the "Empire" soundtrack available for download on iTunes right now.
As for what's next for Jamal and his new on-screen beau Ryan in the season finale? Jussie spilled, "Jamal is not done with Ryan yet. There's a desk involved, there's some loving involved and they're not done. It's not necessarily a huge storyline in the finale, but there is a huge moment. My baby [daughter Lola] is no longer living with me so I guess they can at least have sex."
Oh!
And who are the guys' dream guest stars for season 2? Jussie revealed he would like to work with Mariah Carey, Janet Jackson and Brandy, while Bryshere revealed he would love to shoot scenes with Rihanna, Queen Latifah and Madonna. Guess we will have to wait until season 2 to see if any of their picks make it on the show.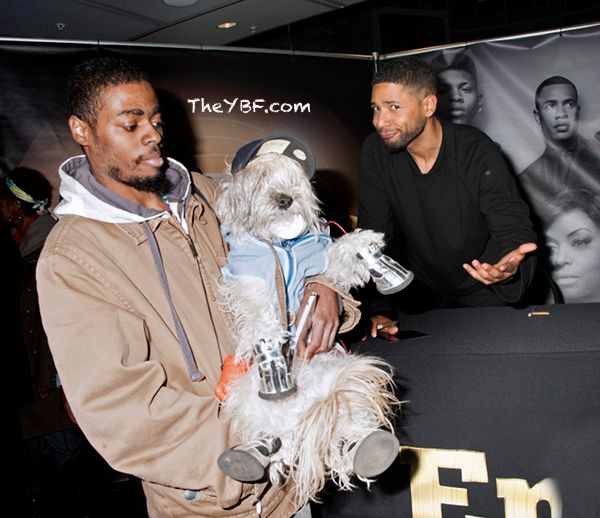 Yesterday, Jussie and Bryshere hit up a CD signing in NYC for the show's newly released soundtrack. A slew of fans braved the frigid weather to get a chance to meet the stars and get their own autographed copy of the album. One guy even dressed his dog up and brought him along for the fun. Ha!
The season 1 two-hour finale of "Empire" kicks off tonight at 8pm ET on FOX. Get ready!

Photos: Splash
​ ​
​ ​ ​