LOCKED UP (AGAIN): Angie Stone ARRESTED On Alleged Domestic Violence Charge [UPDATED] + Angie's Daughter Diamond RELEASE Photos Of Knocked Out TEETH!
​
Mar 10 | by _YBF
​ ​ ​ ​
Angie Stone has been arrested….again! Get the deets and see the pics of the aftermath inside….
UPDATE #2 [7:17pm ET]:
Angie Stone's daughter Diamond is now speaking out. And she's sharing pics of the aftermath of the alleged violent assault by her mother. Diamond took to social media to show the world her missing front teeth, supposedly knocked out after her mother hit her with a metal stand: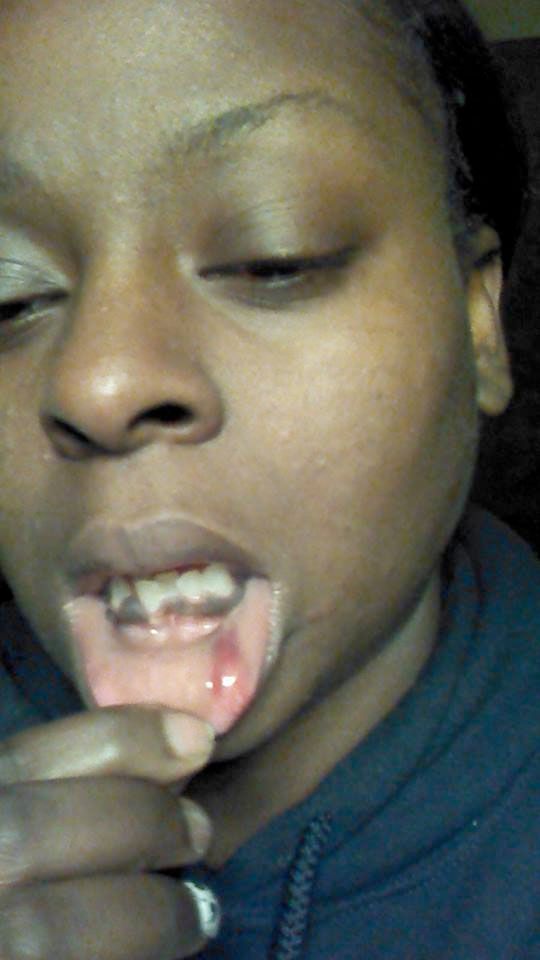 Angie's daughter then aired out her frustrations in a Facebook post, saying she's tired of being abused by her mother and she wants everyone to know! She explained,
"People are so quick to pass judgment but never really know the full story. Never uphold people in wrong no matter who they are I'm crushed but I ain't dead so for the people that praise "her" keep right on just know that it ain't over. You so big and bad but had to use a weapon on me in a fight that you started. You giggled on the inside because you thought I was going to jail too.?#?Wrong? I'm sick of putting up these fronts and because you took shit to another level I will too. I love all my family but I cannot take anymore abuse so I'm separating myself from it all. I pray God heals us from this but from where I sit there is no turning back cause if you ain't wit me you against me. You so worried about to media and the press but I promise you this I will not rest until my story is heard!"
---------------------------------------------
UPDATE [4:45pm ET]:
Apparently, Angie was allegedly involved in a physical altercation with her 30-year-old daughter Diamond. And it's being reported she knocked out her front teeth! Ouch.
According to TMZ:
53-year-old Angie told police her daughter Diamond punched her in the face. Angie then told police she defended herself with a metal stand, but accidentally hit Diamond in the face ... knocking out her front teeth.

Angie told police once she realized the mistake she put down the stand and tried to flee ... but claims Diamond came after her again. A family friend eventually broke up the fight.

Diamond told police the argument started when Angie complained Diamond didn't clean up after her children. Diamond was also taken into custody, but eventually released without being charged.
---------------------------------------
"R&B Divas: Atlanta" star Angie Stone (government name Angela Laverne Brown) has found herself in a world of trouble.
According to the AJC, the Grammy nominated singer was ARRESTED today in Dekalb County on a charge of domestic aggravated assault. Hmm…we wonder if she was involved in a situation with her ex-boyfriend/manager Ashanti Graves? TheYBF.com exclusively told you Angie dumped Ashanti after an alleged affair with a member of the R&B Divas production crew. Messy.
We're still not sure exactly what happened before this latest arrest, as DeKalb police Capt. Stephen Fore didn't provide any other details. We did a search for her charges on the Dekalb County wesbite and as of 4:00pm ET, she has not been added to the database.
This isn't Angie's first time in the big house. Back in 2011, she nabbed a mugshot after she was arrested due to speeding and driving with a suspended license. Sighs....
Story still developing….we'll keep you posted.

Photo: DeKalb County Sheriff's Office
​ ​
​ ​ ​