Kevin Hart Goes Shirtless & WIGS Out On 'The Hollywood Reporter' Cover + Chris Brown ROUNDS Up Luxury Vehicles For New Video
​
Jan 13 | by _YBF
​ ​ ​ ​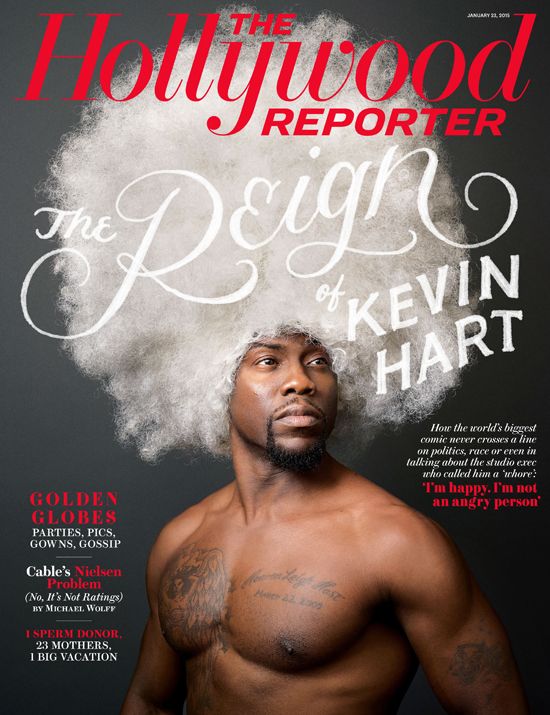 Kevin Hart strips down and gets wiggy for the newest "Hollywood Reporter" cover. Meanwhile, Chris Brown is on the set of a new video and we have a few behind-the-scenes pics. Check Kevin's cover and find out what track Breezy is likely giving the video treatment to inside…..
Get wiggy with it!
Funnyman Kevin Hart loves to keep the laughs. And for his newest magazine cover, he brings a few funnies.
Shot by award winning photographer Martin Schoeller, The Wedding Ringer star graces the cover of The Hollywood Reporter's newest issue. And he's donning a huge white wig, while proudly putting his pectorals on display, which he has been working hard on in the gym. He often shares his high intensity gym sessions on social media.
In the cover story, Kevin revealed how Screen Gems president Clint Culpepper apologized for his "money whore" comment about the comedian that leaked after the entertainment company was hacked. He also weighed in on the Bill Cosby sex scandal, that DUI charge he copped in 2013 and more.
Below are the hightlights:
On the exchange between him and Sony's Screen Gems president Clint Culpepper:

"I've talked to him," he says of Culpepper (who did not respond to a request for comment). "Clint called right after. It's not like I wanted to challenge him — that's just how he talks. He did [apologize], but there was no need. When you negotiate, you say whatever you say." He adds: "Nothing affected me. It's very hard to put me in a negative position, man. I'm happy. And I'll continue to be happy."

On the Bill Cosby sex allegations:
"Right now, it's a lot of speculation," he says. "All I can do is just say my prayers, and my wishes go out to all of the women who are potentially involved. His personal life has nothing to do with me. I can't control it. I will never try. It doesn't stop me from being an admirer of his work. His work and his personal life are two separate things."

On his 2013 DUI arrest:

"They told me to get out of the car," he says. "I took the little sobriety test. They said that I failed. Locked me up, put me in cuffs. That was pretty stupid [of me]. Like, no matter how drunk I was getting, if I'd known that's what I'm doing, why am I driving?" Hart went to jail. "I stayed in for like two hours and went home. My fiancée came to get me. I had no record, so they let me out." He pleaded no contest and is on probation.

On the TV shows he watches:
He hardly watches TV, though Keeping Up With the Kardashians is playing in the background at his house. "That's for Eniko," he says. The two are planning a "destination wedding" in 2016.

On his aspirations:

"I want to be a mogul, like Oprah or Jay Z or Tyler Perry," he says.

On his comedy tours:
"I invest in myself," he says. "I spent $750,000 on [the 2011] Laugh at My Pain [tour], and it did $15 million. I spent $2.5 million on Let Me Explain, and it did $32 million. I'm about to spend maybe $4 million on this next one [What Next?], and the goal is to get to $100 million."
Check out his full interview here.
Right now, the comedian is currently on a heavy media tour to promote his upcoming wedding comedy flick, which is scheduled to hit theaters on Friday. This morning, Kevin laughed it up on "Good Morning America" alongside his co-star Josh Gad as they chopped it up about their new film.
Peep their banter below:
And in case you haven't heard, Kevin Hart will be returning to late-night comedy show "Saturday Night Live" for his second hosting gig. The Ride Along actor will be hosting the first new "SNL" episode of the year and it will air Jan. 17th, a day after his movie premiere. Nice!
On a new video set....
Following a shoot out during a recent club performance, Chris Brown is getting back to work. Breezy is currently on the set of a new video. And we hear it's for the upcoming visuals to his joint track with Tyga titled "Ayo".
In the clip above, Chris stopped for a moment to joke around about "cheating" on his lady, referring to the tiger in the background as his woman. He said, "I'm just out here chilling with my girlfriend. She mad at me, I cheated on her". Ha!
Also, the VA native rounded up a few of his luxury rides to make cameos in his new video. Guess we will have to see if these pics are the makings of the "Ayo" video. In the meantime, check the behind-the-scenes shots below: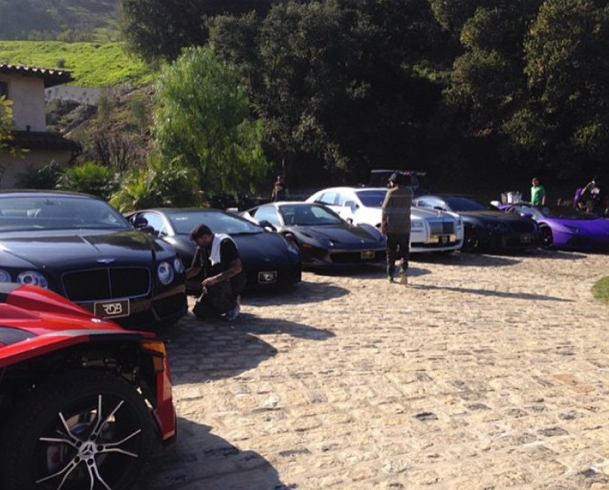 Breezy, Tyga and Trey Songz kick off their "Between the Sheets" tour Jan. 27th in Hampton, VA.
Photos: THR /@rdblaart/@sirvoddy87
​ ​
​ ​ ​