Nicki Minaj Talks Being A Boss With A Brain In BILLBOARD Magazine + Janelle Monae Gets WHITE HOT For CoverGirl's #GirlsCan Campaign
​
Nov 07 | by Natasha
​ ​ ​ ​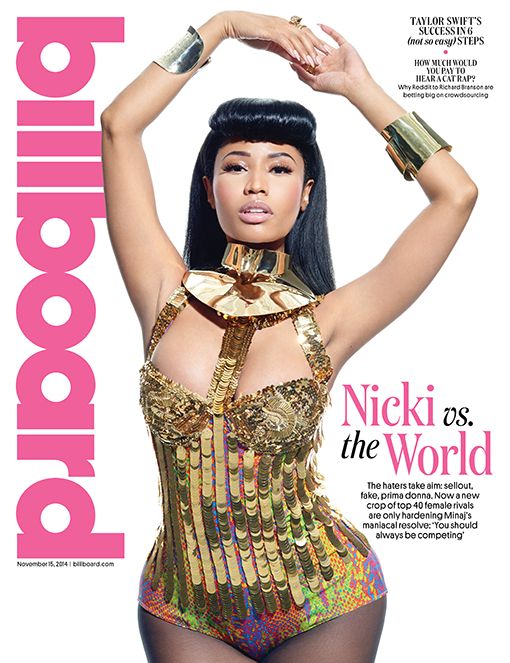 It's all about the Minaj magazine factor these last few weeks. From walking with poodles on the cover of GQ to getting royal for V magazine, Nicki Minaj has been all over the place promoting her upcoming album The Pink Print. Now, get her Billboard magazine cover and what she says about being a boss with a brain inside...
Nicki Minaj is serving up golden royalty for the new cover of Billboard magazine. And she's addressing the haters, everything people assume about her (even if it's assumed with good reason), and her music.
In the cover story, out today, Nicki dropped a few nuggets that make us think she's trolling the world with her Anaconda and those topless selfies....just to get folks' attention so she can show she has a brain. Backwards? Maybe. But it may be working.
Here are the highlights:
On doing the behind-the-scenes work herself...because she has a brain
"I'm on 15 to 25 conference calls every few days strategizing with my team. I think a lot of artists sit back and have it done for them," Minaj tells Billboard. "Sometimes as women in the industry -- if you're sexy or like doing sexy things -- some people subconsciously negate your brain. They think you're stupid."

On being a chart topper
Thanks to her recent Billboard hits, Minaj now has the most Billboard Hot 100 hits of any female rapper. And in terms of female artists on the charts, she's at No. 5 overall, behind Aretha Franklin, Taylor Swift, Dionne Warwick and Madonna.

On never resting on her laurels
Minaj assures fans (and detractors) that her new record will be more than a victory lap. "It's corny when rappers feel like they've made it and they don't have to prove themselves anymore," says Minaj. "You should always be competing. You should always be trying to show that you're the best. My album is going to be important to hip-hop."

On those backhanded compliments
"Once I did American Idol, a lot of people would come up to me and say, 'Oh, you're smarter than I thought,' " she says. "What does that mean?!"

On long-term goals
"I was just a little kid in Southside Jamaica, Queens, hoping one day I would have my own perfume," Minaj tells Billboard of those days when fame was a very distant possibility. "And now I have three."
The full cover story will be out on Billboard today.
In other hot shots today:
CoverGirl is celebrating spokeswoman Janelle Monáe, who they say embodies the #GirlsCan spirit it takes to rock the world! And her campaign shot is white hot.
The #GirlsCan campaign is an empowerment movement telling girls they can do ANYTHING they desire. The brand is also selling specially marked mascara in Rite-Aids to support the #GirlsCan movement. Nice!
Photos: Billboard/CoverGirl
​ ​
​ ​ ​