SLAY WORTHY: Angela Bassett Gets GORGE In Lingerie For "Violet Grey" Shoot, Spills ALL Her Beauty Secrets
​
Aug 07 | by Natasha
​ ​ ​ ​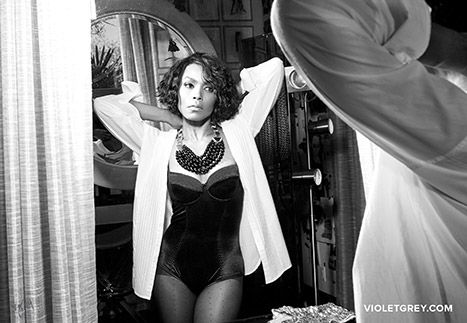 Well, Hello Mrs. Bassett-Vance! The "American Horror Story" star and upcoming Whitney Houston biopic director, Angela Bassett, is serving up some slayage for online beauty site Violet Grey. Check out her pics, and all her beauty secrets that keep her looking YBF inside...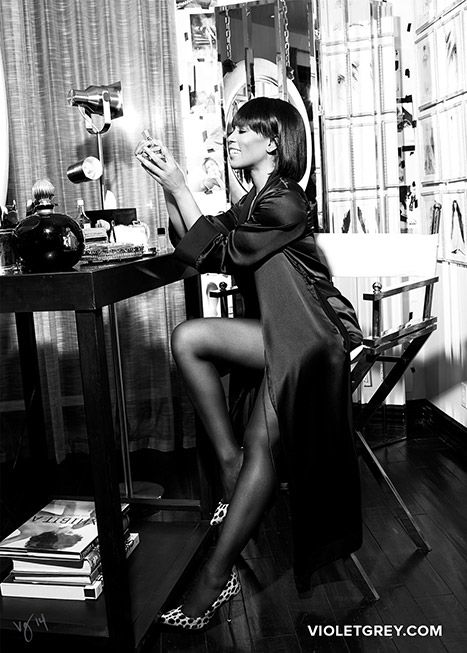 55-year-old Angela Bassett is serving up major fabness in her new VioletGrey.com shoot where she's giving us a peek into her flirty bedroom behavior. In bustiers, heels and sexy white button ups, Angela's dishing all her beauty secrets, what makes her feel vulnerable (and confident), why her actor husband Courtney B. Vance is so great, and how she gets ready for major red carpet events.
We typically only choose a few highlights from interviews, but Angela's whole interview is a necessary read.
Check it below:
VIOLET GREY: YOU'VE RECEIVED NOMINATIONS AND AWARDS FOR PLAYING ICONIC WOMEN LIKE ROSA PARKS AND TINA TURNER. WHAT ROLE DOES HAIR AND MAKEUP PLAY IN TAKING ON A PART LIKE THAT?
ANGELA BASSETT: For me, it's vitally important. Once you see that come to life you can see the character slowly emerge. It allows you to go deeper, to discover her perspective and her idiosyncrasies. I look in the mirror to see how she moves, how she feels, how she speaks; then the moment happens when it's like 'Hello, I'm here.'
V.G.: GETTING READY FOR THE RED CARPET IS A RITUAL FOR MANY ACTRESSES. WHAT IS IT LIKE FOR YOU?
A.B.: My first question is always 'Is my team available?' I wish I could do all of this, but everyone has their gifts. Then I just sit there with my eyes closed. If I open them it's only because I'm trying to get a few tips for myself!
V.G.: SO YOU GIVE YOUR TEAM TOTAL CREATIVE FREEDOM?
A.B.: I do. I just let them do what they do because they marry the look to the moment. It's like a dance: We're all doing it, and every person has their part. Everything has to meet and become one voice.
V.G.: WHAT KIND OF TIPS HAVE YOU LEARNED FROM YOUR TEAM?
A.B.: One thing that I've learned is don't bring your false lashes all the way to the end of your eyes because it will bring your eyes down.
V.G. HOW DO YOU PREPARE FOR THE RED CARPET IN THE DAYS LEADING UP TO AN AWARD SHOW?
A.B.: I try to watch my diet so I can fit into whatever I am wearing. Cut the sugar, the alcohol and the bread, and eat a lot of protein and veggies.
Getting Dressed With Angela Bassett | #VioletGrey, The Industry's Beauty Edit
V.G.: WHO MAKES A GOOD DATE TO AN EVENT?
A.B.: A friend or a sister. I mean, the husband is always great, but there is something about a girlfriend...
V.G.: WHO DOES THE RED CARPET WELL TODAY?
A.B.: Cate Blanchett, Penélope Cruz, and, of course, Lupita [Nyong'o].
V.G.: YOUR SKIN IS PRISTINE. WHAT IS YOUR SECRET?
A.B.: When I'm in New York I see my friend Mamie McDonald at Skin by Mamie. She understands skin. She makes it glow.
V.G.: HOW IS GETTING DRESSED FOR A NIGHT OUT DIFFERENT WHEN YOU DO IT ALONE?
A.B.: Well, it only takes me about 10 minutes! I start thinking about it in the car on the way home. Do I want to be flirty? Sensual? Powerful? Then I try to dress for that feeling. My husband [actor Courtney B. Vance] always says 'Lord, you've made something out of nothing, how did you do that?'
V.G.: WHAT IS YOUR GO-TO MAKEUP LOOK FOR A NIGHT OUT?
A.B.: Recently we had the wrap party for Whitney [the biopic Bassett directed], and it was real simple: foundation, mascara, a red lip, and you're done. I'm not very good with eye shadow, but I've got foundation down.
V.G.: AND WHAT IS YOUR FOUNDATION SECRET?
A.B.: The foundation is Kevyn Aucoin; I like that. and I have to use the BeautyBlender—I fell in love as soon as I tried. You don't see where the makeup starts and ends.
Getting Dressed With Angela Bassett | #VioletGrey, The Industry's Beauty Edit
V.G.: WHAT IS YOUR GO-TO RED LIPSTICK?
A.B.: Nars Red Lizard.
V.G.: WHAT IS THE FIRST PRODUCT YOU PUT ON IN THE MORNING AND THE LAST PRODUCT YOU PUT ON AT NIGHT?
A.B.: I use GrandeLash in the morning and Dr. Lancer's lash serum at night; they've really helped my lashes grow. I had individual lashes put on last year, and when you take them off you feel like you have snaggle lash.
V.G.: WHAT DO YOU SEE WHEN YOU LOOK IN THE MIRROR?
A.B.: A passionate woman who knows what she loves and has been blessed to be able to do it…and continue to do it!
V.G.: WHAT IS YOUR GREATEST WEAKNESS?
A.B.: Love…and sugar.
V.G.: WHEN DO YOU FEEL THE MOST VULNERABLE?
A.B.: When I'm told I can't do something. When I'm told I'm not good enough, that I can't have something, can't go somewhere, especially because of the color of my skin.
V.G.: YOU'RE SUCH A STRONG WOMAN, I BET YOU ALWAYS FIGHT FOR THE THINGS YOU WANT AND COME OUT ON TOP.
A.B.: Not with everything, but that's when you stick out your chest and you gather your strength. I was raised by my mother, and she taught me how! You can't be in this industry if you're afraid of a little rejection.
The living-legend actress will star in "American Horror Story: Freak Show", premiering October 15th on FX!
Photography By ROBIN BLACK
​ ​
​ ​ ​