FOOLYWANG MATERIAL: MiMi Faust Stars In Her Man Nikko & His "Friend" Johnny's "NY 2 LA" Video
​
May 28 | by Natasha
​ ​ ​ ​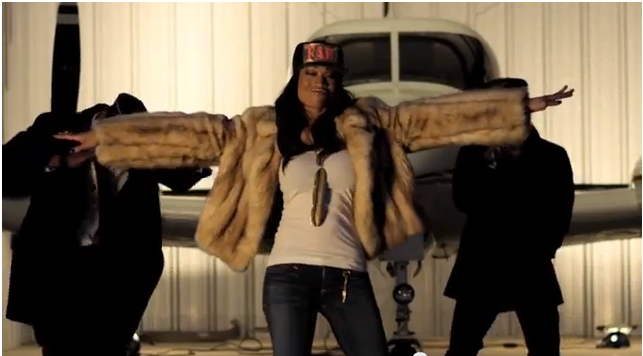 Let the basic games begin. On last night's episode of "Love & Hip Hop Atlanta," we saw MiMi Faust entering the combat zone on the set of her man Nikko's new video "NY 2 LA". And the battle was among K.Michelle (who was there to supposedly be in the video too), Nikko and Nikko's rap "partner" Johnny...over their alleged down-lowness.
We've got the fight and the actual foolywang material that is the finished video product inside...
Where to begin...
Nikko, MiMi's man we still raise an eyebrow at with wonder & many questions, really went and dropped this video for his and his homie Johnny's song for "NY 2 LA." We still don't know who these guys are or who they think they are, but the description of the video reads:
NY 2 LA is a Rap pop, soul Smash!!!! Produced by Nikko & Written by Nikko & Johnny this is a Novelty record that will have you singing it & loving it LETS FLY.....
Chile...
K.Michelle and co-star/friend Ariane really dodged a bullet by not appearing in this video. Because the basicness is at an all time high. For some reason, we continue to hold out hope that MiMi will end her reign as Queen of Patheticness (but we REALLY want to like her!) and wake up and smell the GLBT coffee. But she clearly didn't (and still hasn't since she recently posted a pic of her and Nikko at her charity event saying they're still together).
In the above foolishness, we see Nikko and Johnny acting like pilots while Diddy bop'ing all in the airplane hangar and on the tarmac. And as we watch, we keep saying under our breath, "Please don't let MiMi actually appear, please say she changed her mind last minute".
This chick not only appears, but comes out like 'BAM.....I'm the sh*t in this video.'
Deep sigh. We're not really sure what anyone involved was going for here, but MiMi apparently feels like THAT CHICK for being asked to play the lead in her man Nikko's video. And by "lead", we mean the chick who shows a sliver of her face while hopping out a car and dancing in the background on the tarmac in front of a (real or not real) private jet.
Peep the video above for yourselves. But after seeing it, you'll understand why K.Michelle felt the need to pop off on Nikko, Johnny and eventually MiMi on last night's episode about this very shoot:
Last night's fight scene drama: While MiMi got her hair done at a conference room table, K. and Ariane revealed that they know people... who know people...who know that Johnny is indeed gay. Which means they believe he's on the down low and acting like he likes women...and they're not feeling that.
MiMi cut hard for Johnny saying, "I've only seen hm with bad bishes and he's not gay." Alrighty then.
The conversation soon turned into a war--with K. accusing Nikko of being gay himself. She said, "You have a roommate in Atlanta. Rent is not that high boo boo in Atlanta. You have a roomate for $1000 rent? This is not New York. GTFOH."
Boom. Peep the above video clip from last night. Nikko also released a video last week called "I'm Ready Girl" that he dedicated to MiMi. Peep that at your own risk.
​ ​
​ ​ ​