Deelishis DENIES Hopping Out A Window AND Dating Comic Michael Blackson...The Man Reportedly In HER BED When Her EX-HUSBAND Allegedly Assaulted Her!
​
Mar 05 | by Natasha
​ ​ ​ ​
Gotta love that D-list drama and foolery! For a couple weeks now, rumors have been spreading that Deelishis--formerly of "Flavor of Love" and now getting paid to floss her booty at clubs--got jumped after leaving a strip club in her hometown of Detroit. Some reports falsely made up a story about it being angry strippers who did this damage. But the actual report from the Detroit News pegs her ex-husband Orlando Gordon as the culprit.
Deets inside and why Deelishis claims the rumors of her sexing a local comic and being chased out the window by her ex husband aren't true....
Remember when Deelishis was married to the "upstanding" Orlando Gordon of Detroit back in 2008? And she became a "wholesome" mom of a few kids. And then ish went left when she blasted him on Facebook for cheating in 2010? Now, 5 years later, Orlando is possibly still be cutting up while Deelishis is back to putting her ass on display for money.
Recently, Deelishis (real name Chandra London Davis) posted pics of her arm and foot in a cast after leaving one of many hosting duties. And for days after, she didn't explain what happened, and only said she would be "just fine."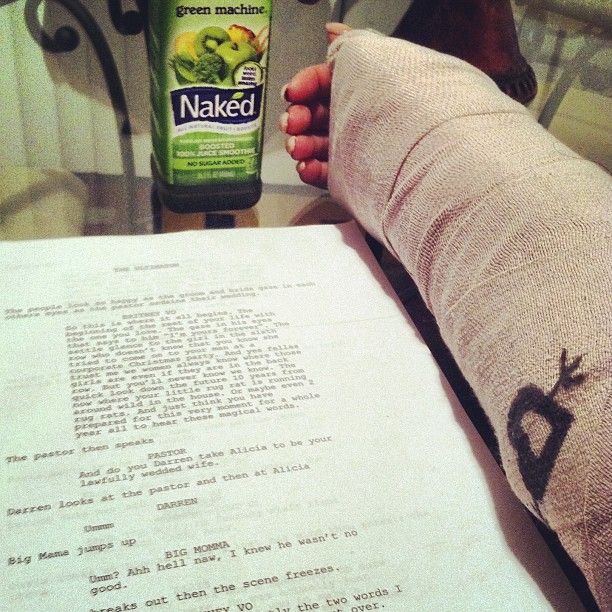 Now that the story has broken about what allegedly really went down, Dee--who has been cast in some type of blackbuster film called The Ultimatum-- is giving her side. And it involves her ex husband Orlando, who is waiting trial for drug trafficking (and he once claimed to own a club, real estate company and landscaping business).
The Detroit News reported this week:
Gordon was free on bond and awaiting trial in federal court at the time of the alleged incident.

He was indicted in January 2012 along with more than a dozen others and accused of participating in a drug-trafficking operation involving thousands of pounds of cocaine and marijuana.

Prosecutors asked a federal judge Thursday to revoke Gordon's bond due, in part, to the alleged assault. U.S. District Judge Sean Cox will consider the request March 12.

Court records and a police report portray a violent incident Sunday at the reality show star's home on Muer Cove north of 13 Mile, where Deelishis lives with her two daughters.

At 4:20 a.m., Gordon smashed through the front door and struck Deelishis in the face, according to court records.

Deelishis, who had been sleeping in her daughter's bedroom, ran to her bedroom, where her friend was asleep.

The friend? Michael Blackson, a popular stand-up comic known as the African King of Comedy.

Gordon chased the comic and hit him in the face, according to court records.

Deelishis, meanwhile, locked the bedroom door. Gordon tried to get in, prompting Deelishis to rip open the window screen and jump to the ground, according to police.

"Davis was in a lot of pain from her right wrist," police said. "Davis also had blood on her right hand."

She was taken to Henry Ford West Bloomfield Hospital, police said.
According to their report, this Michael Blackson--a local celebrity and comic--is at least part of the drama. But Deelishis went off on Instagram denying that. And also says she didn't hop out anybody's window.
I DONT 'OWE' ANYBODY SHIT, ESPECIALLY NOT ANY EXPLANATIONS BUT THIS RADIO STATION OUT OF TOWN JUST BURNED MY BISCUITS IF I HAD BALLS THEY'D BE SQUEEZED TO THE MAX PISSED! STOP JUST REPORTING ANYTHING YOU HEAR! I HAD A LITTLE ACCIDENT YOU FUCKER, IT HAPPENS IM GOOD, IM NOT SUPERWOMAN LEAPING FROM TALL BUILDINGS AND FOR THE LIFE OF ME I AM NOTTTTTTTTTTTTT SCREWING DATING SUCKING FUCKING LICKING TRICKING ANYTHING CLOSE TO THAT WITH @therealmichaelblackson (SCREAMING TO THE OF MY LUNGES) CAN A BITCH LIIIIIIIIIIIIIIIIIIIIVE (NOW MY HEAD JUST SPENT AROUND LIKE THE EXORCIST .......OK IM BACK..."AND NOW I ONLY WANT WORLD PEACE MY LOVES
Meanwhile, Deelishis' engagement ring and Rolex were seized by the Feds in connection to Orlando's investigation, as well as more than $1 million in cash, classic cars and more than $130,000 in jewelry. WOMP.
She's real open about every aspect of her life...except this "accident". Interesting. Meanwhile, this is what Dee has been up to lately:
Photos via Instagram
​ ​
​ ​ ​