FOOLISH VIDEOS: The Miami Heat BUST OUT The "Harlem Shake" + Kanye West RANTS About "BRANDS" In Amsterdam
​
Mar 01 | by _YBF
​ ​ ​ ​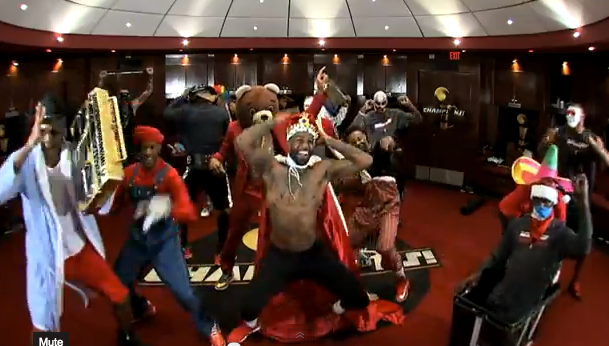 The reigning NBA champions, The Miami Heat, have joined in the viral Harlem Shake craze and dropped their own version straight from the locker room. Watch it inside and see Kanye West poping off during his latest rant in Amsterdam.
The 2013 version of the Harlem Shake craze has caught on everywhere...including the NBA. Now the fans can see LeBron James shirtless (in a king's costume), Mario Chalmers as Super Mario, and Chris "Birdman" Andersen as a bird! And we peeped Chris Bosh walking around with a huge boom box. We're pretty over this whole craze, but this one is funny.
The clip was filmed in Miami's locker room with Mario tweeting, "In life u gotta figure out how to have fun and enjoy it. Hope y'all enjoy." And LeBron tweeted, "A King James and @DwyaneWade aka W.O.W productions. http://gohe.at/HEATHarlemShake "
Watch the Miami Heat do the "Harlem Shake" here:
And on the other side of the world....
What's a Kanye West concert without a rant? We saw him popping off in London a few days ago, he did the same in Paris and he still seems to have a lot on his mind as he continues his trek across Europe.
At this point, you have to look forward to the rants (as if they're included in the ticket price) and compare notes with friends in other cities saying, "So what did he rant about at your show?" Last night, Yeezy fans in Amsterdam got an earful about "brands" and "lack of creativity." Sit back an enjoy....if you can follow along.
​ ​
​ ​ ​