MUSIC FAB: J. Cole's "Power Trip" FT. Miguel + Kevin McCall's "Sweetest Joy" FT. 2 Chainz + French Montana's "Freaks" FT. Nicki Minaj
​
Feb 14 | by _YBF
​ ​ ​ ​
Music heads get in here! There's a lot of new music of this week. Inside, listen to new tracks from J. Cole featuring Miguel, Kevin McCall featuring 2 Chainz and French Montana featuring Nicki Minaj.
In preparation of his sophomore album Born Sinner, J. Cole has dropped a self-produced single featuring Miguel called "Power Trip." The single will be available globally on February 15th.
On the song, J. Cole talks about a relationship that goes from admiration that ultimately leads to obsession. He spoke of the track saying,
"I've always wanted to use my voice to shift culture, even if just a millimeter. This song is one of my strongest to date and I look forward to hearing fans reactions," says J. Cole.
Also, J. Cole will speak at Harvard University's Hip Hop Archive on February 26th. Entitled "The Mindstate of a Winner: A Conversation with J. Cole," he'll dialogue before 100 students with Professor Henry Louis Gates, Jr. and Professor Marcyliena Morgan.
Listen to "Power Trip" here:
Also......
Kevin McCall has revealed the track list for his much-anticipated mixtape, Definition, hosted by DJ Holiday and set to drop tomorrow, February 14th. ANd to kick it off, he drops a new track, "Sweetest Joy," featuring 2 Chainz.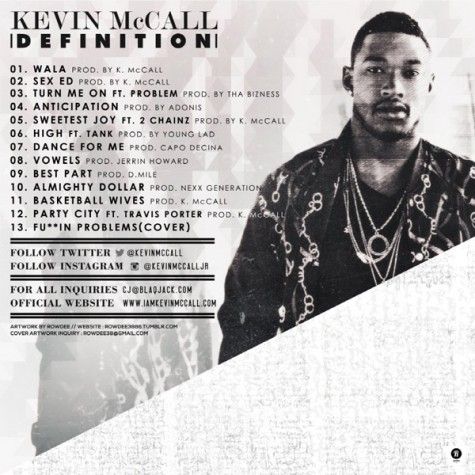 Listen to "Sweetest Joy" here:
And.....
French Montana teams up with Nicki Minaj on the Rico Love produced track "Freaks". The single will appear on his upcoming debut Excuse My French on May 21.
Also, French is heading out for The Excuse My French Tour and he's currently on the cover of XXL:
Listen to "Freaks" here:
BONUS:
Check out behind-the-scenes footage of French Montana as he spends a day with Machine Gun Kelly, DJ Khaled, A$AP Rocky, Trinidad James, Wale, Chinx Drugs, and more. French also discusses his hit "Ocho Cinco" with the Bad Boy Family!
​ ​
​ ​ ​