"Basketball Wives" Star Brooke Bailey Claims Bambi Put Out A HIT On Her?!
​
Jan 09 | by Natasha
​ ​ ​ ​
Drama is still poppin' off with the "Basketball Wives" even when the cameras are turned off. Brooke Bailey claims Bambi put out a hit on her for somebody to beat up Brooke. And she posted the proof...
While rumors say Brooke, Bambi and the rest of the crew (except Draya and Jackie Christie) have gotten the axe, it hasn't stopped the drama from ensuing.
This afternoon, Brook posted a message she received from a former friend of Bambi's. And it was a warning to Brooke to watch her back...because Bambi was recruiting young girls to beat up Brooke...for pay.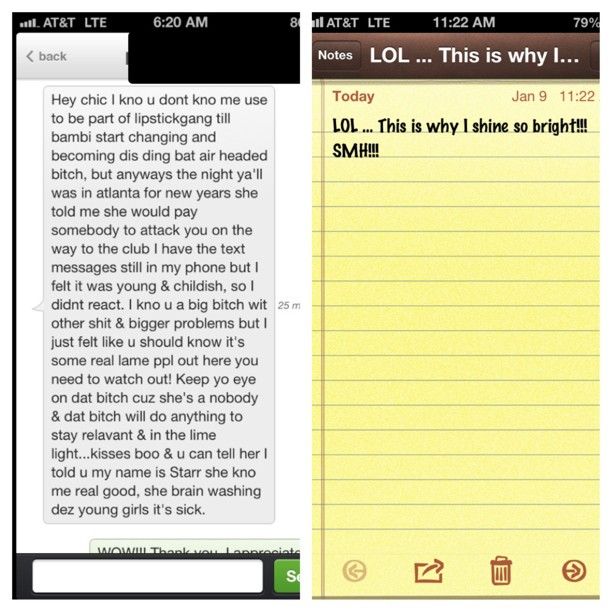 Brooke posted the above message from Bambo's ex friend Starr and said:
This is the life that y'all about? Throwing drinks and hiding y'all hands? I ain't never had to pay nobody to do my dirty work. I catch all my own fades and I don't speak on shit I can't deliver. On my turf I stay strapped and when I'm not in my streets I still got me!!! This is the lamest shit ever. Shout out to the young lady who sent me this. Your a leader and not a follower!!!! SMH!!!
She went on to say:
I must be #Winning ... #ShineBrightLikeaDiamond

Trust it's believable!!! Y'all don't know what goes on behind the scenes. I just don't say shit because bitches aren't relevant to me!!!!
But it seems Bambi is denying it saying:
I'm outta here bruh ... The attention these hoes seek and try to drag me into. I'm jus tryina beat up tow truck drivers wit my friends
Oh...
Pics: Instagram
​ ​
​ ​ ​