Celebs React To Teena Marie's Death, Updates On What Really Happened
​
Dec 27 | by _YBF
​ ​ ​ ​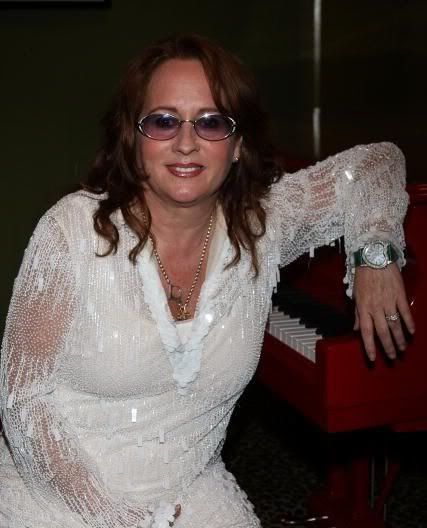 The music world lost a shining star when Teena Marie, the Ivory Queen of Soul passed away suddenly at 54. Read the updates surrounding her death, plus what other musicians and celebrities have to say about Lady T inside...
Many celebs took to their own pages and journalist Roland Martin's to express their condolences.
"I am horrified by the sudden death of my darling Teena Marie. She was my "baby," always true to herself, always true to her heart. When I first auditioned her she was so awesome she blew me away. She had so much soul – the only thing white about her was her skin. She was a powerhouse performer, writer, producer and arranger. Anyone who ever saw her perform, alone or with Rick James, will never forget how exciting music can be. My heart goes out to her sweet, sweet daughter, Alia Rose, her family, friends and fans. Teena Marie will always be a part of the Motown family. We will all miss her."
-Berry Gordy, founder of Motown
"We're shocked and deeply saddened by the sudden loss of Teena Marie. She was one of the most memorable, soulful and unique R&B vocalists to
come out of Motown. We send or condolences to Teena's family, the entire Motown family and of course, our dear friend Berry Gordy."
-Kenneth Gamble & Leon Huff, R&B pioneers
"God Bless Teena Marie & her family! Sending blessings & prayers. I was just saying that fire & desire is 1 of the most beautifully performed songs"
-Alicia Keys, singer
"Teena Marie always wonderful to me. I met her on the TJMS Cruise. Let us pray for her family. God bless her soul."
-Sheryl Underwood, comedienne
"R.I.P. TO ONE OF THE BEST VOICES OF MUSIC TEENA MARIE!!!!!!!"
-Swizz Beatz, producer
"Teena Marie was so souldul not just n voice but n spirit also resy n peace my sweet blue-eyed soul sister."
-Donnie Simpson, former host of BET's "Video Soul"
"She was an amazing, soulful person. She's a phenomenon to me. You have to say it. She had all of the street vibes and all of the R&B vocals...If there is a word called talent or talented, it was pouring out of her veins. She was an amazing phenomenon."
-Lionel Richie, singer/songwriter
"Teena was a fire and desire. She was everything. She was a special person. If you got a chance to know her – more than her voice – she was a kind person. She was a student of music. She was a gift to us from God, and being a Caucasian woman, the voice that came out of her had to be a gift. We'll miss her and God rest her soul."
- Kevin Liles, former vice chairman of Warner Music Group
"My heart is broken. Teena Marie was an R&B Empress, a music pioneer, a brilliant songwriter/ producer with the most original powerhouse vocals ever. Nobody sang like Teena! But above all she was an exceptional human being, a humanitarian and an authentic friend who I will miss dearly. Rest With Angels Lady T."
- Holly Robinson Peete, actress
"In terms of vocals, she was one of the blackest people I know. She was one of the great R&B performers of our time. She was a great person; just a nice person. And she loved to perform. She got along well with everyone; even the promoters love her. She is going to be sorely missed.
There a lot of black people who swore by her and believed in her, as far as her music was concerned. She was a good mom, and to me, that is saying a lot.''
-Eddie Levert, singer
"Teena was a black voice tapped in a white body. I would always tell her that she was one of the greatest vocalists of our time. I watched as she raised that child, and that's very difficult being a single mother. She did an exemplary job with her child."
-Cathy Hughes, founder of Radio One
"The enduring influence of Teena's inspirational, trailblazing career, could only have been made possible through her brilliant song-writing, showmanship and high energy passion which laid the ground work for the future generations of R&B, hip-hop, and soul,"
-Gene Rumsey, Concord Music Group chief label officer (Teena's last album Congo Square was released by Stax Records)
Born Mary Christine Brockert, Teena Marie was known as the Ivory Queen of Soul and one of the few white acts to shine on the predominately black Motown label.
Produced by her musical mentor Rick James, her debut album Wild And Peaceful dropped in 1979, but the album cover did not feature her photo.
In a past interview with Essence.com, Teena said of the album,
"(Motown founder Berry) Gordy) said that is was so soulful that he wanted to give the music an opportunity to stand on its own merit. Instead of my face, they put a seascape, so by the time my second album came out people were like, Lady T is White?"
Motown's initial feelings proved to be unfounded as Lady Tee went on to become one of R&B music's shining stars...loved by fans of all races and colors.
"Overall my race hasn't been a problem. I'm a Black artist with White skin. At the end of the day you have to sing what's in your own soul," Teena said.
Throughout her career Teena wrote, produced, arranged and played most of the instruments on all her songs, but she is widely known for "Fire and Desire," a torch ballad she performed with Rick James on his Streets Songs album.
In addition to her music, Teena leaves her mark on the industry thanks to a historical lawsuit she won against Motown in 1982. "The Brockert Initiative", known in music circles as "The Teena Marie Law," makes it illegal for a record company to keep an artist under contract without releasing new material for that artist. Thanks to Lady T, artists are able to sign and be released to another label instead of being held back by an unsupportive one.
Radio Facts reports that Teena suffered from a Grand Mal seizure and had stopped taking her medication because it made her severely depressed. As of now, this is said to have caused her death. TMZ reports illegal drugs were not found in her body, and an autopsy and toxicology tests will be performed on her body later this week. So far, officials are reporting that she died of natural causes.
She is survived by her daughter Alia Rose.
Watch a video obit for Teena here:
​ ​
​ ​ ​