BISHOP EDDIE LONG UPDATES: Third Plaintiff Comes Forward+Eddie Cancels Radio Interviews+Cell Phone Pics Released
​
Sep 23 | by _YBF
​ ​ ​ ​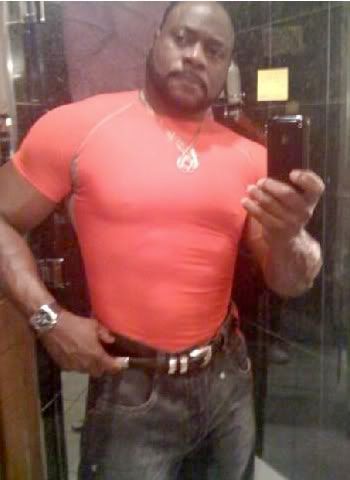 Bishop Eddie Long canceled his "Tom Joyner Morning Show" interview this morning after a third young man came forward on Wednesday night with more allegations of sexual abuse.
Also on Wednesday, attorney B.J. Bernstein, representing the three plaintiffs, released cell phone pictures the young men say were sent to them by pastor Eddie Long. Dude is like the alleged Tiger Woods of the pulpit. Check out the "damaging" cell phone pics and new allegations when you go inside...
Bishop Eddie Long, leader of the New Birth Missionary Baptist Church, was set to be interviewed this morning by CNN's Roland S. Martin on the "Tom Joyner Morning Show" regarding the sexual misconduct allegations brought against him. However, he abruptly canceled the interview and the Bishop tweeted (then erased it): "The lawyers have made the decision that due to the third lawsuit that Bishop not to do interviews…"
In the latest lawsuit, the plaintiff, Jamal Parris, says Long gave him his personal cell phone number two weeks after they first met. Parris also claims that Long encouraged him to call him "daddy," because Parris' father had not been a positive figure in his life.
Parris said he joined New Birth in 2001 and became Long's "personal assistant." In the suit, filed yesterday, Parris claims Long would ask him to remain in his private office after church, where they would engage in sexual misconduct. Parris said he eventually left the church and later found out that there were other young male church members who said they, too, had sexual contact with the bishop.
The lawsuits, filed by Jamal Parris, Anthony Flagg and Maurice Murray Robinson (pictured above) have common threads in that they were all taken on trips, shared a room with Bishop Long, and engaged in touching and oral sexual contact with him. The three were in a group called the "Spiritual Sons," which we told you about yesterday.
Since Tuesday, attorney B.J. Bernstein said her office has taken several calls and she believes there are other victims that will soon emerge.
Though we haven't heard much from Long himself, Art Franklin, a spokesman for Long, called the lawsuit "retaliation and a shakedown for money" from men with serious credibility issues. He added, "Bishop Long categorically and adamantly denies the allegations."
This ish is getting uglier than men of a certain age in muscle shirts and biker shorts.
​ ​
​ ​ ​