Hip Hop's Cain and Abel: Damon Dash Says "Jay-Z Stabbed Me In The Back!"
​
Jul 24 | by _YBF
​ ​ ​ ​
Damon Dash recently gave a revealing interview where he talked about his failed marriage to designer Rachel Roy, his million dollar financial woes and of course the fallout with Jay-Z. Read on for the deets...
Spotted out walking in Tribeca yesterday, one can see Damon Dash is a changed man. Gone is the arrogant Champagne swilling media hog of the early Roc-A-Fella days. Nowadays, Dash is focusing on his new Tribeca art gallery DD172 and nurturing new music talent, a new magazine, America Nu, and other artsy projects.
In a recent Village Voice interview, Dash came clean about the last few years of his life. He won't discuss their current relationship status but he still refers to Rachel Roy as "my wife." On his financial woes, he admits he made some bad financial decisions but the recession hit everyone. Even the moguls.
But what was most revealing was why he says he and Jay-Z stopped working together. Dash says
Jay decided to sever business ties with his fellow founders (Biggs and Dash) and their stake in the company was sold back to Island Def Jam for a reported $10 million.
Their controlling interests in the remaining clothing, film, and alcohol ventures were sliced up.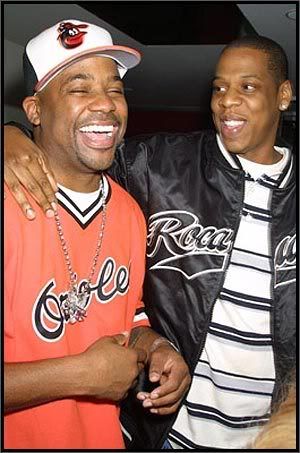 Jay went on to sign a three-year contract to become president and CEO of Def Jam--a position he would leave in 2008 for Live Nation.
He offered the rights to the name "Roc-a-Fella" to Dash and Biggs in exchange for the recording masters to Reasonable Doubt, but the pair wouldn't make the deal.
We all earned those masters. The people that I was helping, once they realized their dreams, they did what a criminal would do. They stabbed you in the back. Think about the frustration of building a brand for years that should be taking care of your family, and then the person that was the closest to you saying, 'Nah, you can't have no parts of it,' and flushing it.
Wow...that's how it went down? I guess business is business. But we see Jay-Z definitely made the choice that was best for him and his family.
But it seems like he is happy in his new space, and peace of mind trumps riches anytime. So they tell me.

​ ​
​ ​ ​