Snoop Dogg Cleans Up His Lyrics+ Legendary Rap Triad Naughty By Nature Making A Comeback
​
Jul 21 | by YBF
​ ​ ​ ​
Snoop Dogg has decided to 'tone down' his lyrics and move away from objectifying women.
And legendary rap group Naughty by Nature is on the comeback trail.
Find out the deets when you read on…
According to The Sun,
Snoop Dogg
said he feels
guilty
about his lyrics that have objectifed women and will now chill out with his misogynist lyrics. "I gotta tone it down. I've always given my female fans bits and pieces and I feel like I owe them a whole record,"
Snoop said
.
He feels he "owes" it to his female fans to create music which is more positive and appealing.
That's one reason he worked Katy Perry on her pop single California Girls.
I'm happy Snoop is changing up his rap style but isn't it a little late for that?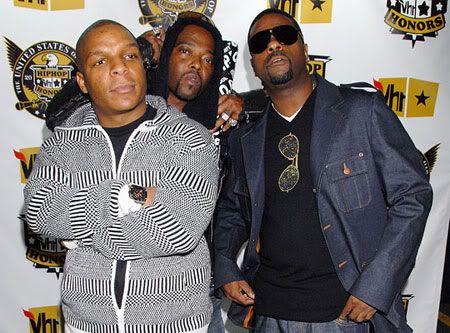 In other rap news, Treach, Vin Rock and DJ Kay Gee, the three emcees who make up Grammy award winning hip-hop group Naughty by Nature, are back.
They've been in the rap game for 20 years creating hits and party anthems that have been able to achieve mainstream popularity while maintaining their street credibility.
And now the three have reunited to work on their 7th studio album, "Anthem Inc.," which they hope will establish them as the Kings of Hip-Hop Anthems.
AllHipHop.com:

Nearly a decade has passed since Naughty by Nature's last studio album, IIcons. What do you consider to be the major motivation, not only for the creation of a new album, but reunifying the original trio?

Vin Rock:

When Kay departed the group in 2000, Treach and I kept going. We put out IIcons on TVT. And we never stopped touring. We kept circling the globe year after year after year. But the major motivator came when we said, "Look, we could tour forever." We already see that. We even took a sabbatical from the road in 2004 for a whole year. And management came back like, "Look, you guys are leaving too much money on the table. You guys gotta get back out here on the road." So we got back on the road, and after that it was like it only made sense to keep feeding the people new music, especially looking at the growth of our peers, and even newer artists that came in the game using the blueprint that we laid out and were capitalizing off of it. It was about giving the people new music, and participating in the expansion of hip-hop, especially with the corporate partnerships and just the general growth that you see guys like 50 Cent or Diddy or Jay-Z, a lot of our peers having with it.

AllHipHop.com:

If we count the New Style record, your forthcoming project – Anthem Inc. – is going to be your seventh studio album, which has a lucky feel to it. As you finish putting the final touches on Anthem Inc., what are you most excited about?

Treach:

One thing I can say. It's just so much of a different situation. It's been so long since the last album that I don't think the fans really know the hunger level that's in it. So if they think it's going to be lackluster or disappointing at all, it's like they in for a hell of a ride. For me, we play around with all that superstitious stuff and use it to our advantage. When we came off of the first album, everybody was talking about the sophomore jinx and everything else. And everybody was weighing on us and like, "Yo, man. They can't follow-up 'O.P.P.' No way in the world they could follow up that album!" And it did us good to just show them just exactly where we was coming from, and we did! We came back and blew the house down, again. So it's just stupid b***hin'. I don't even get into it, and I don't have a certain number that's going to give me luck. But I just pray to God and thank Him for all the blessings and leave it in His hands. I feel that our talent will speak for itself.

AllHipHop.com: With the massive successes of "O.P.P.," "Hip Hop Hooray" and "Jamboree," Naughty by Nature is well-respected and known for bringing party anthems to the music landscape. When people look at your career, is there a certain contribution that you think tends to be overlooked?

Vin Rock:

Definitely. I think our street records – "Guard Your Grill", the "Uptown Anthem", all the way up to "Dirt All by My Lonely" – and the last album we did together. Even this new record, "I Gotta Lotta," and the video we have out for it now. We made some of the earliest street records, but I think the commercial records are so big, it really eclipses them. If you go to a Naughty By Nature show, we can adjust very well. Like we can do a Rated G show. We can do a show without even doing "O.P.P." and "Hip Hop Hooray" and hit you with all straight gully records, man, and really do a solid forty minutes of that stuff. Even though people tend to think about our commercial success, if you ask some underground heads, they'll definitely tell you their favorite records are "Guard Your Grill", "Uptown Anthem," and "Dirt All by My Lonely."

AllHipHop.com:

When you look at the hip-hop landscape in general, it's completely different than when you first hit the scene. What do consider tobe the good, the bad and the ugly in hip-hop's evolution?

Vin Rock:

You know what? I think hip-hop is doing what it's always done ever since we were there. It's just broader now. You have so many different flavors. You have so many different regions involved in the music now. And basically for us, we look at it as a competitive market. And I still look at it that way. I'm happy with what's going on in hip-hop right now, because I feel that Naughty By Nature, we can always come in and still compete, whether it's with our studio recordings or live stage performances. We can go out there and basically f**k with anybody out there. So I love what's going on in hip-hop, because I see there's a lane where we could come and penetrate the market.
You can check out the rest of the interview
here
.
Can't wait to hear the album…Will you be buying "Anthem Inc."?
​ ​
​ ​ ​